As Canada's largest city, Toronto is a jungle of big concrete buildings and busy streets. However, as anyone who lives in Toronto will tell you, the city is much more than a sea of skyscrapers. With over 1,500 parks, Toronto has no shortage of green spaces to explore. In fact, there are so many great natural areas to visit, it can be hard to pick favorites. Fortunately, we have you covered. Whether you're new to the city or a longtime resident, you'll want to make time to visit these green spaces in Toronto!
Riverdale Park
Riverdale Park is a large park spanning the Lower Don River and offers one of the best views of the Toronto skyline. As well as great views, the park is home to Riverdale Farm, which features real livestock and year-round free admission. If farming isn't your thing, you can also check out the park's ball diamonds, running track, seven tennis courts, and relaxing picnic area. With so much to do, it's no surprise that Riverdale Park is regarded as one of the best green spaces in Toronto.
Village of Yorkville Park
Situated in one of Toronto's trendiest neighbourhoods, Village of Yorkville Park is actually a reclaimed parking lot. While that may not sound very appealing, Yorkville Park has won many design awards. The park is split into 11 landscapes that represent the diversity of Canada's geography. It may not be Toronto's greatest natural green space, but Yorkville Park's unique design offers a welcome break from the busy city.
University of Toronto St. George Campus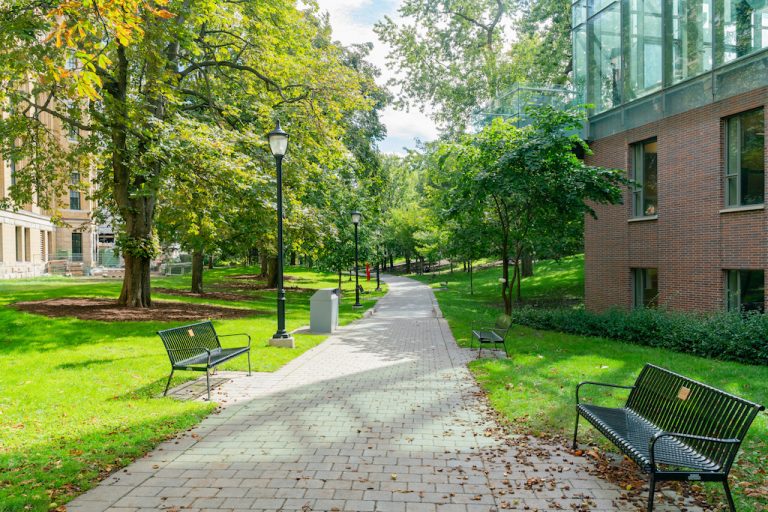 One of Canada's top universities also happens to be one of Toronto's best green spaces. Located near Queen's Park, University of Toronto's large St. George campus is worth exploring even if you aren't a current student. The school's unique architecture and relaxing walking spaces have even drawn comparisons to Hogwarts from the Harry Potter series. In fact, you may just come across people playing Quidditch on U of T's sports fields! Some specific areas worth checking out include the Bamboo Garden at the Donnelly Centre and the Philosopher's Walk.
Trinity Bellwoods
A popular place, especially during the summer, Trinity Bellwoods has the benefit of being located near some of the best food in Toronto. Whether grabbing food from nearby Queen West and Ossington or the local farmers market, you won't go hungry at Trinity Bellwoods. Though the park can get crowded in the summer months, it offers something for everyone. Whether you're into sports, relaxation, or want to take your dog to the off-leash area, Trinity Bellwoods is a green space in Toronto worth visiting.
Corktown Common
One of Toronto's newer green spaces, Corktown Common was originally built as an athlete village for the 2015 Pan Am games. Today, this former industrial area on West Don Lands is a striking park and community hub. Though small compared to other parks in the area, Corktown is well worth the visit for its unique design. The park not only sports great views of the Toronto skyline, but has a variety of things to do and see. These include playgrounds, a splash pad, wetlands, a lily pond, and public fireplace. It's also a great spot for bird watching, if you're into that sort of thing.
High Park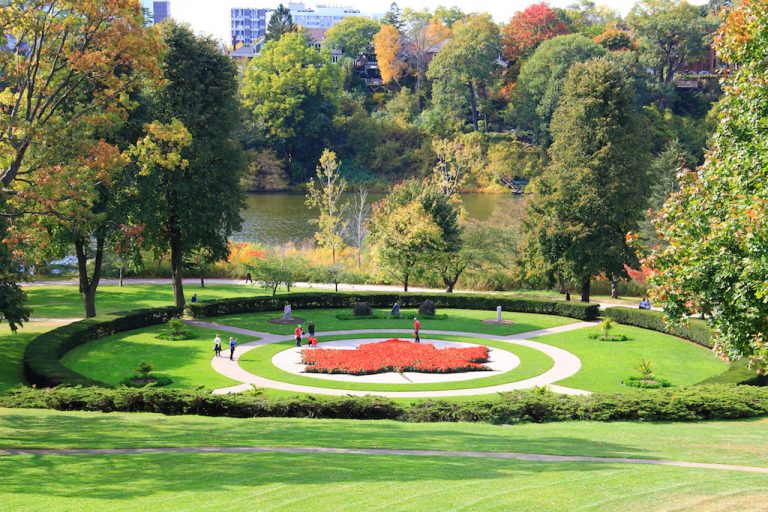 High Park is one of Toronto's most popular parks for a reason: there's just so much to do! There's truly something for everyone in Toronto's largest public park, including hiking trails, dog parks, sports facilities, greenhouses, and even a zoo. High Park is also a major cultural centre during the summer months, with free Shakespeare in High Park performances. Early spring is an especially popular time to visit, when the park's cherry blossom trees are in bloom. If you're not into crowds, High Park might not be the best place to relax. However, it's still one of Toronto's must-see green spaces.
Allan Gardens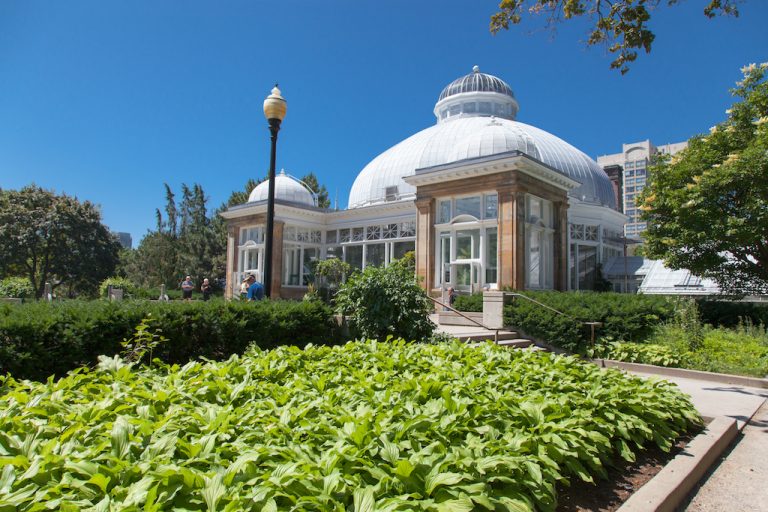 If you're looking for somewhere a little less crowded than High Park or Trinity Bellwoods, pay a visit to Allan Gardens. This park and indoor botanical garden has six greenhouses, with over 16,000 square feet of colourful plants and flowers. Allan Gardens is conveniently located downtown on Jarvis Street and is a hidden gem among green spaces in Toronto. Check it out if you're looking for somewhere a bit different!
Interested in studying in Toronto? Let ApplyBoard help you study abroad. Find a school that's the perfect fit for you here!
---