Earlier this month, ApplyBoard Co-Founder and CEO, Martin Basiri, joined Terminal's Director of Partnerships, Raquel Cross, for a Terminal Tech Talk on Strength Through Diversity: How Immigrants Created Canada's Fastest-Growing Tech Startup. Martin and Raquel discussed hot topics in diversity that are affecting the tech world today, including how we view diversity, the strengths that come from a diverse team, and the benefits of recruiting talent from across the world.
To open this discussion, Martin shared ApplyBoard's origin story. "The idea behind ApplyBoard came from the hardships that I faced when coming to Canada to start my studies at the University of Waterloo," he said. The process of applying to study abroad was complicated, and for many years, Martin and his brothers, Meti and Massi, were contacted by other students looking for their support in navigating the process. "So we thought, why don't we make a website to help these students? And that is how ApplyBoard was born."
ApplyBoard streamlines the study abroad application process by connecting students, educational institutions, and recruitment partners on a single digital platform to help students access the best education. Since our founding in 2015, we have assisted more than 100,000 students along their educational journey, and built partnerships with over 1,200 educational institutions, to drive diversity on campuses across Canada, the United States, and the United Kingdom.
Diversity at ApplyBoard
As an organization built on a foundation of diversity, it's important that our staff is representative of the students that we support. Today, our team of more than 500 is based in more than 20 countries, represents over 30 nationalities, and speaks more than 40 languages. Looking further into our team member demographics, 40% are immigrants, 60% identify as a minority, 65% speak a second language, 35% have studied abroad, and 42% have higher than a bachelor's degree. (Data is based on ApplyBoard's Diversity and Inclusion Survey, June 2020.)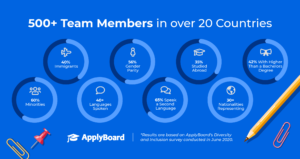 When speaking about how ApplyBoard has built such a diverse team, Martin shared that since day one, the company has hired the best people for the role, no matter their race, religion, gender, or location. "It has become the norm," said Martin. "As we built a diverse team, it helped us attract more diversity, and we have continued our growth like that."
At ApplyBoard, diversity is one of our biggest strengths. With a diverse workforce comes new ways of thinking and new ways of solving problems. "The way we are is by what we learn from each other," said Martin. "When you bring a diverse group of people [together] on a problem, and you make an environment where they feel comfortable, you open yourself up to the best possible solutions."
Creating a Culture of Diversity at ApplyBoard
Whether you walk through the offices at our Kitchener headquarters or hop on a Zoom meeting with team members from around the world, you are bound to hear many different languages spoken. In fact, it's not uncommon for meetings to start with a chorus of "hello" in the many different languages our team speaks. That's because ApplyBoard is not just a place where we hire for diversity, but a place where diversity is celebrated and embraced.
One of the ways that we promote this within our workplace is through monthly lunch and learns. During these lunches, team members, and guests from different backgrounds discuss their respective cultures, commemorate holidays, and share some of the foods that they enjoy. These lunches allow team members to learn about different cultures and better understand the background of people across our organization. 
Another way we promote diversity is through our ApplyCulture Committee. ApplyCulture is a committee dedicated to celebrating our diversity and promoting our understanding of one another. This committee hosts monthly activities including holiday celebrations and events that promote our understanding of one another. They also take on special projects, such as decorating meeting rooms at our Kitchener HQ to display the flag, and represent the culture it is named after.
Importance of Diversity in the Workplace
After sharing a bit more about how ApplyBoard grew to become such a diverse team, Martin discussed some reasons why it's important for companies to focus on their diversity. "If you are thinking about doing business globally, from day one you need to be thinking about representation from people all over the world," said Martin. "If you don't include people from across the world, and don't understand people from across the world, then you have made your business opportunity small."
Raquel and Martin also discussed the underrepresentation of women in STEM (Science, Technology, Engineering, and Math) fields, and what businesses can do to help close this gap. According to Statistics Canada, women currently represent only 22% of the total workforce in STEM. To help promote diversity in these programs, and to advocate for change, it's important that businesses provide opportunities to people from these underrepresented groups, as well as encourage the next generation to explore these fields of interest. "We all need to be a part of the change," said Martin. "If today you are listening to this, and you are uncomfortable with the number of women that we have in tech, it is on us to encourage the next generation to discover engineering school."
Watch the Recording
To learn more about ApplyBoard's diversity and some of the strengths of employing a diverse team, check out this Terminal Tech Talk recording.
Interested in joining our team? View our open roles, and apply today on our Careers page.