Based on cycles of the moon, Lunar New Year is celebrated sometime between late January and early February rather than with the fixed new year from Western calendars. Festivities start with the first new moon of the lunar calendar and end with the full moon 15 days later.
Lunar New Year may date as far back as 1600 BC. Primarily observed in Asian countries like China, Vietnam, and South Korea, the holiday is celebrated by spending time with family and friends, and sharing plenty of food! Dances, fireworks, lanterns, and gifts of red envelopes containing small amounts of money are also common traditions.
Fun Fact: 2020 is the year of the Rat! People born in years of this zodiac are said to be industrious, thrifty, diligent, and positive.
As part of our new ApplyCulture initiative, five team members decided to plan an office Lunar New Year celebration. ApplyCulture is a committee created to reflect the diversity represented across the company's staff and students. From cultural lunch-and-learns to fun fact brochures, this committee helps educate ApplyBoard's staff on cultural traditions from our very own.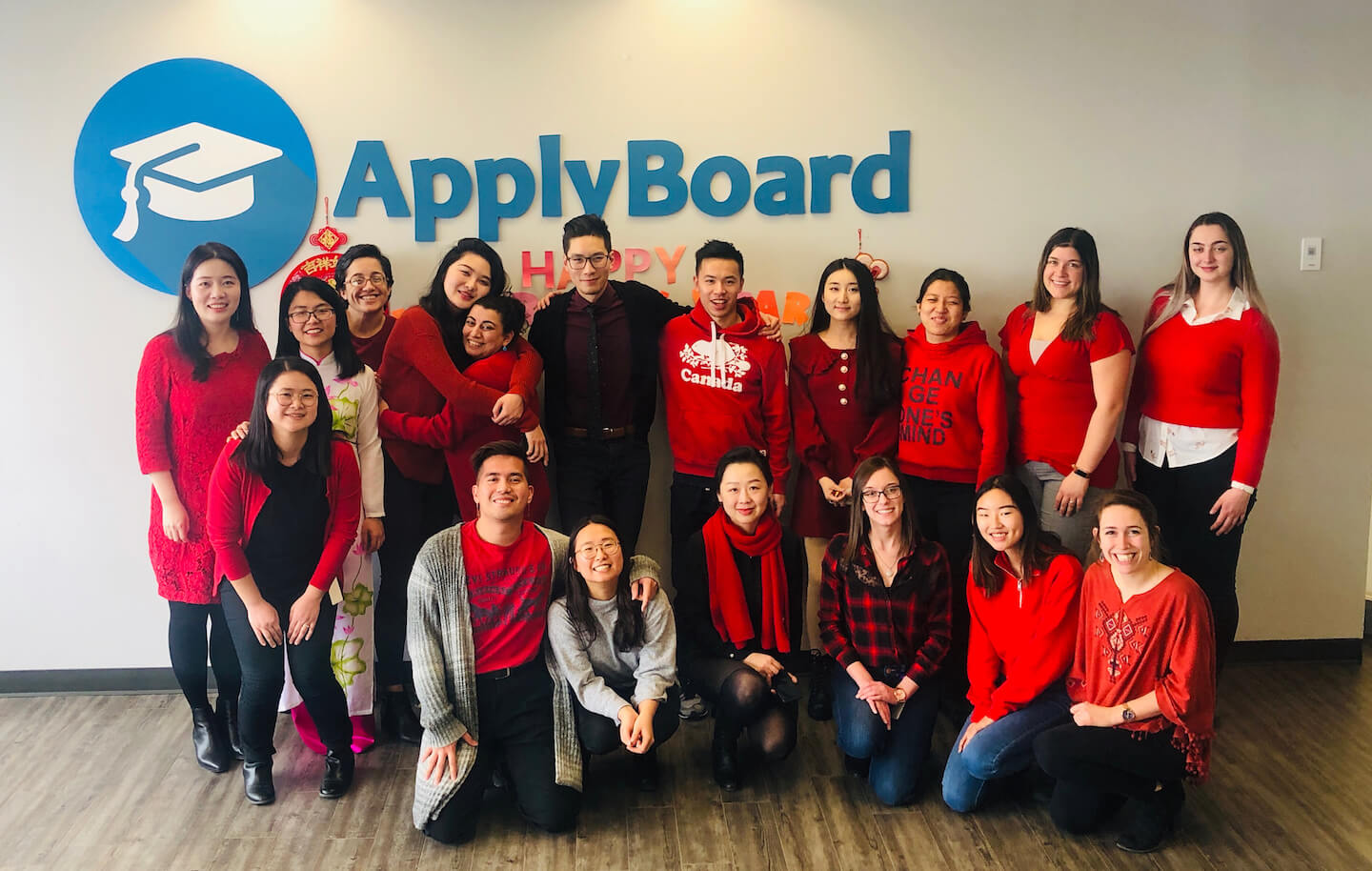 For this year's Lunar New Year, our team threw a lunchtime celebration, complete with a full spread of treats like dumplings and jap chae. Attendees learned about the holiday and got in the spirit by wearing red. China's good luck color, red is believed to scare away spirits of bad fortune.
We can't wait to see what ApplyCulture shares with us next!
Our schools also got in the spirit of the holiday with some incredible gifts from George Brown College, Humber College, and Sheridan College. We were spoiled with everything from maple syrup and coasters, to notebooks and teddy bears.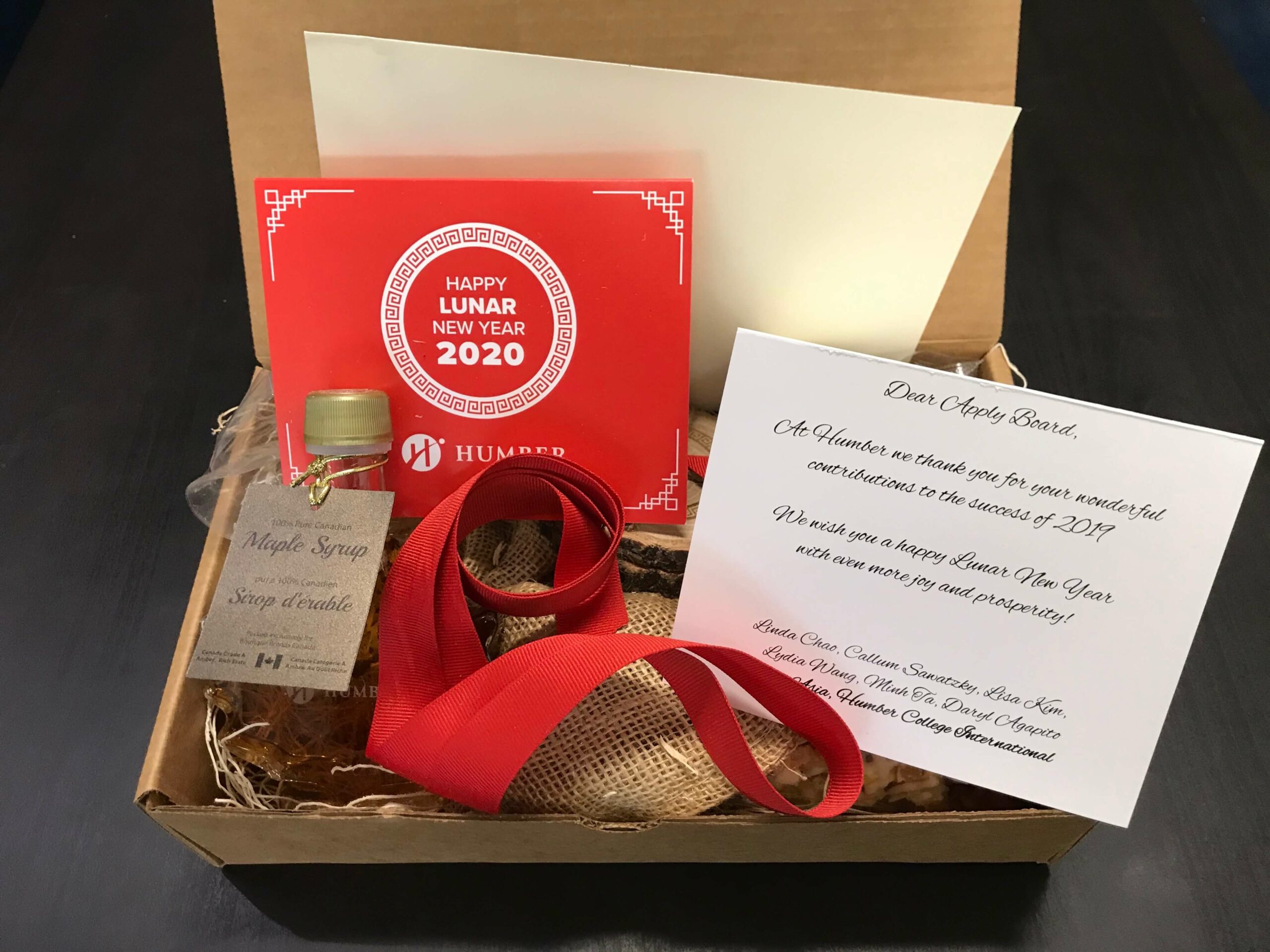 Meanwhile, festivities were in full swing at Centennial College. ApplyBoard's China Team was invited to their Lunar New Year celebration alongside Centennial President and CEO Dr. Craig Stephenson, executive team members, and recruitment partners for China, Korea, and Vietnam.
Our team was treated to presentations by Dr. Stephenson and Virginia Macchiavello, the Executive Director, International Education. We were given a glimpse into international education trends, and some of Centennial College's own offerings and successes.
The rest of the evening kicked off with a Chinese lion dance, complete with gongs and drums. Incredible song and dance performances followed, including a performance by one of Centennial's own dance students!
Guests enjoyed a buffet of traditional dishes from China, South Korea, and Vietnam catered by Centennial culinary students, and the evening finished with Chinese and Korean teas and Vietnamese coffee. A big thank you to Centennial College for the wonderful event!
At ApplyBoard, we're fortunate to spend holidays like Lunar New Year with our teams and partners from around the globe. Wherever you are, we hope you're celebrating with good food and great people.
新年快乐, 새해 복 많이 받으세요, chúc mừng năm mới, happy New Year!