Have you heard the news? Applications are now open for ApplyBoard's STEM for Change Scholarship Program!
ApplyBoard will award up to C$100,000 in merit-based scholarships to six women applying to science, technology, engineering, mathematics (STEM) programs at ApplyBoard Canadian partner schools (college or university) via the ApplyBoard Platform for the Fall 2021 intake.
If you're a woman student interested in applying for a scholarship, we invite you to record a 2–4 minute video explaining your motivation for pursuing STEM in Canada. In your video, you may want to explore:
Why you believe studying a STEM program in Canada will change your life.

What it would mean to be a woman and international student studying STEM in Canada.
How you plan to use this opportunity to empower and advance other women.
Closing the Gender Gap in STEM
Did you know that women are still less likely than men to pursue a STEM career, especially in the fields of engineering, mathematics, and computer science?
Statistics Canada also found that women comprised just 34% of STEM bachelor's degree holders and only 23% of individuals employed in science and technology.
STEM fields—particularly engineering and computer science-related jobs—are currently some of "the highest-paying and fastest-growing occupations." Not to mention the fact that gender diversity immeasurably enhances both innovation and performance.
ApplyBoard aims to break down barriers to accessing education, believing that everyone has a right to a better future. In the spirit of the theme of this year's International Women's Day, #ChooseToChallenge, ApplyBoard is challenging the gender gap in STEM. By empowering international women to pursue an education in STEM, ApplyBoard's STEM for Change Scholarship seeks to help close the gender gap in this field by encouraging diversity and inclusion.
Explore the top 10 Canadian STEM programs by total enrollments among women on the ApplyBoard Platform.
How Can I Apply?
We've made it easy for you to submit your application to the STEM for Change Scholarship:
Step One
Record a 2–4 minute video (using the criteria above) outlining why you want to pursue a STEM program in Canada.
We encourage you to get creative! Your video may be shared across ApplyBoard's social media channels, including Instagram, Facebook, Twitter, and LinkedIn, between now and when applications close at the end of July.
To help get you ready for your closeup, we've created a set of helpful video submission guidelines. Once you've got your video the way you like it, you can upload it to the Dropbox folder on the application page.
Step Two
Complete the short form located on the application page.
Please note that all applications must be received by Saturday, July 31, 2021 at 11:59 PM Eastern Standard Time.
What Happens Next?
The ApplyBoard Team will review all video submissions and select six finalists for the STEM for Change Scholarship. The selected winners will be notified on Tuesday, August 24, 2021.
Recipients of the STEM for Change Scholarship will be invited to participate in a virtual event in October 2021 and will receive their scholarship in January 2022 for the Winter 2022 semester.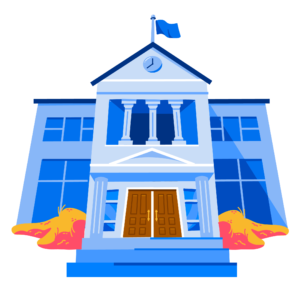 Eligibility Requirements
To be eligible for an ApplyBoard STEM for Change Scholarship, applicants must:
Be a woman who has submitted one or more applications through the ApplyBoard Platform (whether directly, or through an ApplyBoard recruitment partner) to study within a STEM program on a full-time basis at a Canadian college or university listed on the ApplyBoard Platform commencing in the Fall 2021 intake. Applications must be submitted prior to the end of the submission period.

Be 16 years of age or older as of the date of submitting a scholarship application to ApplyBoard, and, if a minor, have received the permission of a parent or legal guardian to submit an application for a scholarship. A student who is a minor must have the written consent of a parent or legal guardian in order to be eligible to receive a scholarship.

Submit the merit-based component for judging (a video following the requirements outlined above) demonstrating your commitment to advancing women in STEM through education.

Complete the application form, agree to the terms and conditions, and meet all other requirements outlined therein.
If you have a question about the STEM for Change Scholarship Program, please reach out to stemforchange@applyboard.com.
ApplyBoard looks forward to receiving your application!
---