Furthering your education in Canada means you'll receive an internationally recognized education from among the world's top academic institutions. If your sights are set on Canada, then it's essential you know the cost of day-to-day living. Having a good grasp on your financial situation and creating a monthly budget should be top priorities. To help you begin checking things off your list, we've assessed the cost of living in Canada below.
Are you still deciding where you want to study? Check out our blogs on the cost of living in Australia, the United Kingdom, and the United States to make your decision easier.
Living Expenses
When choosing where you want to study in Canada, ask yourself these questions:
Which province do I want to study in?

Do I want to live on- or off-campus?
These answers will give you a solid starting point to build the living expenses portion of your budget. Usually, rural areas will be more affordable than living in a city. Living expenses in Toronto will cost you more than anywhere else in Canada, whereas Montreal or Quebec City are the most affordable of Canada's major cities.  
On average, on-campus and off-campus (urban) housing in Canada is relatively similar in cost. However, since mandatory meal plans are often built into on-campus living, you may save more on groceries by living on-campus. Savings on food could be anywhere from C$2,200 to C$2,700 per academic year, depending on your diet. 
Below, we've provided an estimate of the cost of living expenses in Canada (as of April 2022).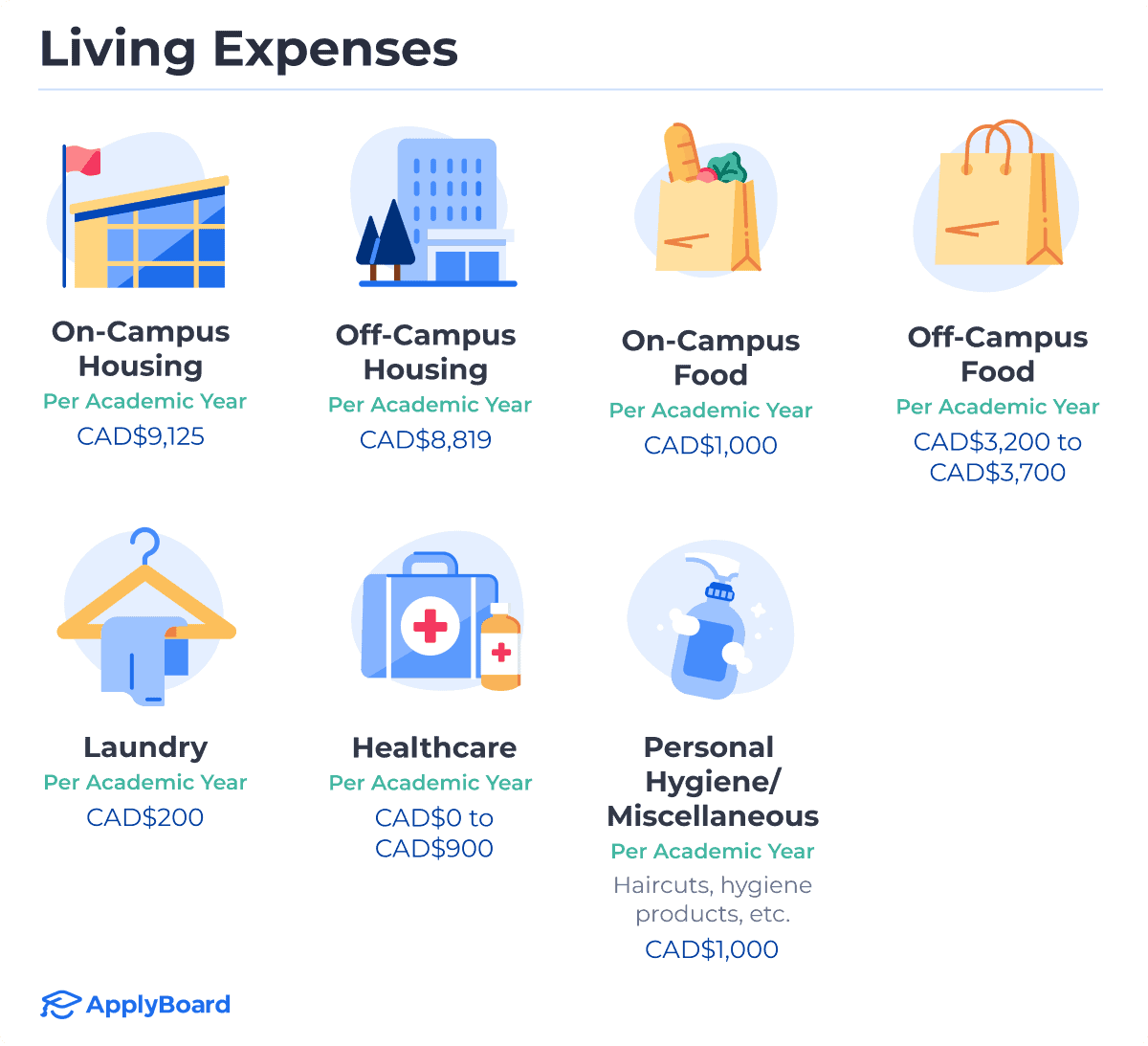 Utilities
Utility bills are often overlooked, but they can significantly increase your monthly cost of living. It's essential to understand what they include and which factors to consider when budgeting for them. If you plan to live off-campus, unless your basic utilities are included in your monthly rent, you can expect to pay monthly bills for your:
Water

Heating

Electricity
These bills can fluctuate depending on how many roommates you have, your location, lifestyle, local climate, and city and regional regulations. Add the cost of internet and television into your budget as well. Luckily, if you live on-campus, your basic utilities will be included in the price of your living accommodations, and typically, your WiFi too.
Regardless if you live on- or off-campus, you'll need to cover the cost of your mobile phone. Check to see if your provider offers packages for international students at a discounted price. 
Tip: Ask your landlord, realtor, or apartment manager what the average cost of utilities is. If you're not in contact with one, use a cost of living calculator like Numbeo.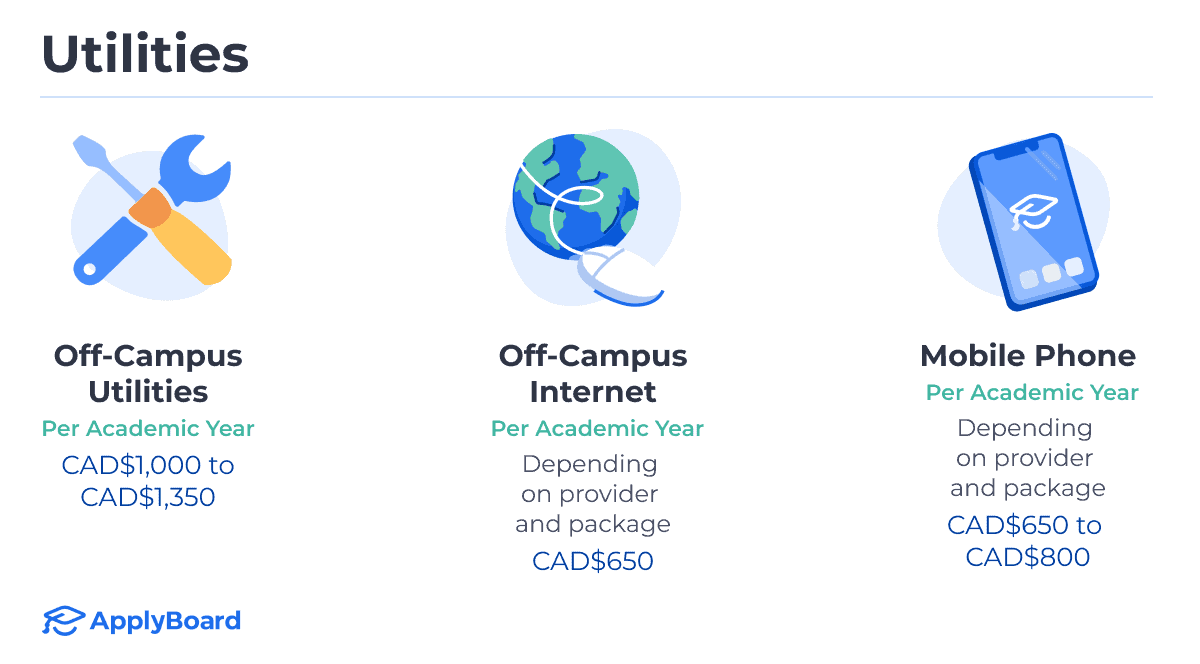 How International Students Can Get Health and Travel Insurance in Canada
Leisure
Studying abroad isn't just about receiving an excellent education; it's also about the experiences and fun you'll have along the way. That's why we encourage you to carve out a portion of your budget for leisure activities. 
To figure out what you should add to this category, consider what brings you joy. If you're a concertgoer, spend your money on live performances once or twice a month. Or, if you love a good ol' dinner and movie night, budget for that instead.
The great thing about this section of your budget is it's completely dependent on you. If your wallet is hurting more than usual one month, you can opt to stay in a few Friday nights to help cut back on your spending. Remember, balance is key.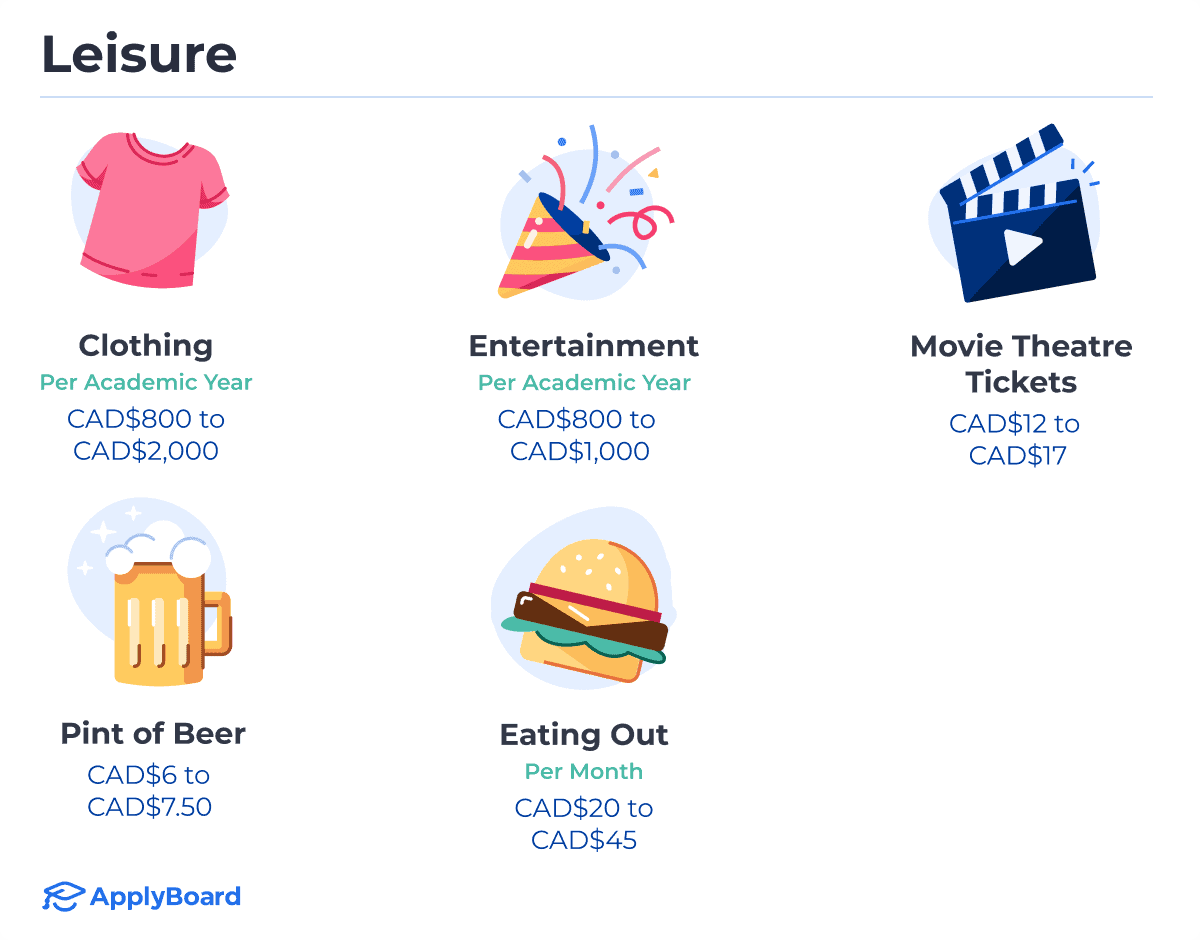 Transportation and Academic Supplies
It's important to estimate how much you'll spend getting to your classes, library, gym, and grocery store. Depending on where you live in Canada, you may find yourself using a train, bus, Uber, or taxi as a means of transportation. Check if your academic institution offers student discounts for public transportation. Another bonus to living on-campus is the amount you'll save on transit, as you'll likely be within walking distance of most amenities.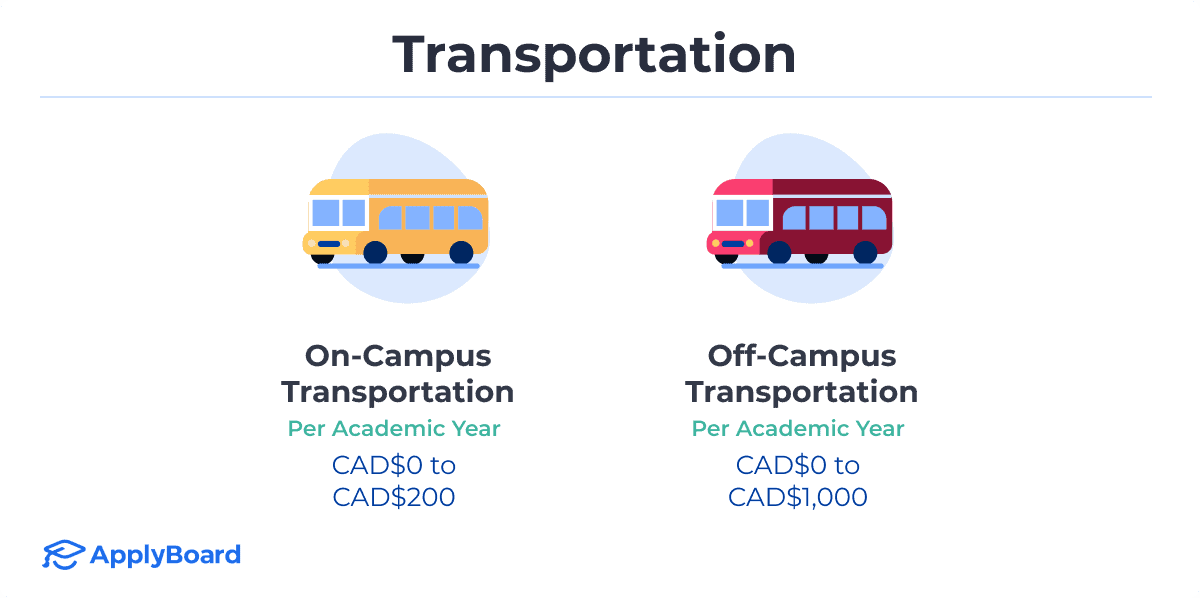 Being proactive, organized, and resourceful is the key to saving money on academic supplies. Begin searching for textbooks as soon as you receive your reading list for the semester. Try to rent them if you can, or buy them second-hand from your academic institution's bookstore, Facebook Marketplace, or Kijiji. If you're buying them from someone online, go with a friend and do a porch pick-up to stay safe. Reuse pens, paper, and binders where you can, and head to campus job fairs to find free branded stationery supplies. 
Tip: Public transportation can eat up a lot of your time. Do your class readings while using public transit to kill time and keep up with your workload.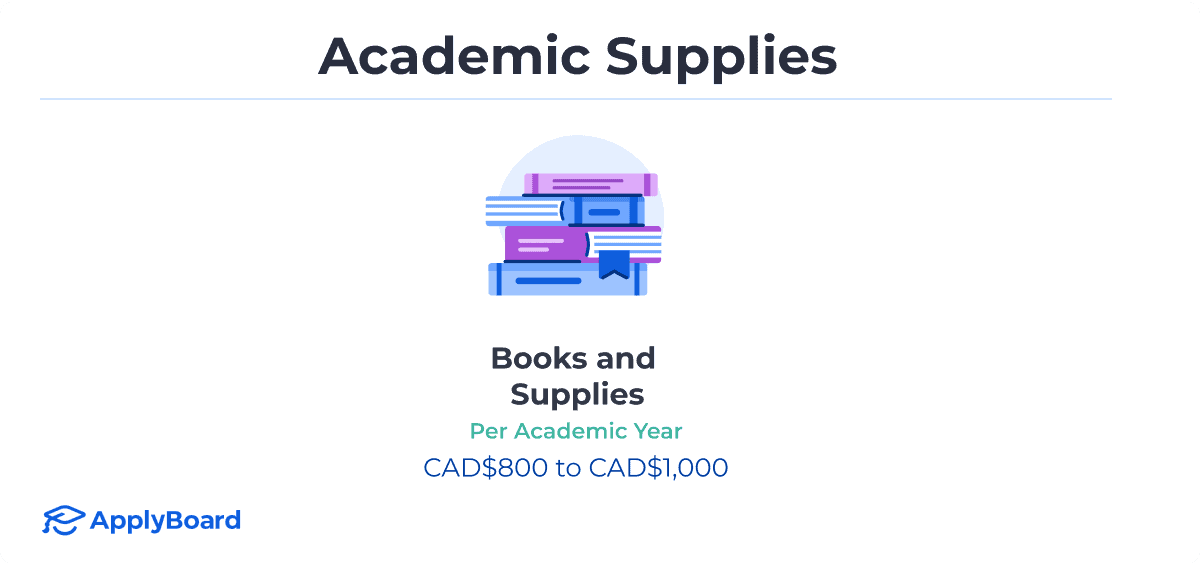 Financial Questions International Students Should Consider When Studying Abroad 
---
Jot down the estimates highlighted above to begin budgeting for your journey abroad. It's never too early to start planning, and this blog is a great place to start!
Planning to study abroad in Canada? Explore the ApplyBoard Platform to find your dream academic institution and program!