Canada is known to be an attractive study destination for international students. Many of these students in fact enjoy Canada so much, they aspire to apply for permanent residency and a work visa once education is complete. In 2017, the Government of Canada introduced the Global Skills Visa to make these aspirations a reality for highly-skilled graduates.
Here's what you need to know about the Canada work visa, Global Skills Program, and how to apply.
What is it?
The Global Skills Visa assists employers in innovative firms to attract top talent and new skills to Canada. It further streamlines applications and fast tracks approvals. Companies using the work visa increase their international competitiveness through global recruitment.
Not only does the Global Skills Visa benefit employers by giving them access to temporary, high-skilled, international talent for company growth, it also benefits foreign workers who experience a reduced process (two weeks) to obtain work permits. Open work permits and study permits are also available and processed in approximately two weeks for spouses and dependents.
Global Skills Visa Survey Results
Companies are hiring more international candidates since the launch of the new Canada work visa in 2017. A survey conducted by MaRS Discovery District shows 55 Toronto-based tech companies have experienced an increase in both foreign applicants and hires in the last year. While some companies saw a surge of 50-100 percent in foreign applicants, others saw as much as 300 percent over a single year. Many businesses claim Canada's Global Skills Visa as a primary reason for the increase. Though not all make use of the strategy, 35 percent of the 55 companies surveyed report having used the visa for hiring purposes. Toronto-based companies also report recruiting largely from countries including the United States, India, China, Brazil and the United Kingdom. Junior and mid-level engineers from California's Silicon Valley have also shown great interest in a temporary work visa.
Top countries for international hires by Toronto-area tech firms

Top positions hired for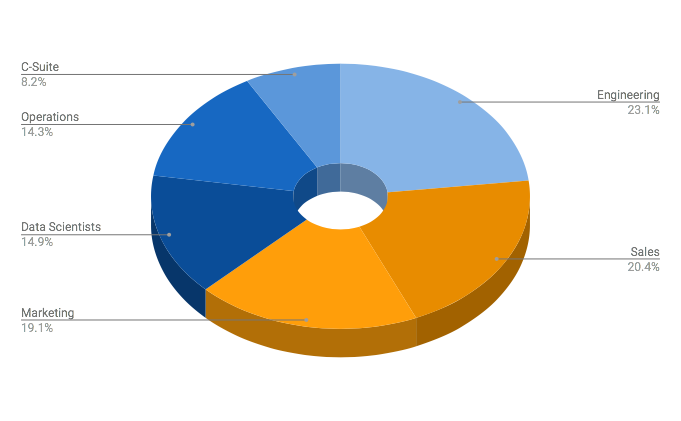 Aside from the Global Skills Visa, Canada is a country that embraces diversity and multiculturalism. The country's brand and reputation draws in many foreigners, positioning Canada as a key competitor in many industries.
Am I eligible?
Canada's Global Skills Visa has two (2) categories. To be eligible, you must be suitable under Category A or Category B listed below.
Category A: Highly-skilled individuals with specialized talent and individuals who are referred by one of the Global Talent Stream's Designated Partners.
Category B: Highly-skilled individuals looking to fill open positions found on the Global Talent Occupations List, or employers seeking talent to scale their company.
How can I apply for it?
Each submitted application must include the documents listed below:
For a detailed step-by-step guide on how to fill the application form (EMP5624), please click here.
Once the application is complete, applicants must sign and send the form with all required documents attached. Applicants must also submit a processing fee of CA$1,000 for each position requested. For payments, applicants may use Visa, MasterCard or American Express.
*Please note, refunds aren't given to the applicant if the application is withdrawn, cancelled or given a negative assessment.
Applicants may submit their application form through:
Fax (Toll Free number: 1-844-365-9665, Outside Canada/US: 819-953-9898)
Mail:
Global Talent Stream
℅ ESDC/EDSC
140 Promenade du Portage
Phase IV
Gatineau, QC K1A 0J9
By implementing the Global Skills Visa, Canada facilitates a quick entry of top talent and in turn contributes to the growth and flourishment of innovative companies and job opportunities. Canada recognizes international students as integral to the country's knowledge economy.
*Disclaimer: This is simply a reference guide. ApplyBoard is not responsible for any application results. Information sourced from the Government of Canada. 
The Global Skills Visa is one of many visas you can obtain in Canada. Read our blog "Routes to Canada: Temporary vs permanent visa" to determine which is the best fit!
Need some guidance? Get in touch with ApplyBoard's visa consultant, Hari Ghai, at hari@applyboard.com.
Adrianna Dyczkowsky, Public Relations Specialist at ApplyBoard
---