Located in Canberra, the capital of Australia, the Australian National University (ANU) was founded in 1946 during a time of post-war optimism that aimed to actualize Australia's potential as the world recovered from global devastation. Today, ANU is regarded as one of the world's leading research universities. Over 21,000 students study at ANU every year, including more than 5,300 international students.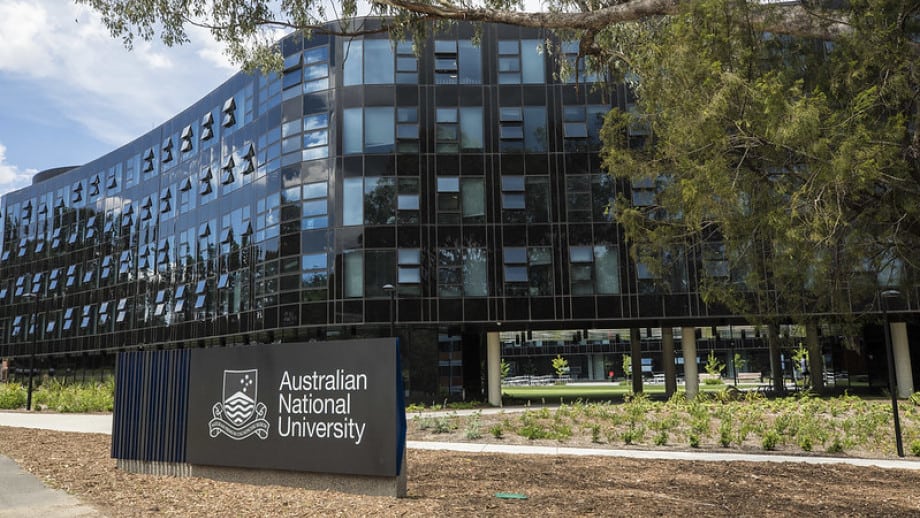 Your Introduction to the Australian National University
ANU encourages students to embrace change and challenge themselves. The university has a strong focus on research and is regarded as one of the world's leading research universities, landing at #8 on the 2021 Round Ranking World University Rankings – Research Ranking. ANU fosters an environment where a culture of inquiry and discovery informs all aspects of education and research.
ANU ranked an impressive #1 on the QS Top Universities in Australia 2022. Its influence also extends across the globe: ANU was recognized as one of the world's top universities in the QS World University Rankings 2022 and the 2021 Academic Ranking of World Universities. 
Studying at the Australian National University
ANU's standing as one of the world's leading universities can be attributed to its cutting-edge research, excellent teaching degrees, and academic expertise. Its teaching degrees are among the best in Australia, making it a top choice for international students who plan to pursue a career in education. 
ANU offers many other courses across several academic colleges. Students have the flexibility to pursue single or combined degrees at both the undergraduate and postgraduate levels, and many courses offer an internship component. Internships provide valuable work experience, enabling students to apply what they've learned to real-world scenarios.
Yearly full-time international tuition fees vary by degree and level:
Three-year bachelor's degree:

AUD$39,090–AUD$48,860

Four-year bachelor's degree:

AUD$39,090–AUD$48,384

One-year graduate diploma:

AUD$39,090

Six-month graduate certificate:

AUD$19,545–AUD$23,455

One- to two-year master's degree:

AUD$44,470–AUD$50,400

Three-year Juris Doctor degree:

AUD$52,280

Four-year medical degree:

AUD$84,143
Please visit the ApplyBoard Platform for the most accurate information.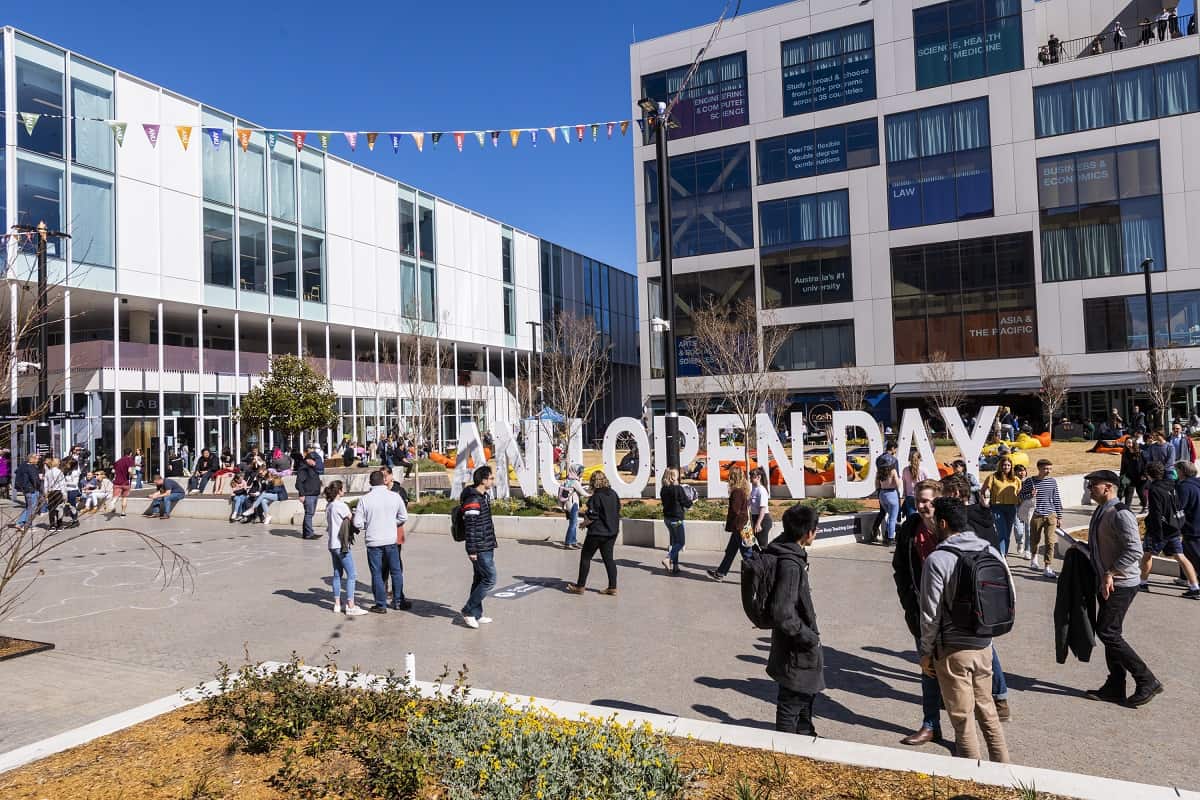 Campus Life
ANU's Acton Campus is located in the heart of Canberra and is a short bike ride, walk, or drive to some of Australia's most recognizable cultural and political institutions, such as the Australian Parliament House. The campus is also surrounded by many bars, shops, and restaurants. It's the perfect place for international students to immerse themselves in all that the Australian Capital Territory has to offer.
The Acton Campus is also well known for its picturesque setting. The campus boasts more than 10,000 trees, giving it a park-like atmosphere. One of the campus' most beautiful natural features is Sullivan's Creek. Scenic Sullivan's Creek is 13 kilometres long, and its last two kilometres meander through the university campus, so students can enjoy the view and sound of water while strolling to class.
On-Campus Accommodation
Students studying at Acton Campus have eighteen on-campus residences to choose from. A few on-campus living options include:
All of ANU's accommodations are close to on-campus amenities such as athletic facilities, food services, classes, and labs.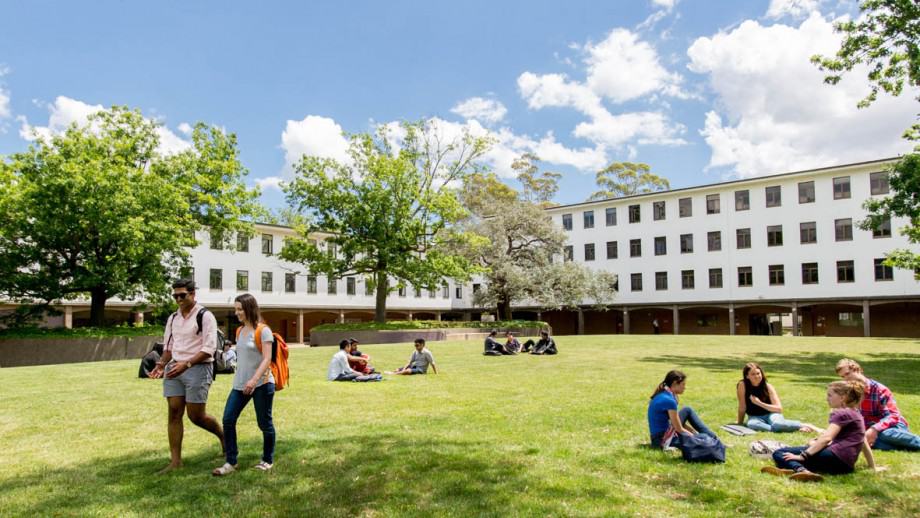 Financial Support at a Glance
ANU offers many scholarships for international students. You can use their online search tool to help identify which scholarships you are eligible for. 
The university's most prominent scholarship for international students is the Chancellor's International Scholarship. Recipients of this scholarship will receive a 25% to 50% tuition fee waiver for their entire study period. The tuition fee discount is applied to three years of study for undergraduate recipients and up to two years for postgraduate recipients. Those who receive this scholarship will also pay a reduced tuition deposit of AUD$10,000 instead of the standard amount detailed on their admission offer. 
There are also several government scholarships available to make studying in Australia more accessible to qualified international students. Two great scholarships to consider are the Australia Awards and the Destination Australia Scholarship.
Getting to Know Canberra
If you're someone who enjoys nature, studying at ANU should be top of your list. Surrounded by hills, bushland, and mountains, Canberra boasts a spectacular natural landscape. Canberra is, in fact, sometimes affectionately referred to as "the bush capital," making it a perfect destination for students who enjoy athletic hobbies or exploring the outdoors. 
Australia's capital appeals to more than just nature lovers. There's plenty to see within the city limits, as well. International students can soak in the capital's rich history by visiting the Australian War Memorial, National Gallery of Australia, and National Museum of Australia. This beautiful city has something for everyone to enjoy!
Life After Graduation
With its focus on academic excellence and commitment to ensuring students have access to the latest technology and research, it's no surprise that ANU produces highly sought-after graduates. In fact, its graduates are among the world's most employable, ranking above all Australian universities in the Times Higher Education's employability rankings.
International students who receive a degree from ANU have a higher rate of graduate and post-graduate study opportunities than any other university in Australia. Graduates will also be able to take advantage of the ANU alumni network and careers centre to help find career opportunities. 
After graduation, eligible international students can take advantage of Australia's Temporary Graduate Visa in the post-study or graduate work stream to live and work Down Under.
Ask your recruiter about applying to the Australian National University today!
---