In 2019, more than 75,000 international students were enrolled in Intensive English Programs (IEPs) in the US. That number dropped by over 50% in 2020, as only 37,000 students enrolled in IEP last year—the largest single-year decline in the program's history.
Recently released data from an IEP survey, conducted by IIE with the support of the Bureau of Educational and Cultural Affairs,1 sheds light on how American IEPs were impacted by COVID-19.
In this edition of ApplyInsights, I'll break down the 18 months of hurdles that US IEPs and their students encountered. I'll walk through the challenges and teachable moments that 2020 brought the US language industry, examine how the US fared relative to other popular destination markets, and offer my thoughts on what the future holds for the sector.
Key Insights at a Glance
From 2015 to 2020, US IEP enrollment fell from 133,000 to 37,000 students—the largest ever 5-year decline.
93% of IEPs said that COVID-19 spurred innovation and investment in 2020, leading to an increased commitment to develop online study resources, resources to support mental health, and new course curricula.
71% of IEP students in 2020 came from just five countries: China (25%), Saudi Arabia (18%), Japan (14%), Brazil (7%), and South Korea (7%).
From Melbourne, Australia, to Montreal, Canada, international students were reluctant to enroll in programs where in-person interaction wasn't possible. Luckily, this reluctance empowered schools to offer a more well-rounded product. Let's explore the good, bad, and unexpected outcomes of 2020 for US IEPs.
Challenges Faced by the Four Largest Destinations for IEPs
Programs operating in the top four markets for English language studies faced challenges recruiting students in 2020. The chart below shows the percentage change in language program enrollment across Australia, Canada, the UK, and the US: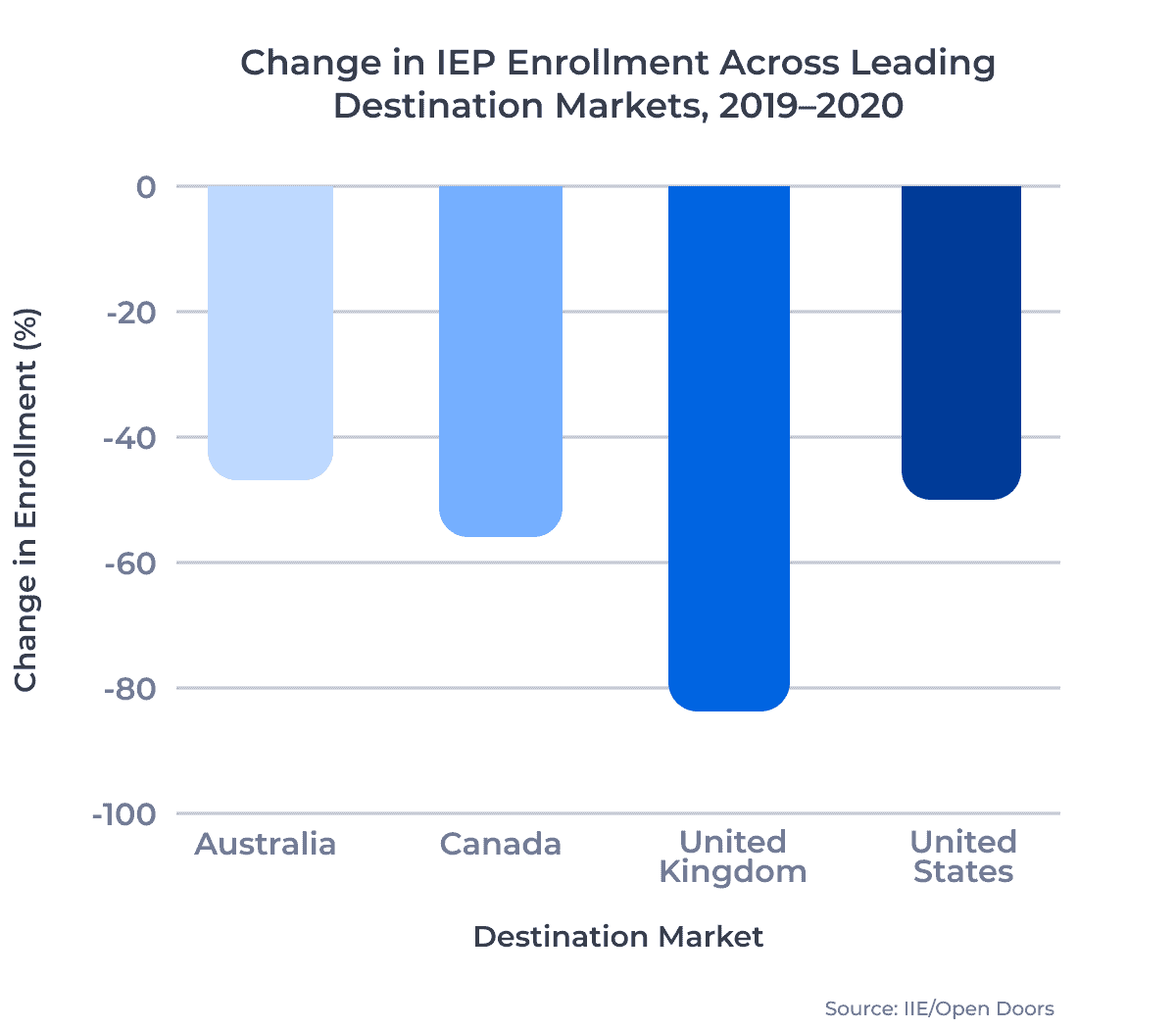 The UK experienced the most significant decline, down 84% year-over-year. In 2019, nine of the top 15 source markets for language students in the UK were European countries. Brexit is clearly the key driver influencing this drop, accounting for a 40% drop in applications from EU students to the UK across study levels for 2021-22, but it's not the only factor at play.
Bloomberg's recently released Covid Resilience Rankings determined that 13 of the best 15 countries to be in during the global pandemic were European countries.
Contrary to the pattern of behaviour I've previously written about from citizens of countries with severe COVID outbreaks, it appears many prospective language students elected to stay put due in part to the relative safety of their home country compared to the UK.
The majority of European students pursuing British language studies deferred their plans to a later date. Students were either not willing to pay the increased admissions fees for foreigners or opted for the safety of home.
Australia
Australia experienced the smallest drop-off among top destination markets, seeing a decline of 43%. This may seem counterintuitive due to the strict border lockdowns Australia has implemented during the past 18 months. However, this decline was likely mitigated by the ability of Australian language programs to successfully pivot to online learning.
Over 50% of Australian language students in 2020 were studying remotely offshore. This is an extremely positive sign for the sector that ApplyBoard's partner schools are working to build on as international travel slowly resumes.
Canada
While Canadian language programs saw a 56% decline in enrollment last year, this sector is in a prime position for recovery. Bonard's survey of recruitment agents found that Canada will be the number one choice for international students post-pandemic, with 31% of respondents preferring Canada over other top markets. Languages Canada is confident their enrollment numbers will climb back to pre-pandemic levels by 2023.
For an insider's perspective on how Canadian language programs were impacted by the global pandemic, read my interview with Gonzalo Peralta, Executive Director of Languages Canada.
The Decline of US Language Programs
The US welcomed half as many language students in 2020 as it did in 2019. The following graph shows international student IEP enrollment in the United States over the past 10 years: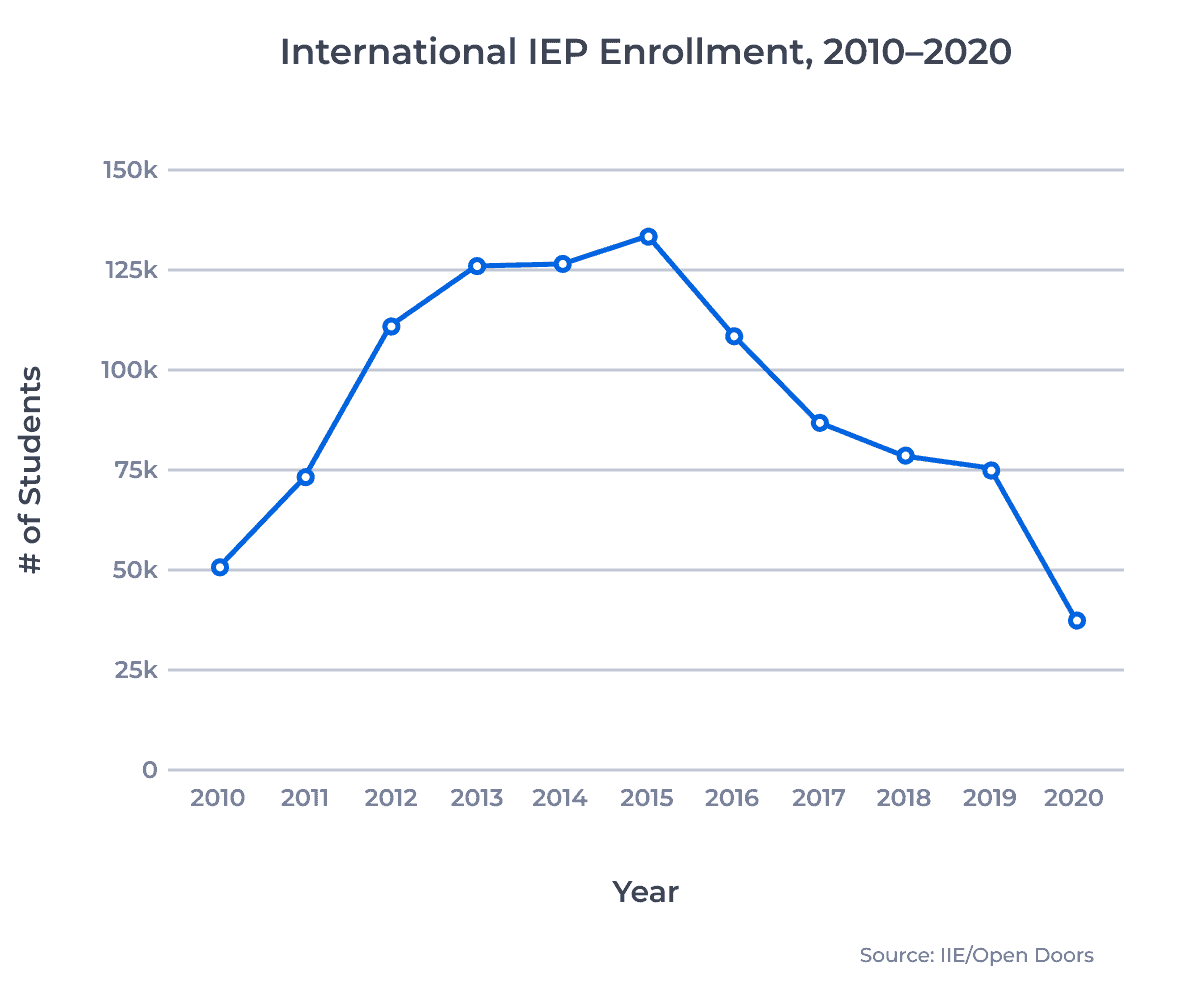 The 50% decline in enrollment must be taken seriously. However, it's important to consider the factors that contributed to the decline of student interest in IEPs pre-pandemic.
The political climate in the US over the past five years was a massive deterrent for international students considering language programs in the US. Former President Trump's low international approval ratings, compounded by his unwelcoming stance on immigration, were largely responsible for the largest 5-year decline US IEP enrollment has ever seen.
Even so, I'm optimistic for the future of the US market given their eagerness to reopen borders and pivot to becoming a safe, encouraging place for international students to study.
Direct Impact of COVID-19 on Language Programs
Language programs had a tough year in 2020, but the past 18 months have also forced IEPs to reevaluate how they were doing things. 90% of IEPs indicated that COVID-19 adversely impacted their program, while 93% said that COVID-19 spurred innovation and investment in 2020.
Adverse Impacts in the US
Professionals in the North American language industry have told me time and time again that the appeal of language programs is tied to experiential learning.
Interacting with other international students, engaging with the local community, consistently applying learnings from the classroom, and travelling. These are the aspects of in-person language programs that make them so popular among international students.
The severe decrease in IEP enrollment meant that IEPs across the US were struggling to keep their doors open. The graph below outlines the percentage of IEPs that were forced to implement certain program changes during 2020: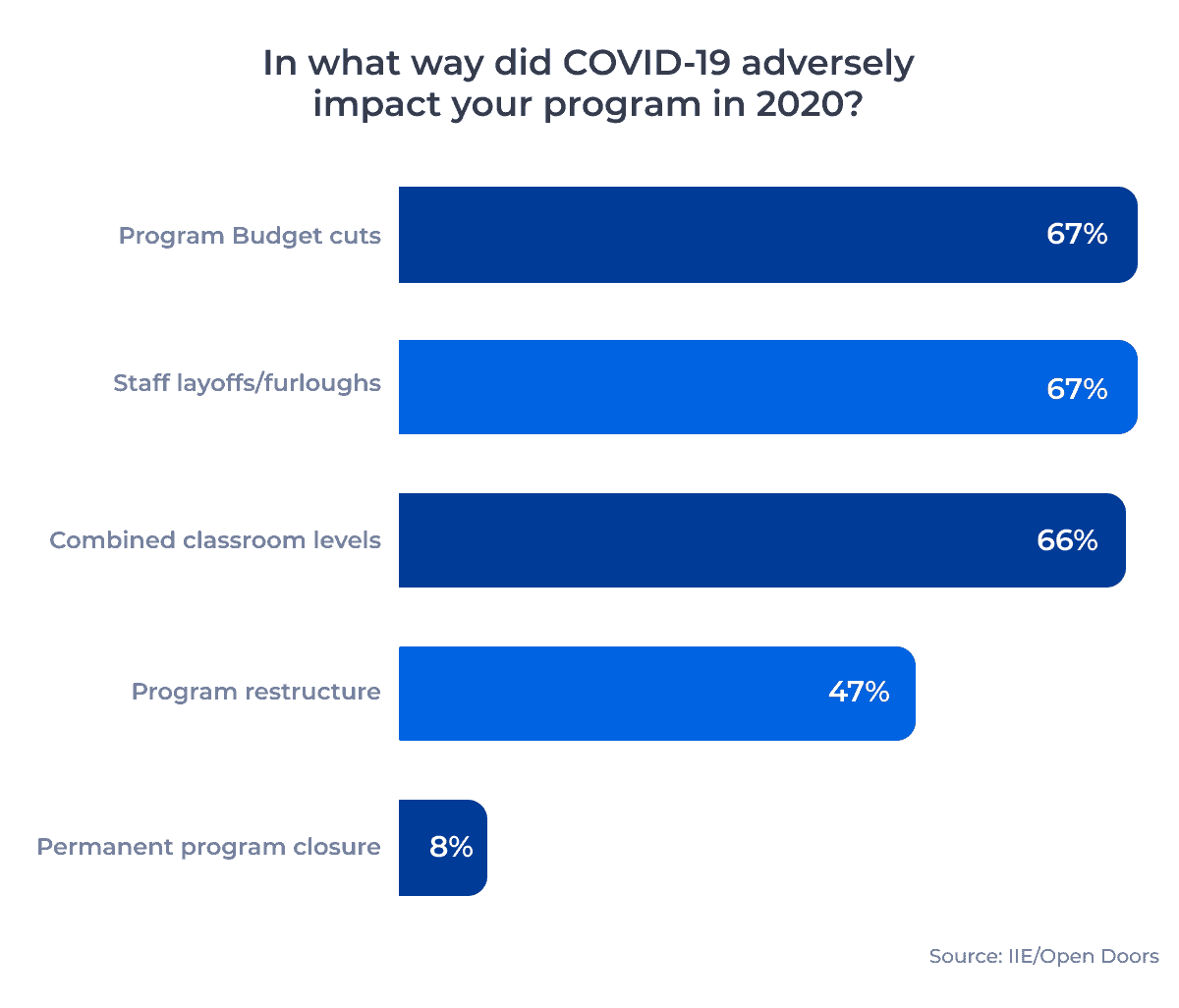 In 2020, two out of every three IEPs were forced to cut their program budget, lay off or furlough teachers, or combine multiple classroom levels in an effort to save money.
It's unfortunate to see so many IEPs struggle. However, the 92% of US language programs that remained open in 2020 have the pieces in place to make a strong recovery.
Learning Moments for IEPs
There were more IEPs who claimed that COVID-19 spurred innovation than there were IEPs who claimed their program was severely impacted by the global pandemic. This surprising statistic bodes well for the future of IEPs in the US.
The below graphic highlights some of the most common ways IEPs benefited from the adversity of COVID-19: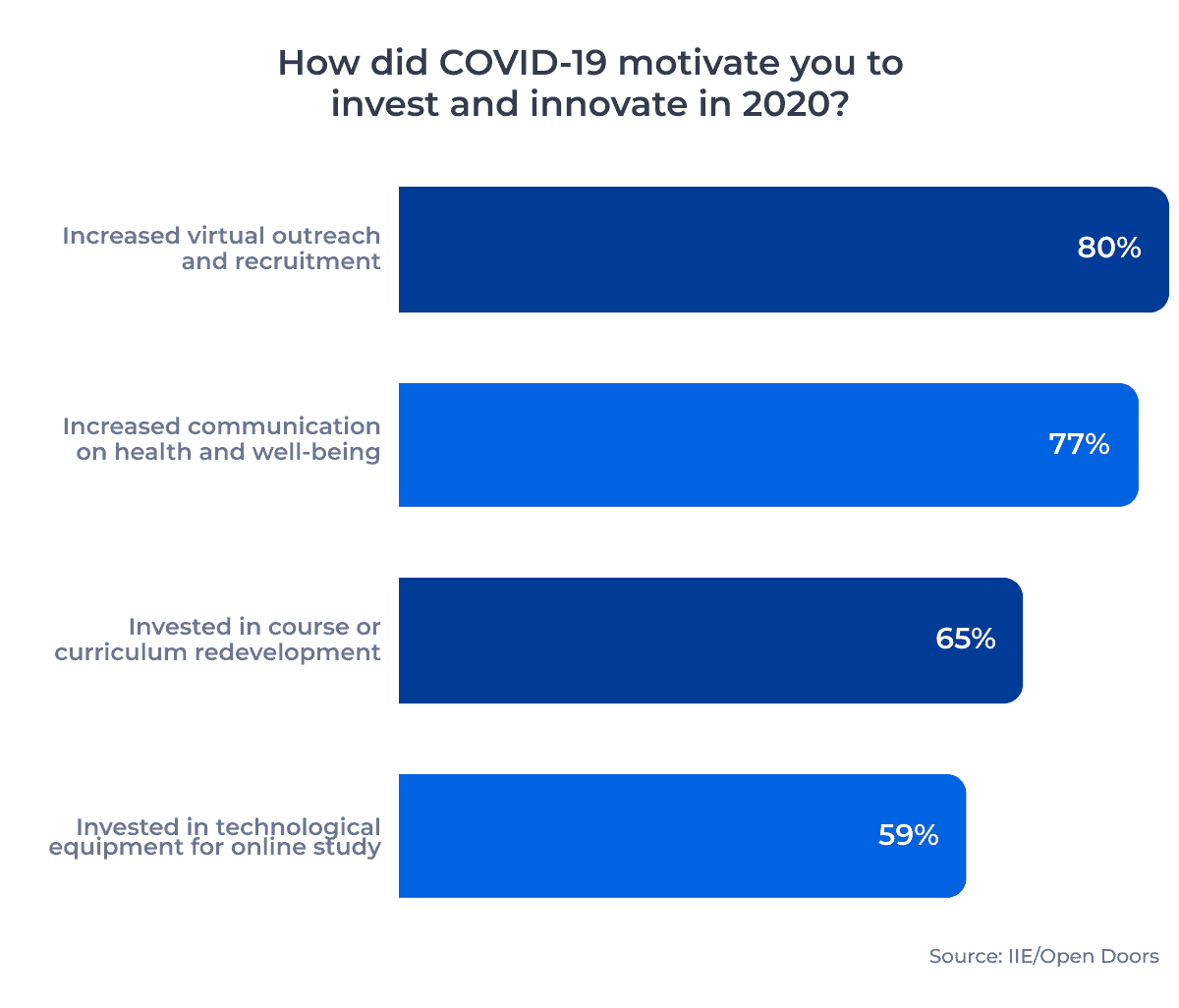 Sometimes we're resistant to change until we're forced into it. Despite the steep decline in IEP interest over the past 7 years, institutions were hesitant to tamper with a structure that had defined language programs since their inception.
As in-person learning became difficult to facilitate, US schools pivoted to an online learning environment. This offered schools a new perspective on how they could find success in educating their students, even when students were unable to be in the same room as their instructors.
The positive reception that online language learning received pushed institutions to adopt the mindset that this shift was not a band-aid solution. 59% of IEPs increased investment in technological equipment for online study, and 80% increased virtual outreach and recruitment.
IEPs are recognizing that remote learning will add value to their programs long after borders reopen. In order to remain attractive in the ultra-competitive world of language programs, IEPs need to adopt a blended learning approach that caters to students learning English in whatever setting they're most comfortable in.
The Delivery of IEP Curriculum
Pivoting to online study in response to COVID-19 was essential to ensure IEPs could stay afloat last year. But I think the IEPs that are most proactive in their structure and facilitation of learning will hold a competitive advantage moving forward.
The following chart breaks down the various settings in which IEPs offered their programs during Summer and Fall 2020: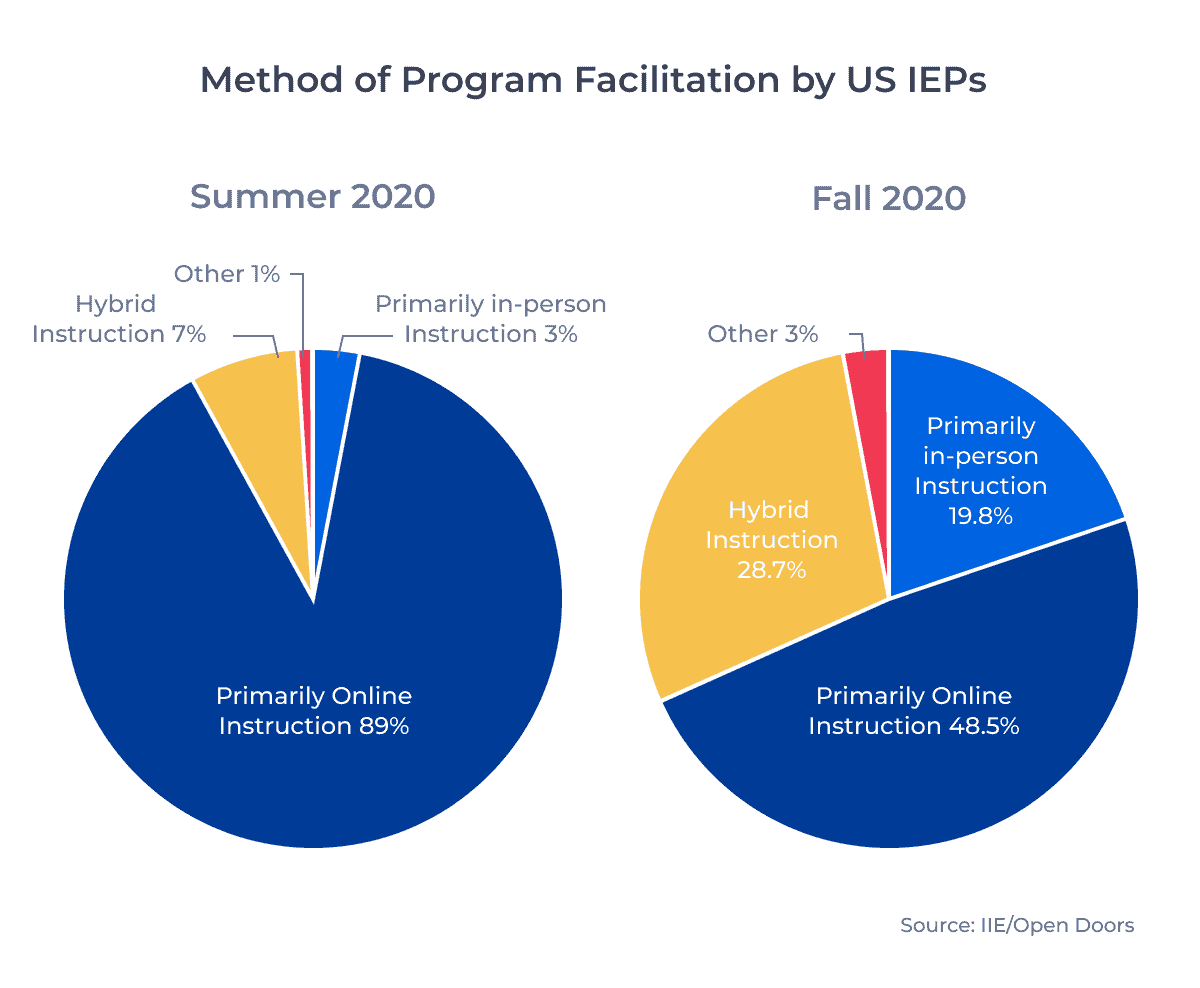 Unsurprisingly, 9 in 10 US IEPs pivoted to a model of primary online instruction during the summer of 2020—the first term directly impacted by COVID-19 travel restrictions. As restrictions were lifted in some areas of the US, IEPs showed a willingness to move to hybrid or fully in-person instruction. In the fall of 2020, 29% of programs moved to a hybrid delivery method while 20% of IEPs reverted to in-person instruction.
While I understand schools' enthusiasm to return to fully in-person learning, I feel that it's shortsighted to move to an exclusively in-person instruction model.
Recent data from the US edition of the QS International Student Survey uncovered that 62% of students would be open to enrolling in an online-only program. The convenience, lower cost, and ability to study while working have helped make remote learning particularly appealing to international students.
I anticipate that we will see more IEPs pivot to a hybrid model over the next couple of years, as this model provides students with the opportunity to choose which learning environment best suits their needs.
Looking Forward
Although 2020 posed a series of challenges for IEPs in the United States, I strongly believe that the future is bright for this industry.
The recent decline in this sector is a product of two key factors. Following former President Trump's election, students immediately began losing interest in pursuing language studies in the United States. When President Joe Biden took office, the outlook for international language students in the US appeared to be on the mend. Then the global pandemic hit.
Today, the US has adopted a much more welcoming stance on international education, and borders are once again open. The last time both of those factors were in place, US IEPs welcomed their highest-ever number of international students. Provided US borders remain open moving forward, I predict IEP enrollment numbers will rise substantially in 2022 and beyond.
Students are excited about the current landscape of the United States as a place to study, with 54% of prospective students saying they are more interested in studying in the US as a result of President Biden's election.2
IEPs looking to leverage this pending rebound of international student interest should:
Prioritize offering a blended learning approach that caters to students who wish to learn on campus, from a remote location, and everything in between
Put pressure on local government officials to mandate vaccines, masks and other COVID-19 regulations that allow international students to feel safe coming to the US.
Focus on sharing the US's recent commitment to valuing international education and creating opportunities for international talent.
Published: September 13, 2021
Subscribe to ApplyInsights
Sign up for the latest insights on international education.

---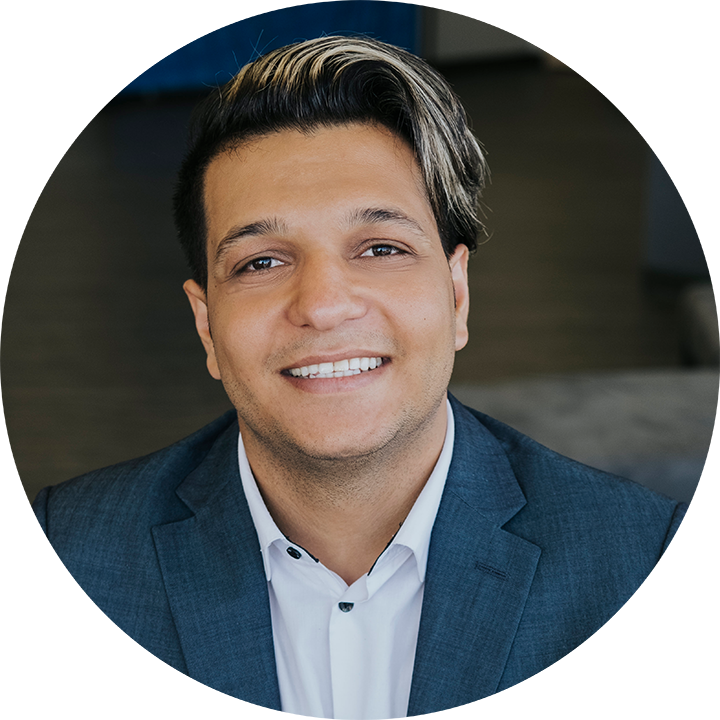 Meti Basiri
Co-Founder and Chief Marketing Officer (CMO)
Meti is driven by the belief that education is a right, not a privilege. He leads the International Recruitment, Partner Relations, and Marketing teams at ApplyBoard, working to make education accessible to people around the world. Meti has been instrumental in building partnerships with 1,500+ educational institutions across Canada, the United States, the United Kingdom, and Australia. Working with over 7,500 international recruitment partners, ApplyBoard has assisted more than 200,000 students in their study abroad journey. Follow Meti on LinkedIn for more access to ApplyInsights and key industry trends.
---
FOOTNOTES:
1. All data sourced from the Open Doors Intensive English Programs (IEP) Data Release, 2020, except where noted.
2. Source: QS ISS – US.