Student visa numbers across destination markets point to a wave of students looking to study abroad. This is good news for institutions whose international enrollment took a hit during the early stages of the pandemic. But it's also created the potential for bottlenecks, from the application stage to when students arrive on campus.
In order to meet the needs of all international students, institutions need to act proactively to manage this influx of students. In today's ApplyInsights, I'm going to discuss how institutions can best prepare themselves to handle the coming wave.
Key Insights at a Glance
Pent-up demand caused by deferrals and new applications has created a "double cohort" effect which projects to flood top destination markets with interest in 2022.
Six times as many students were approved to study in Canada between January and September 2021 as the same period in 2020.
In the year ending September 2021, 176,000 more UK student visas were issued than in 2020—that's an increase of 143%.
38,000 students were approved for Canadian Post-Graduate Work Permits (PGWPs) between January and March of 2021, and PGWP approvals are projected to reach record heights by the end of the year.
Then and Now
COVID-19 blindsided the international student industry. Travel came to a halt, campuses shut down, and countries went into lockdown. It's often repeated, but it's important to remember where we were as an industry in the spring of 2020.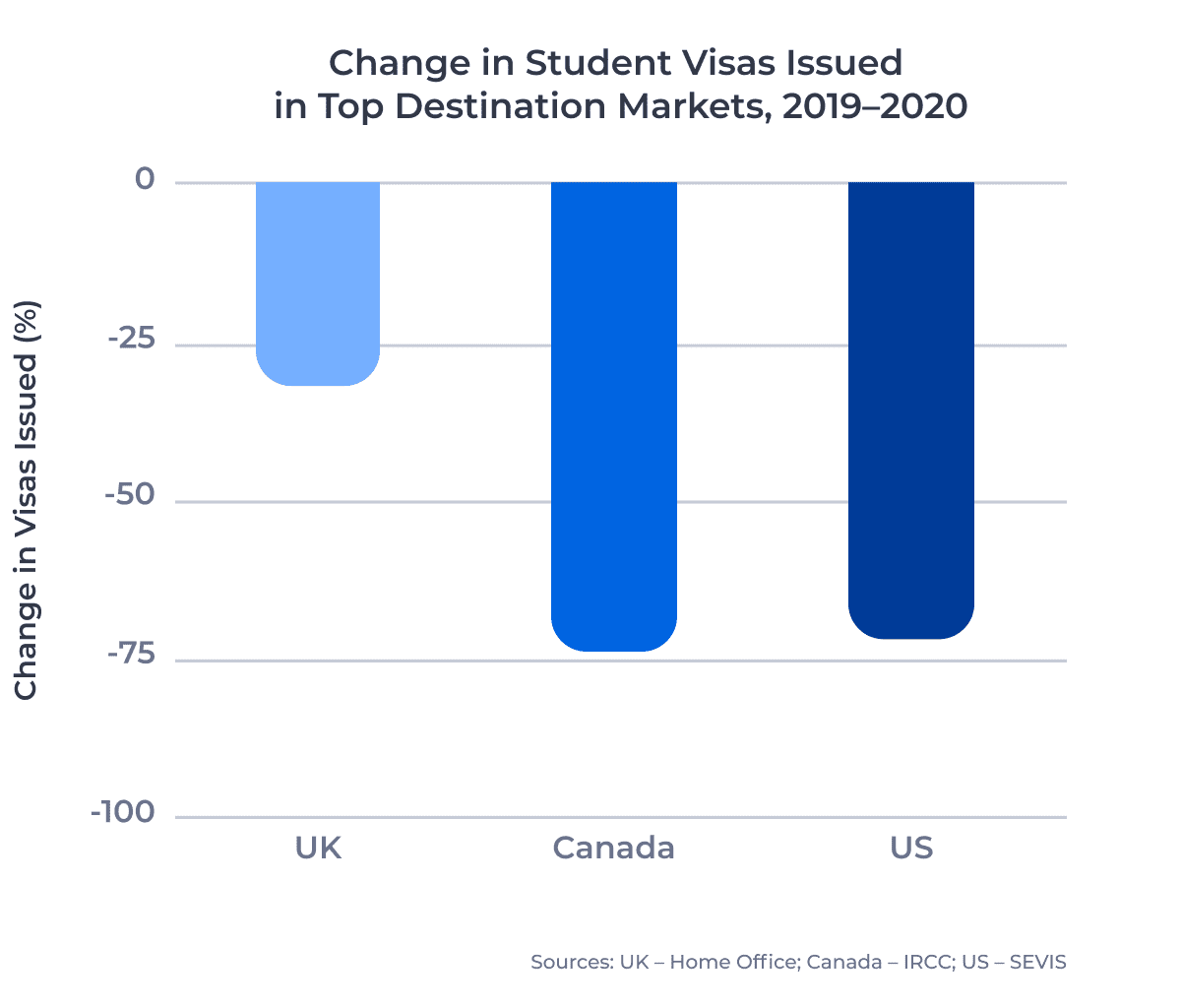 Canada, the US, and the UK each experienced its largest single-year decline in student visas issued in over two decades.1
Fast forward to the end of 2021 and the industry has come roaring back. At ApplyBoard, the shift we're seeing in applications submitted on our platform has been incredible: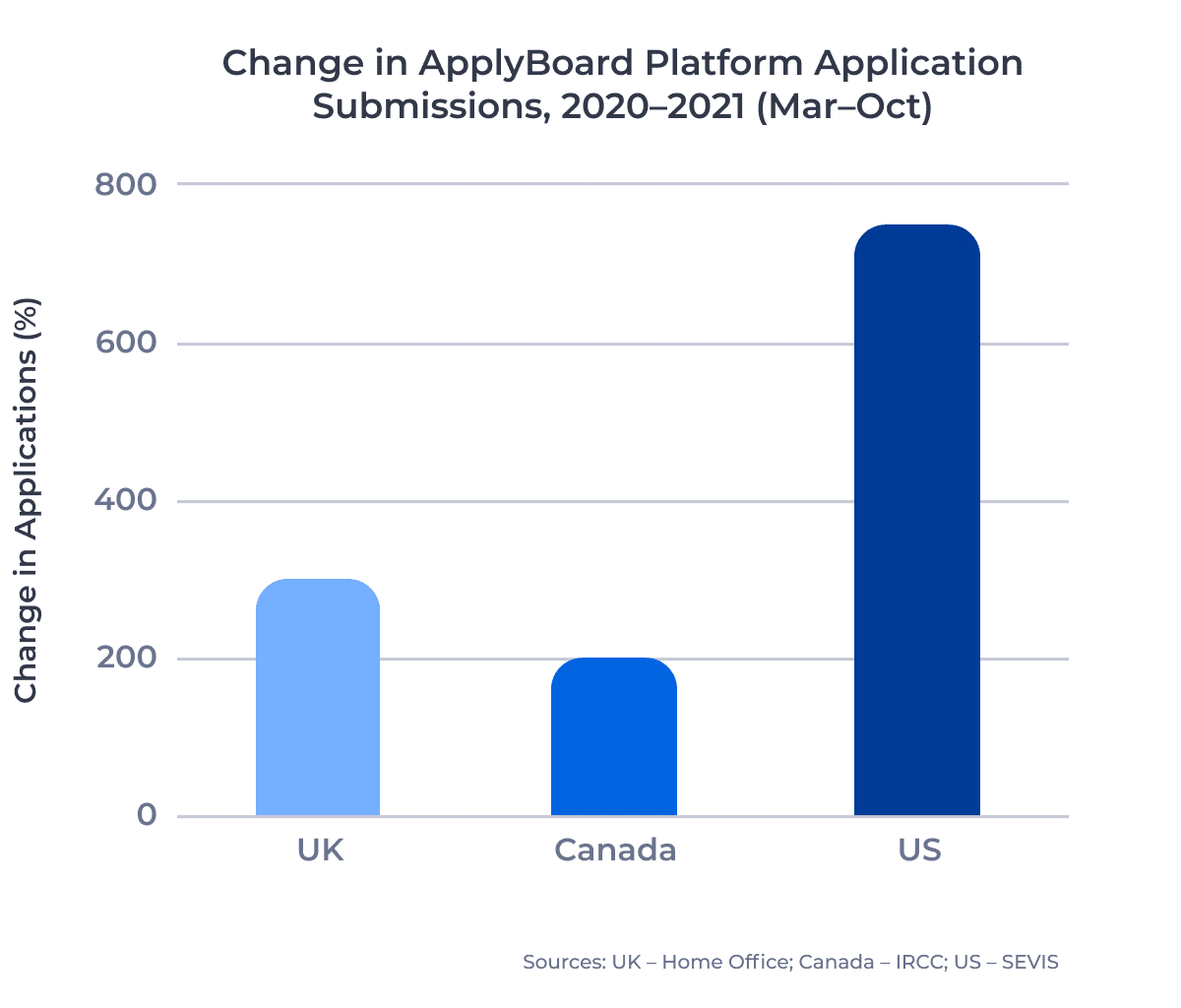 It's easy to get excited about these numbers. They point to a strong recovery for our sector. But with increased demand comes a responsibility to efficiently manage that demand.
The Double Cohort Effect
The pandemic created a massive backlog of students who are eager to study abroad, and the floodgates are starting to open.
This worldwide increase in student visa applications is coming from a few different places: students who have deferred their acceptance (in some cases multiple times), first-time applicants, as well as applicants looking to relocate to a country with a strong economic recovery plan and high vaccination rate.
The pent-up demand created by all of these students is creating a "double cohort" effect—one unusually large cohort of students motivated by COVID-19 impacting their home countries hard and another cohort of students who deferred up to two years of education during the pandemic.
In the wake of the higher education sector's largest single-year application increase, the biggest challenge institutions now face is how to get in front of all these students, process their applications, and accommodate them, without sacrificing the integrity of the admissions process.

Let's take Canada as an example. The graph below compares new study permits approved across the first nine months of each year:
Study permit applications have been pouring into Canada this year, with more than 265,000 students approved to study between January and September 2021. That's 34% more than the same period in 2019, the previous single-year record.
Six times the number of students were approved to study in Canada between January and September 2021 compared to the same period in 2020.

When it comes to the 2021 resurgence, Canada is not alone. In the year ending September 2021, UK student visa issued numbers jumped from just over 176,000 in 2020 to more than 428,000 in 2021.2 This marked an increase of 143% from 2020 and 55% from the year ending in September 2019.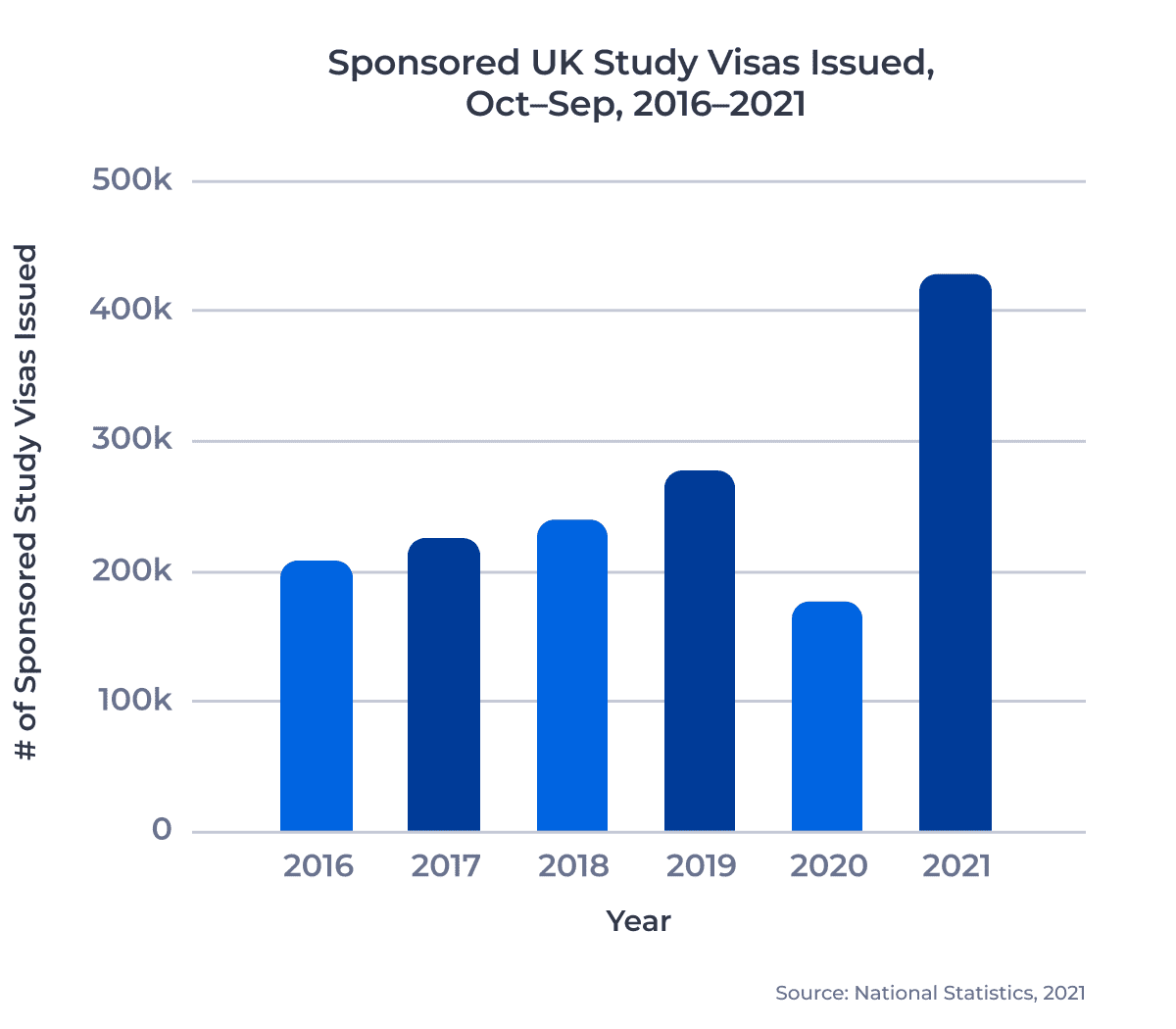 The US is also expected to rebound strong, although not quite at the level of the UK and Canada. Let's take a look at their growth over the past six academic years: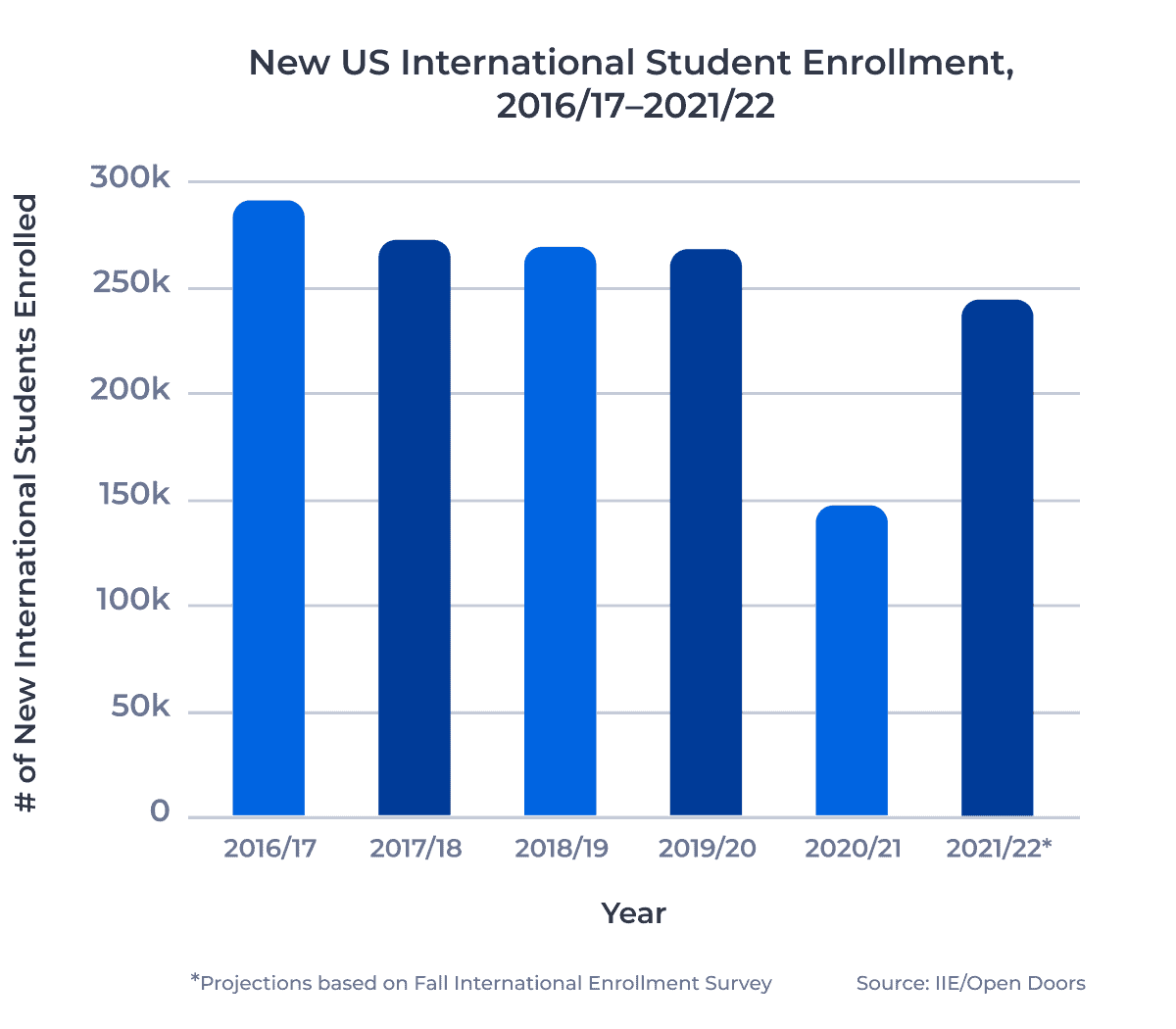 A September 2021 survey of US admissions offices projected that American institutions will welcome 245,000 new international students in 2021/22, a year-over year-increase of 68%. A recent joint statement by the US Departments of State and Education in support of international education made it clear the Biden Administration is prioritizing the sector.
Shifting Student Priorities – Learning Delivery Preferences
Another big change we saw over the past year and a half was the pivot to remote learning. This shift was sudden and widespread, but it was also meant to be temporary.
There has been a lot of discussion about remote learning becoming the preference of students, and while survey data doesn't indicate a preference for it, it does tell us that a relevant number of students still want it.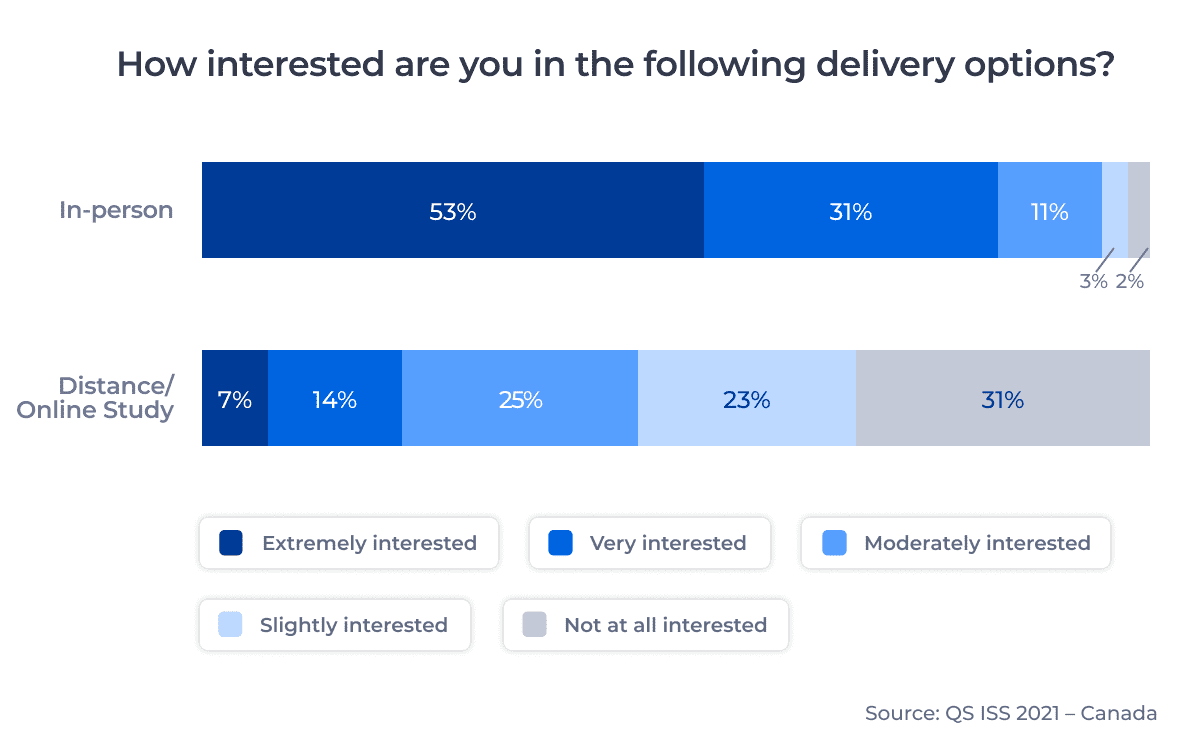 84% of students said they were "extremely interested" or "very interested" in in-person learning. Just 21% said the same for distance or online study.
Without a doubt, students want to travel and experience another culture, but the students who do want to continue learning from a remote location offer a release valve for the pressure being placed on institutions via the double cohort effect.
I encourage institutions to pay attention to this 21% of students. Focus on developing engaging and high-quality remote learning experiences that appeal to students who are open to this delivery method once campuses are back at full capacity.
Positive Shifts in Student Immigration Policies
Government policy is also driving increased interest in international education. Let's take a closer look at how regional programs are helping to make this happen.
The UK's Graduate Immigration Route (GIR)
The UK's Graduate Immigration Route (GIR) is poised to disrupt the international education landscape. It's a key part of the UK government's efforts to grow the total number of international students studying in the UK to more than 600,000 by 2030.
At ApplyBoard, we're hearing tons of interest in the GIR from our recruitment partners in immigration-focused source countries all over the world, from India and Bangladesh to Nigeria and other countries in Africa.
This is likely to be a huge boon for the UK moving forward at a time when the US and Canada are also ramping up competitiveness.
In a previous ApplyInsights, I broke down the impact of post-graduate work programs on destination markets.
Progressive Immigration Policies in Canada
Canada is on pace to surpass its target of 401,000 new permanent residents in 2021.
As Canadians retire at a faster rate than children are being born, Canada is on track to have a shrinking workforce at a time when its social spending on healthcare will increase. To counterbalance this trend, the Canadian government raised its immigration targets.
Canada's strategy of attracting international talent is anchored by its own Post-Graduation Work Permit (PGWP) program, which has taken off over the past four years.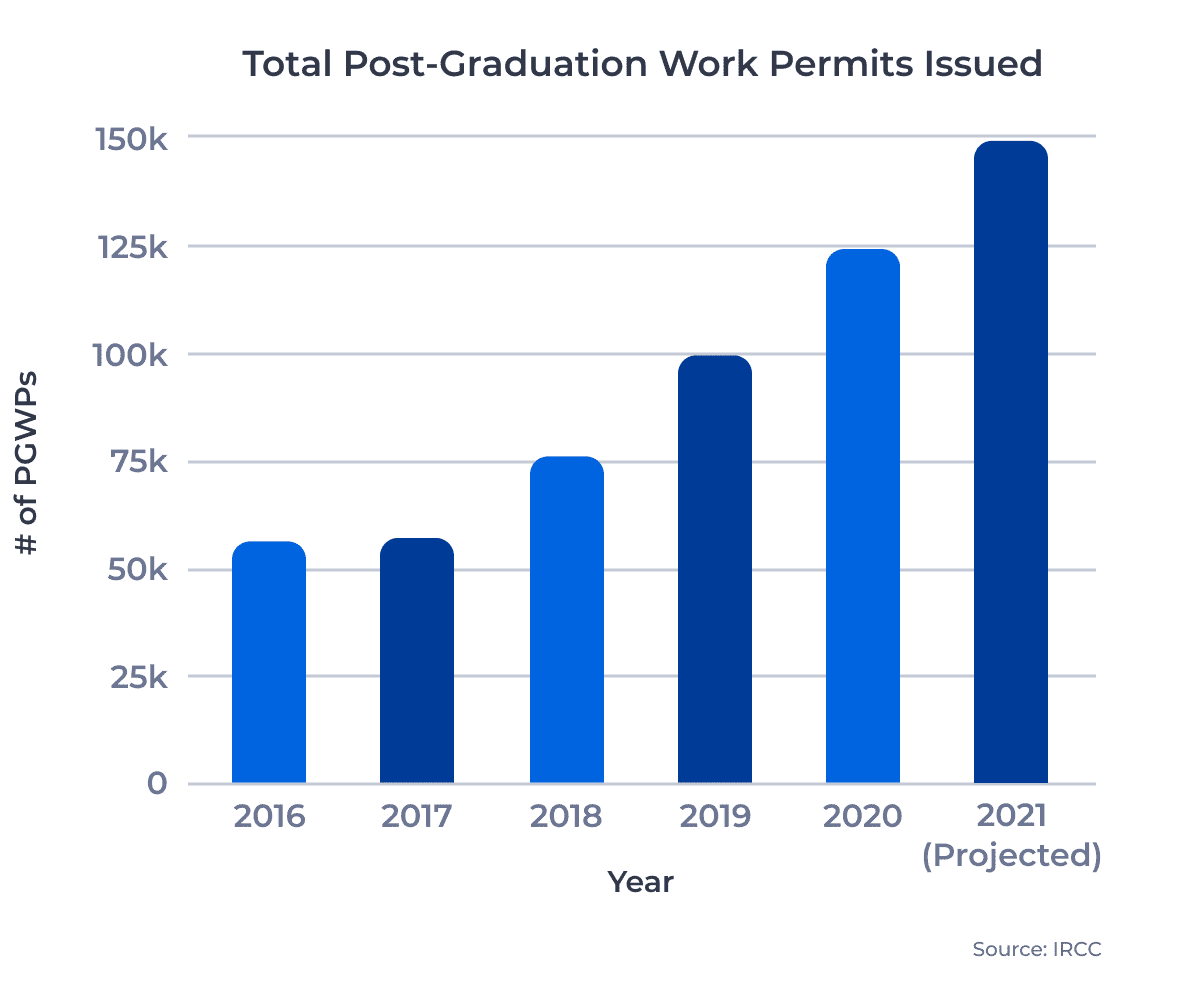 PGWPs issued increased by 125% between 2017 and 2020, and they project to rise at a faster rate moving forward. This growth is largely driven by the explosion of the Indian market, where post-graduation work opportunities are a key driver.
From January to March 2021, there were more than 38,000 post-graduation work permits issued to international graduates of Canadian schools. When PGWP data is released for full-year 2021, I fully expect it to be a record-high year.
We could be looking at the same kind of explosive interest in the GIR, spurring rapid growth in the (non-EU) sector of UK international higher ed.
Complications of New Variants
I can't speak to the future of our industry without recognizing the threat of new COVID-19 variants, such as Omicron, which are leaving an air of uncertainty globally as health professionals and scientists work to get ahead of the novel coronavirus.
As unpredictability looms, schools should start thinking about how they will triage impending waves of demand when they do eventually hit. Institutions need to have contingency plans in place, specifically ones preparing themselves to pivot to fully remote delivery, in case another lockdown does occur.
Advice to Institutions on Managing This Wave
International students' collective desire to learn is fantastic news. And while it warrants celebration, it also marks the start of a great deal of work for the institutions handling this influx of applications.
Here are some key items institutions in major destination markets should zero in on as the industry prepares to undergo what could be the biggest year in recent memory:
Now is the time to act if you're a school looking to break into the international student market, as more established schools wrestle with keeping up with the increased demand.
As enrollment numbers soar, schools must prioritize supporting students during the application process and never treat them as a number.
Schools facing capacity challenges should invest in developing long-term remote or hybrid delivery methods to cater to all students, free up space on campus, and grow overall enrollment.
Published: December 17, 2021
Subscribe to ApplyInsights
Sign up for the latest insights on international education.

---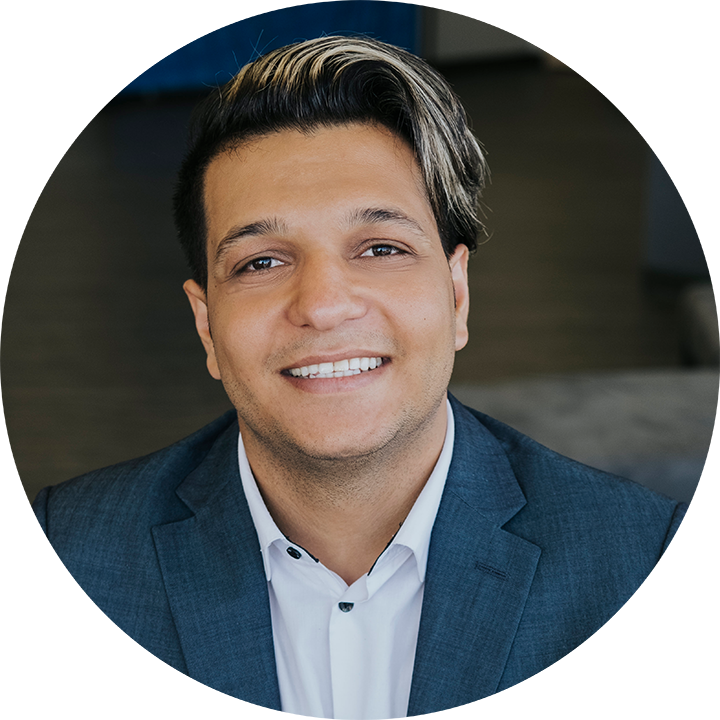 Meti Basiri
Co-Founder and Chief Marketing Officer (CMO)
Meti is driven by the belief that education is a right, not a privilege. He leads the International Recruitment, Partner Relations, and Marketing teams at ApplyBoard, working to make education accessible to people around the world. Meti has been instrumental in building partnerships with 1,500+ educational institutions across Canada, the United States, the United Kingdom, and Australia. Working with over 7,500 international recruitment partners, ApplyBoard has assisted more than 200,000 students in their study abroad journey. Follow Meti on LinkedIn for more access to ApplyInsights and key industry trends.
---
FOOTNOTES:
1. All Canadian data sourced from Immigration, Refugees and Citizenship Canada (IRCC), all UK data sourced from GOV.UK, and all US Data sourced from IIE/Open Doors, unless otherwise stated.
2. Source: National Statistics: "Why do people come to the UK? To study." November 25, 2021.