Many companies and industries struggled throughout the past year, however, 2021 was a time of hyper growth for ApplyBoard. We expanded to new destinations such as Australia and welcomed more than 1,100 new team members aboard. More importantly, amid global challenges in the higher education sector, we helped over 300,000 students continue their education dream since ApplyBoard's inception.   
Take a moment to watch this heartfelt video of ApplyBoardians sharing what they were grateful for in 2021.
The ApplyBoard community stayed strong and supported each other throughout this year. Let's look back at some of the achievements, milestones, and fun memories that we collectively created. 
During our Employee Appreciation Month, we shared the great news that every one of us can be a shareholder. 

Customer Experience (CX) Appreciation Month allowed us to acknowledge our incredible CX team members and their contributions.

We launched the Employee and Family Assistance Program (EFAP) in Canada and India, enabling us to further support our team members and their families during the ongoing pandemic and beyond.

ApplyBoardians received access to LinkedIn Learning, and we encouraged everyone to take advantage of this incredible learning tool. 

The ApplyBoard Social Committee spent many hours

creating moments of fun amid the hard work with trivia and other games. 
Helping Our Community
With the help of our wonderful co-ops, we raised funds to support local charities such as the Enaahtig Learning Centre, OK2BME, Take Me Outside, and Reception House. 
A proud moment for all of us was raising over C$250,000 with our partners to buy oxygen concentrators for India. Our India team shared the following pictures showing these concentrators in use and saving lives: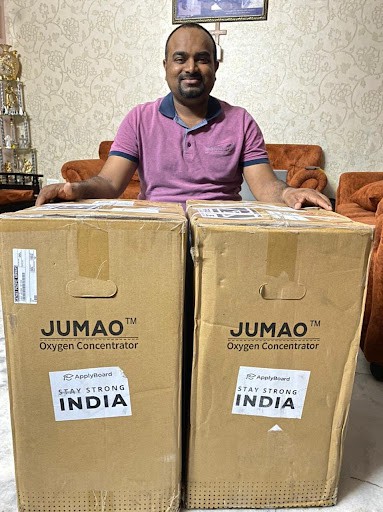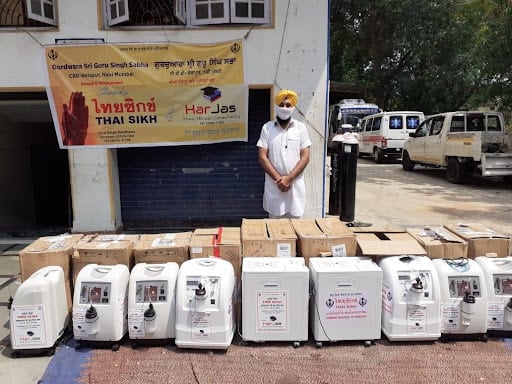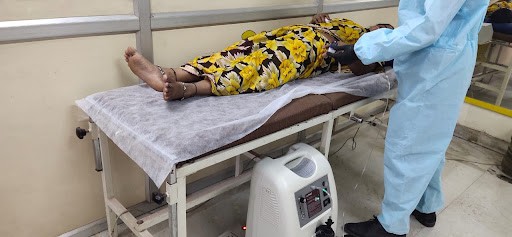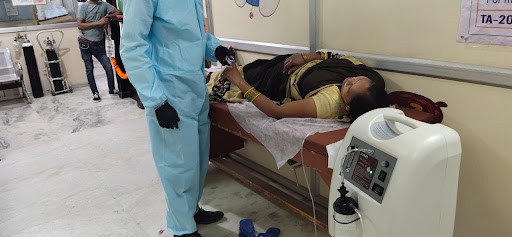 ApplyBoard African Ancestry Network, Women's Network, and New Clubs
Our team members created many new clubs, such as Gardening, the Room of Requirements, and the Wine Club, adding to an already extensive list of clubs representing our hobbies and interests. 
We also launched the ApplyBoard African Ancestry Network to provide a positive and fun environment for Black employees and allies. The ApplyBoard Women's Network (AWN) was also created to support gender equity, diversity, inclusion, and belonging. The AWN's five key program pillars are designed to be a mix of support, motivation, learning, and social connection. The AWN has hosted several workshops to date to help build connection, confidence, and leadership competencies.
STEM for Change Scholarship Program
On International Women's Day in March, we launched our STEM for Change Scholarship Program. The scholarship was created to drive diversity and inclusion by empowering women worldwide to pursue an education in science, technology, engineering, and mathematics (STEM). 
A panel of ApplyBoard women judges chose the recipients of the scholarship and the winners were announced in September. This was a proud moment for all the ApplyFam and certainly brought tears to our eyes and inspired us to work even harder. It was also a great reminder for all of us that what we do every day at ApplyBoard truly makes a difference in many people's lives from all around the world. Watch this video as we awarded scholarships to seven exceptional women.
Turning Six and Pride Month
In May, ApplyBoard celebrated its sixth anniversary. Watch co-founders Martin, Massi, and Meti Basiri celebrate in their inimitable style!
In June, we celebrated Pride Month with different programs, such as a guest speaker, trivia, and a virtual drag queen performance! ApplyFam member Elias Srouji shared his story of being an immigrant from Jordan, the first openly gay Men's Rugby Student-Athlete at McMaster University, and the importance of inclusion in education and the workplace.
We wrapped up our month-long Pride celebration and fundraiser for OK2BEME with a family-friendly event featuring Queen Aurora Matrix. This was an authentic, exciting, and lively celebration of Pride.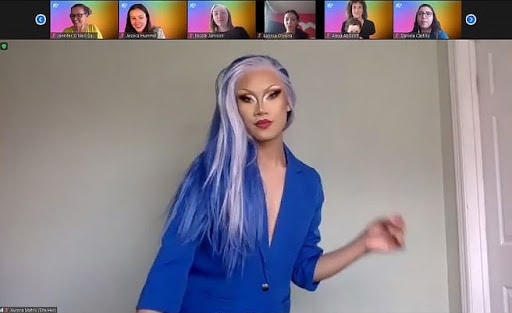 1,000 Strong
We grew to 1,000 ApplyBoardians strong in July and celebrated this achievement by sending the ApplyFam milestone pins representing important moments in our history that we all helped make happen. As part of this celebration, we also donated 1,000 backpacks to students in rural locations in India. That is one backpack representing each member of the ApplyFam across 20+ countries.
In this video, our team members share their experiences as ApplyBoard grew and hit different milestones.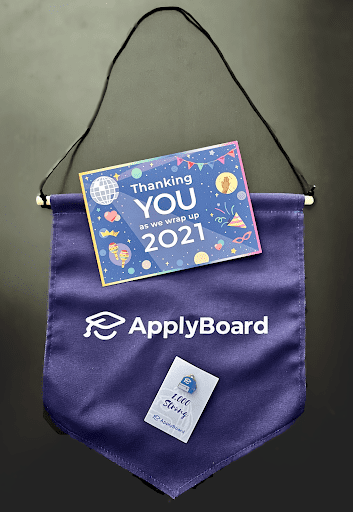 We also shared 1,000 reasons why we love ApplyBoard. Let's read Gloria's message together: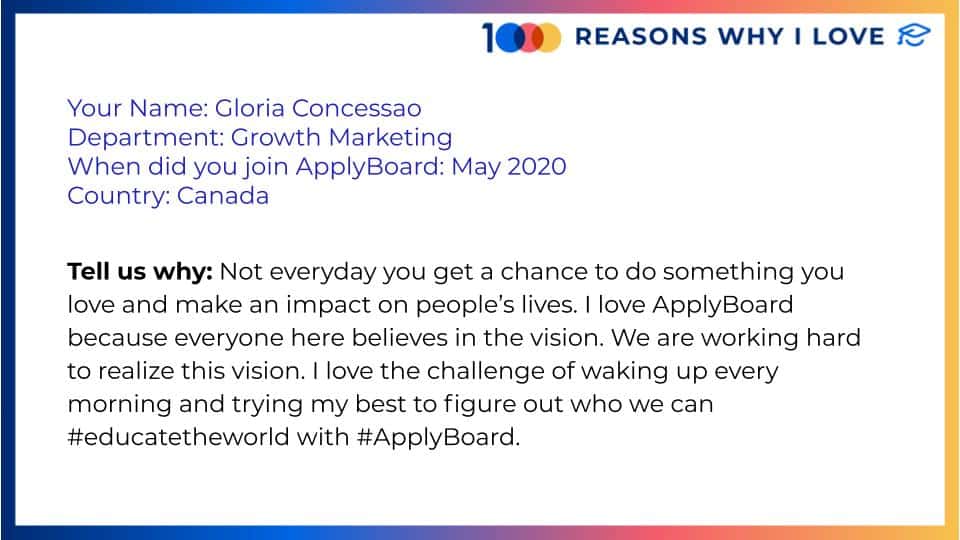 The Muse
In August, we partnered with The Muse to showcase our company and team members. You can visit our profile to watch some of our ApplyFam sharing what they love best about working at ApplyBoard, the impact of our work, and how our company has supported the transition to work from home.
A Competition and New India Office Launch
In October, we launched our interdepartmental talent competition. Many team members submitted entry videos which were subsequently shown in their department's quarterly meeting. The top three performers from each department competed in the company-wide year-end competition. 
October also marked the opening of our new office in India. This expansion to a new, state-of-the-art space will help us do what we do best – educate the world. You can watch the grand opening ceremony and several performances from the ApplyFam in India in the video below.
A Virtual Gathering and Declaring a Winner
We finished off the year with a virtual gathering where team members reminisced about their favourite memories, stories, and proudest moments from 2021. Also, the finalists from different departments competed in the company-wide talent show, and Keehan from our Strategy Team was crowned the winner! ApplyBoardians had difficulty choosing from the many amazing performances, from Bollywood dance, and singing, to playing instruments and performing tricks with their pets.
Check out Keehan's incredible talent below:
2021 might have been a challenging year, but ApplyBoard thrived as we supported our team members, partners, and students. We look forward to 2022 as we continue to Educate the World!