Studying abroad in the United States is a life goal for many international students. In fact, the US is the world's most popular study abroad destination! If you're interested in studying abroad, here are some US government scholarships that can help with your expenses and tuition.
Before You Apply
Look at the US Department of State's EducationUSA and the Bureau of Educational and Cultural Affairs' Exchange Programs sites. They have information ranging from sponsorship timelines to student exchange opportunities. Also, think about creating a calendar of scholarship and program application due dates. It's a great way to outline when to start preparing for applications, and which scholarships to prioritize.
Keeping your options open? Study abroad in the United Kingdom with these UK government scholarships, head for the Outback with these Australian government scholarships, or take your studies north with these Canadian government scholarships.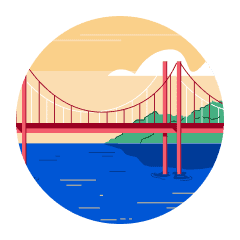 Fulbright Foreign Student Program
Scholarship Amount:

Varies. Generally covers tuition fees and:

Book and research allowances.

Cultural and language enrichment classes.

Living costs.

Medical benefits.

Round-trip travel for the recipient.

Level of Study:

Postgraduate. Most countries offer scholarships at the master's level, but some countries support doctoral-level study as well.

Eligible Applicant Countries:

Students from

over 160 countries

 may apply.
The Fulbright Foreign Student Program has linked international students with study in the US for 75 years. The broader Fulbright program brings 8,000 artists, scholars, and teachers to the US every year. Of that number, around 4,000 international students receive Foreign Student Program awards.
To apply, see if your home country is eligible, then apply through your country's Fulbright Commission or US Embassy. When applying, students may choose a program that lasts over a year. Fulbright awards are not renewable, but will support the student's first year of study. The student's visa may then be extended or transferred to their university until their studies end.
Selection is very competitive and merit-based, and students may pursue postgraduate study in non-clinical fields ranging from performing arts to economics or physics. Fulbright alumni often make great achievements in a wide variety of subjects. In fact, 61 Fulbright alumni are Nobel Prize recipients!
Download ApplyBoard's free Studying in the US: What You Need to Know guide for tips on everything from study options to application deadlines.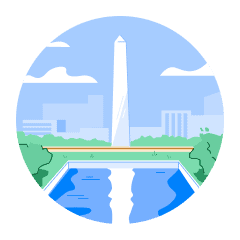 Global Undergraduate Exchange Program
(Global UGRAD)
Scholarship Amount:

Varies. Covers one semester's tuition, return airfare, room and board, accident insurance, and a small monthly stipend.

Levels of Study:

Undergraduate (non-degree).

Eligible Applicant Countries:

Albania, Algeria, Armenia, Azerbaijan, Bahrain, Bangladesh, Belarus, Bosnia-Herzegovina, Brunei, Cambodia, China, Costa Rica, Dominican Republic, Egypt, El Salvador, Ethiopia, Georgia, Guatemala, Haiti, Honduras, India, Indonesia, Jordan, Kazakhstan, Kenya, Kosovo, Kuwait, Kyrgyzstan, Laos, Lebanon, Malawi, Malaysia, Maldives, Mauritania, Moldova, Mongolia, Montenegro, Morocco, Mozambique, Myanmar, Nepal, Nicaragua, Niger, North Macedonia, Pacific Islands, Palestinian Territories, Panama, Paraguay, Philippines, Russia, Saudi Arabia, Serbia, Singapore, South Korea, Sri Lanka, Tajikistan, Thailand, Timor Leste, Turkmenistan, Ukraine, Uzbekistan, Venezuela, Vietnam, and Zimbabwe.
Students seeking a short-term study abroad opportunity could be a great match for Global UGRAD. This merit-based program offers scholarships, airfare, and on-campus accommodation for one semester of non-degree study. 
Global UGRAD matches successful applicants with a US campus that's the best match for the student's current program and experience. Because campuses in 40 states participate, students should be open to living anywhere in the continental US!
While a strong command of English is recommended for student success, pre-academic English-language training is available. Also, all participants will join a two-month virtual skills development course prior to arriving in the US. As building a connection to the broader community is an important part of this program, participants complete at least 20 hours of volunteering during their semester abroad. Global UGRAD also provides cultural enrichment and professional development opportunities, and encourages their alumni to stay connected.
Key Eligibility Conditions
The student must be enrolled in undergraduate study in their home country with at least one semester remaining after UGRAD ends.

The student must be able to receive the

US student exchange visa (J-1)

.

A physician must clear the student to participate.

Participants must return to their home countries after finishing UGRAD.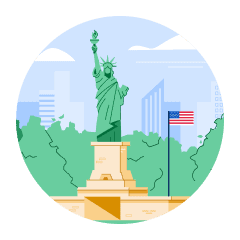 Hubert H. Humphrey Fellowship Program
Scholarship Amount:

Varies. Generally covers tuition fees, and:

Accident and sickness coverage.

Book allowances.

Cultural and language enrichment classes.

Domestic travel allowances for program events.

Living costs (customized by city) plus a settling-in allowance.

One-time computer subsidy.

Pre-academic English language training.

Round-trip travel for the recipient.

Levels of Study:

Postgraduate (non-degree).

Eligible Applicant Countries:

Students from

over 160 countries

may apply.
This learning opportunity for future global leaders combines graduate-level courses with professional development. Humphrey Fellows attend weekly Humphrey Seminars, as well as conferences, networking, and practical work experiences. Fellows work independently and with their on-campus and nationwide cohort through workshops and at the Washington Global Leadership Forum.
The Humphrey Fellows postgraduate experience is different from traditional postgraduate study, and as a result isn't eligible for a US postgraduate degree. At the start of the academic year, each Fellow prepares an individual program plan with desired goals, courses, and special projects. They are then placed in a group of seven to 15 Fellows at select universities, and either enroll in or audit graduate courses on a part-time basis.
Successful applicants are pursuing studies that align with one of four program fields:
Human and Institutional Capacity

Rights and Freedoms 

Sustainable Lands

Thriving Communities
Because this opportunity is not degree-granting, it's not for everyone. But, if you're looking to update your academic knowledge and build a global network, this may be a perfect opportunity!
Visit the ApplyBoard Platform to find study opportunities in the US!