Is Australia at the top of your list of study abroad possibilities? You're not alone: Over the last fifty years, over 2.5 million international students have pursued further education there. However, between tuition and the cost of living, life as an international student can be expensive. 
Fortunately, the Australian Government provides a few scholarships that can help. There are a range of other scholarships available for international students at the undergraduate and graduate levels, but some may be restricted by academic level, course, or a student's home country.
While students can apply for multiple scholarships, they're often eligible for only one government scholarship at a time. For example, an Australia Awards recipient may not accept a Destination Australia scholarship. Keep reading for more information on featured scholarships.
Before You Apply
As you begin your search, look at the Australian government's Study Australia page. This site lists scholarships offered by the federal government. As you plan your application and determine which scholarships to prioritize and apply for, create a calendar of scholarship and program application due dates. 
Visit the ApplyBoard Platform to find study opportunities Down Under!
Destination Australia
Scholarship Amount:

A$15,000 per year for up to four years.

Level of Study:

Certificate IV, diploma/advanced diploma, undergraduate, and postgraduate (master's and doctoral degrees).

Eligible Applicant Countries:

All nationalities are eligible.
International students with a strong sense of adventure should look into Destination Australia. This new scholarship encourages students to explore Australia, and enroll at campuses outside of Australia's major urban areas. Scholarships are possible at campuses located in full or in part in areas classed as:
Inner regional

Outer regional

Remote

Very remote
Campuses in Australia's major urban areas, including Adelaide, Brisbane, Canberra, Melbourne, Perth, and Sydney, cannot grant this scholarship. When considering colleges and/or universities, look carefully at their campus locations to see which may grant this scholarship. Interested students should apply through their selected institution.
Around 380 scholarships are available for students starting a new course of full-time study in 2022. The scholarship is for a minimum of one year, and may be up to four years in duration depending on how scholarships are distributed.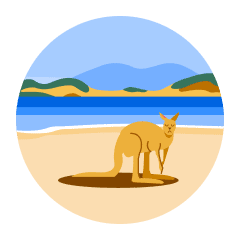 Australia Awards Scholarships
Scholarship Amount:

Varies. Covers the full cost of tuition, plus return flights, and some living expenses.

Levels of Study:

Certificates and diplomas from

Technical and Further Education institutes

and

undergraduate and postgraduate degrees. (Eligible levels of study vary by student's home country.)

Eligible Applicant Countries:

 

Asia:

Bangladesh, Bhutan, Cambodia, Indonesia, Laos, Maldives, Mongolia, Myanmar, Nepal, Pakistan, Philippines, Sri Lanka, Thailand, Timor-Leste, Vietnam.

Pacific:

Federated States of Micronesia, Fiji, Kiribati, Marshall Islands, Nauru, Papua New Guinea, Samoa, Solomon Islands, Tonga, Tuvalu, Vanuatu.

Middle East:

Palestinian Territories.
The Australia Awards Scholarships are awards granted to future global leaders. Each applicant country has specific areas for development outlined in their scholarship criteria. These areas include health, climate change, economic growth, education, and human rights. 
Note that students in fields of study related to nuclear technology, flying aircraft, or military training aren't eligible for this scholarship. Also, recipients must agree to leave Australia for a minimum of two years after completing their studies, to bring their expertise back to their home country or region.
Scholarship recipients receive:
Return air travel 

A one-off establishment allowance

Full tuition fee coverage

Contribution to living expenses 

An introductory academic program about living and studying in Australia

Overseas student health coverage for basic medical costs

Supplementary academic support

A fieldwork allowance for research students and master's programs with a mandatory fieldwork element

Australian Government Research Training Program (RTP)
Scholarship Amount:

Varies; may cover one or more of the following:

Allowances: relocation costs, publication printing, health coverage for recipients and dependents.

Fees Offset: full coverage of tuition fees.

Stipend: helps with cost of living expenses.

Levels of Study:

Research doctoral degree or research master's degree.

Eligible Applicant Countries:

Australian and international students.
The Research Training Program is available to domestic or international students enrolled in an accredited educational institution. Most RTPs are awarded for full-time study, but part-time study awards are possible. Scholarships are awarded on academic merit and research experience/potential. Interested students should apply directly through their institution. 
To be eligible for either an RTP Stipend or RTP Fees Offset, students must not be receiving an equivalent award or scholarship from the Australian government that covers either tuition or living expenses.
Considering multiple education locations? Check out these scholarships offered by the Canadian government for international students. Or, trade Vegemite for Marmite, and start your studies in the United Kingdom with these UK government scholarships.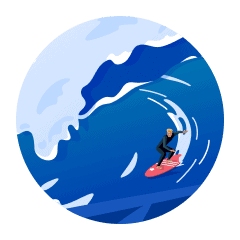 After graduation, you can stay connected with Australia through the government's Australia Global Alumni program. This online community shares professional growth and networking opportunities. They also spotlight related news articles and alumni stories. One day, one of their stories could be about you!
Australia balances a wild and beautiful environment with high-ranking educational opportunities. Why should you study in Australia? Here are some great reasons.
---