According to a 2018 survey from Study International, over sixty percent of international students wish to become permanent residents in Canada after graduation. One of the main reasons for this is employment, as graduates want to explore Canada's job opportunities. However, it can be difficult for international students to "break in" to the Canadian job market. The good news is that there are many immigration programmes and scholarships in place to assist students in finding post-graduation employment.
Another strategy graduates can take is looking for work in Canadian cities with low unemployment. While the outlook is always changing, the Bank of Montreal's quarterly labour market report card provides a snapshot of what the job market was like at the end of 2018. The biggest surprise from the report is that none of Canada's largest cities, such as Toronto, Vancouver, and Montreal, ranked in the top 10. Although these metros are still great places to find work, Canada's smaller cities are increasingly becoming the most reliable sources of employment. Below, we've listed cities with the best employment rates in Canada. The top city may surprise you!
Peterborough, ON
Jobless Rate: 5.2%
Ranking in 2017: 20 (+13)
Like many midsize Ontario cities, Peterborough once had a thriving manufacturing base. Once nicknamed "The Electric City" (Peterborough was the first Ontario city to have electric streetlights), Peterborough attracted major companies like General Electric and Quaker Oats to set up plants in the early 1900s. Sadly, the city's manufacturing sector took a major hit in 2018 when GE closed its doors, though Quaker still employs around 700 employees.
In recent years, Peterborough has had success moving away from manufacturing, with health care, education, and service industries now driving the city's economy. It's still too early to tell if Peterborough will sustain its positive job growth. However, it's exciting to see the city move in a positive direction.
Learn more about Peterborough schools here!
Abbotsford, BC
Jobless Rate: 4.5%
Ranking in 2017: 17th (+11)
With the third highest proportion of visible minorities among Canadian metropolitan areas, Abbotsford is very welcoming to international graduates. This diversity extends to the city's employment opportunities as well. Abbotsford's main industries include agriculture, transportation, manufacturing, film and TV. It also has a growing aerospace industry thanks to Cascade Aerospace and Conair Group Inc. Located near the Canada-United States border and Greater Vancouver, it's easy to see why Abbotsford has one of the highest employment rates in Canada.
Learn more about Abbotsford schools here!
Halifax, NS
Jobless Rate: 5.7%
Ranking in 2017: 26th (+21)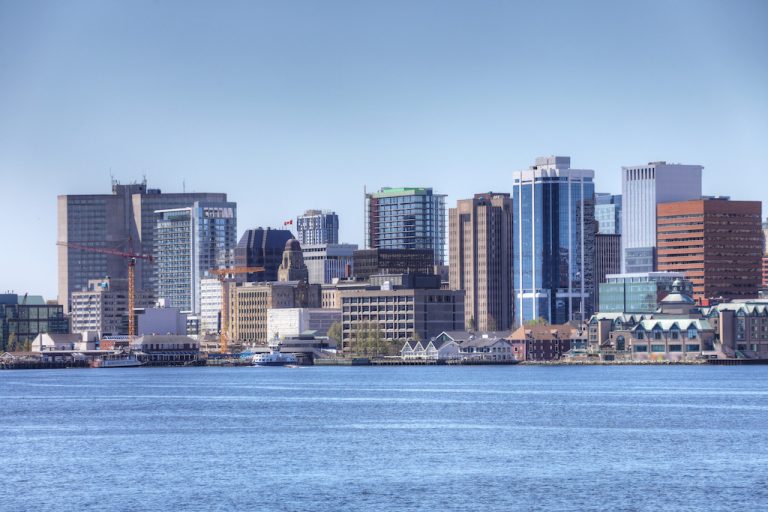 The most populous city to make BMO's top 10, Halifax has maintained a strong economy compared with other Eastern Canada cities in recent years. Shipbuilding contracts from the Canadian Navy have been a big driver, but Halifax has a lot more going on. As a port city, Halifax is a major east coast trading area, with over 36,000 jobs in this sector alone. Halifax has also emerged as an exciting tech and startup hub. Combined with its affordable living costs, it's no surprise that Halifax has been very successful in recruiting international graduates.
Learn more about Halifax schools here!
Kitchener-Waterloo, ON
Jobless Rate: 5.1%
Ranking in 2017: 16th (+12)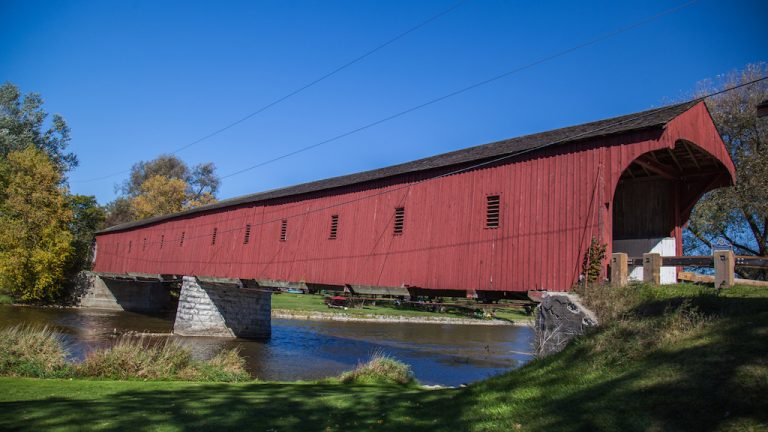 The twin cities of Kitchener and Waterloo have been important drivers of Canada's "Silicon Valley" for many years now. Although the region hit a snag with the fall of Blackberry in the early 2010s, a large number of tech companies have emerged to fill the void.
In many ways, Kitchener-Waterloo serves as a model for cities looking to move away from manufacturing. The area has been hit hard in the last 20 years with many plant closures but has successfully turned into an innovation hub. K-W's world-class schools — the University of Waterloo, Wilfrid Laurier University, and Conestoga College — have also played a big role in attracting top talent. All of these factors have helped make Kitchener-Waterloo a region with one of the best employment rates in Canada.
Learn more about Kitchener-Waterloo schools here!
Kelowna, BC
Jobless Rate: 3.3%
Ranking in 2017: 2nd (-1)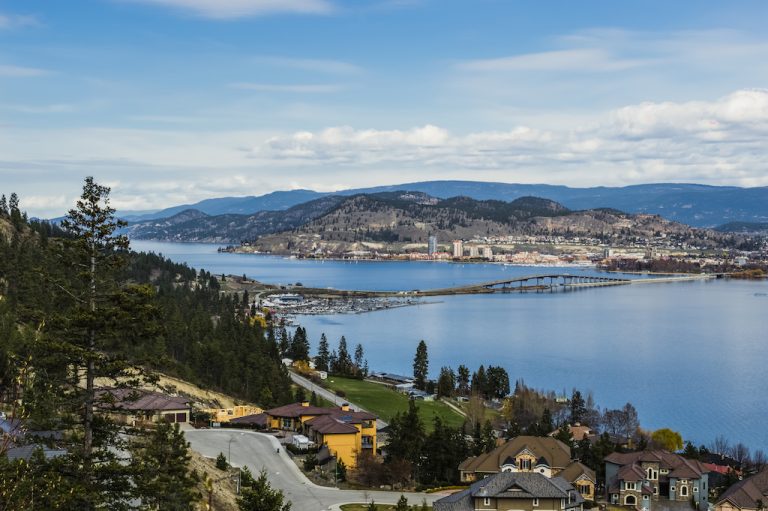 Although it fell one spot in the overall rankings, Kelowna is still one of the best places to find work in Canada. Located in the B.C. interior, Kelowna has benefited economically from its natural surroundings. With plenty of activities in the summer and winter months, Kelowna is a major tourist destination and has also made a name for itself as a booming tech hub.
Film school graduates will also be pleased to know that Eagle Creek opened a new film studio in the city in 2017. Like many British Columbia cities, life in Kelowna can be expensive. However, the city's low unemployment rate make it an attractive place for new graduates to look for job opportunities.
Learn more about Kelowna schools here!
Saskatoon, SK
Jobless Rate: 5.6%
Ranking in 2017: 22nd (+20)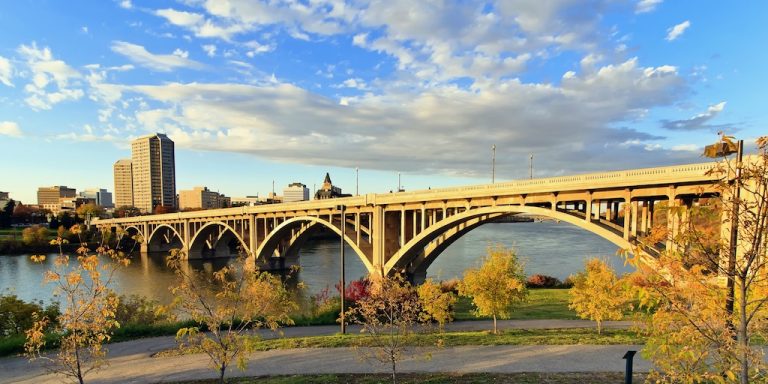 The province of Saskatchewan isn't generally thought of as a great place to find work. However, international students seeking a post-grad job may want to look at Saskatoon. The city's economy has long been driven by agriculture and mining industries. While this continues to be the case, Saskatoon has expanded into many different employment fields.
Thanks to its central location, the city is a major source for distribution and logistics in Canada. Saskatoon also has a growing digital media scene, with a number of successful startups calling the city home. Combine job variety with a lower cost of living and Saskatoon ranks high when it comes to employment rates in Canada.
Learn more about Saskatoon schools here!
Guelph, ON
Jobless Rate: 2.3%
Ranking in 2017: 21st (+20)
No, it's not Toronto, but rather a city southwest of Toronto that has the best employment rates in Canada. According to BMO's data, Guelph's unemployment rate was just 2.3% at the end of 2018 –  well under the national average of 5.6%.
So why does Guelph, a city of approximately 132,000, stand out as one of Canada's best places to find work? The most obvious explanation is the city's booming manufacturing sector. Companies like Linamar and Skyjack employ thousands of people and have proven vital to the city's economy. However, while manufacturing has been important, it's Guelph's diversified economy that has helped lead it to the top.
The city is home to many different industries and also attracts talent through the University of Guelph. Being close to Toronto has also helped Guelph real estate, with many commuters opting for the city's more affordable housing. Unfortunately, these factors have driven up Guelph's cost of living in recent years, but it remains one of Canada's greatest places to live and find work.
Learn more about Guelph schools here!
Interested in learning about the best schools in Canada and the USA? Start a free account today and let ApplyBoard help!