The idea of studying abroad is exciting, but can also feel overwhelming. From choosing a school to gathering documents, international students have a lot to juggle. Knowing what you need to do for your school applications and having a study abroad timeline can put your mind at ease.
Actual deadlines can vary by institution, program, or level of study. You can generally find particular application deadlines on school websites (and on the ApplyBoard Platform). Still, there's a lot more that goes into an international student's study abroad journey than just that final application. To get you started, our Pre-Submission Team has created a study abroad timeline you can use to guide your journey.
---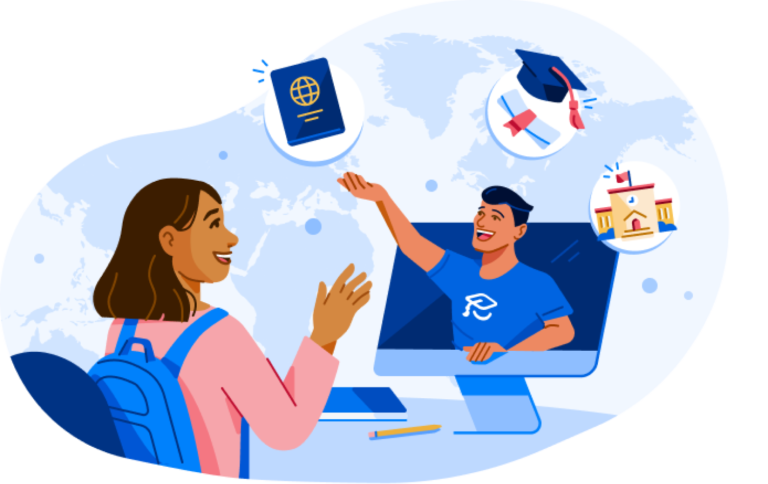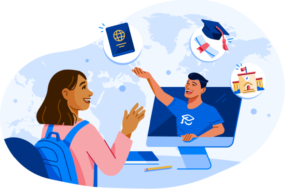 Consideration
Shortlist Schools: 16 Months to 2 Years Before Start Date
The first step in every student's decision to study abroad is to consider which schools they plan to apply to. The research and decision process can be time-consuming, so the sooner you can start, the better.
Start by considering where you might want to study: factors to consider might include language, cost of living, reputation, or the availability of specific programs. If you can, start researching and shortlisting schools one to two years in advance of your intended start date.
Once you know where you plan to apply, make a checklist of any required documents. Then, start gathering the documents that will take the most time to assemble.
Considering different destinations? Check out our series on how to decide where to study in Australia, Canada, the United Kingdom, and the United States!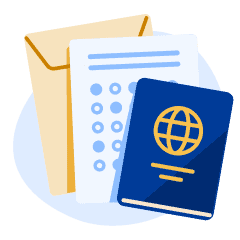 Gathering Documents
Some documents take longer to collect than others; you may need to take a test or submit a request to receive them. Here's how far in advance students should start getting these documents ready:
Final Degrees and Diplomas: 1 to 2 Years Before Applying
Most schools require an official copy of a student's last degree or diploma with an application. Some students try to submit their applications with just provisional certificates, but unfortunately, many schools won't accept provisional certificates, which can put your application at risk. So, students should collect their final degrees and diplomas from previous schools as soon as they're available.
Most colleges and universities issue final degrees and diplomas within one year of graduation. Despite this, we've seen many cases where a student didn't go and get theirs on time, meaning they didn't have their final degree or diploma when applying to a new school.
Pro Tip: Thinking of studying abroad? Ensure you request your official diploma, degree, or other educational certification as soon as possible from any schools you've previously attended.
Official Transcripts: 1 to 2 Years Before Applying
The same guidelines apply for transcripts. The ideal time to request your final transcripts is right after you receive your final results. Depending on the school, this can take a long time, which is why requesting transcripts far in advance is highly recommended.
Most academic institutions require official transcripts to be mailed to them. Waiting until the last minute to send official transcripts overseas increases the risk of missing any submission deadlines. Starting this process a year in advance gives you and your previous school enough time to get things done.
Entrance Tests (e.g. GRE, GMAT): 6 Months to 1 Year Before Applying
Booking a GRE or GMAT test for entry into a postgraduate program can take months, depending on the availability of seats. Because of this, booking these exams far in advance is essential. Preparing for your GRE or GMAT can take a year or more, so plan to write your exam at least six months before applying to a school.
Letters of Recommendation: 6 Months to 1 Year Before Applying
Most higher education institutions will request letters of recommendation (also known as reference letters) from international applicants. You can get these from teachers, coaches, or employers. These letters should speak to your strengths and weaknesses, which is why they must be written by someone you have worked closely with for a good amount of time.
In general, applicants should know the people they want to get a letter from for at least a year. Networking with professors or supervisors in advance can help build the professional relationship you'll need for a strong letter. Some time before asking, share that you're planning on studying abroad and that you're hoping they'll write you a recommendation letter.
After shortlisting the schools you'd like to apply to, start asking for letters of recommendation. Many schools will give recommendation letter guidelines; share those with your references! Also, ask for the notes at least six months in advance to ensure your references have enough time to write the letters.
Financial Documents: 3 to 6 Months Before Applying
Financial documents like bank statements need to be up-to-date, usually from within the last three to six months. You can plan when you'll need to request these from the bank based on the school's requirements for how recent they want your bank statements to be.
Getting these documents from banks is generally straightforward, and you should be able to get them the same day you submit your request, although this might vary with different banks and countries. It will help to understand the process and timelines your bank follows before requesting any documents.
Credential Evaluation: 3 to 6 Months Before Applying
Many schools ask for a credential evaluation to establish the equivalency of a student's coursework obtained in a country outside Canada or the United States. Evaluations can be done through a AICE and NACES member organization like WES or ECE.
A document-by-document or course-by-course evaluation typically takes about a week to process. Still, the timeline can vary based on what company you are using. When shortlisting schools, confirm if they require a credential evaluation so you can start this process three to six months in advance.
While IELTS and TOEFL scores are valid for two years after your exam date, you should schedule the test you choose for two to four months before you plan to apply. This gives you time to go for a rewrite, if needed, and more flexibility around test dates, which can fill up quickly. Getting an exam date can take longer than you might expect, and not every school accepts results from online versions of English proficiency tests. Your results may be available as quickly as two business days (online, for PTE test results) or may take up to six weeks to arrive (if you've taken the TOEFL iBT exam, and chosen to have your results sent to your target schools by postal mail.)
Document Notarization and Translation: 2 to 3 Months Before Applying
Schools will sometimes ask for certain documents to be notarized by a sworn lawyer to ensure their legitimacy. You may also need to have original documents translated into English by a declared lawyer if they are written in another language.
Translations and notarizations can take multiple weeks to complete, so it's key to start this early.
Statement of Purpose: 1 to 2 Months Before Applying
International students can start working on their statement of purpose (SOP) right after they've shortlisted a few universities or colleges. The SOP's content and length will vary based on school requirements.
Starting your SOP after shortlisting schools can help guide your writing. You can use this information to dig into each program's unique requirements and customize your narrative. This also gives you plenty of time to brainstorm ideas, write, and then revise as much as you'd like.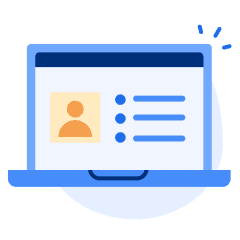 Submission
Prepare Your Application Package: 1 Year Before Start Date
This study abroad timeline should be based on your target schools' intake schedules. These schedules can vary greatly. You may only be able to submit an application to some programs a month before the start date–so it's vital to have everything ready early. Determining the deadline for each school will help you plan your timeline. A year in advance may seem like a lot of time, but it will help to ensure you don't lose sleep over a delayed document or change in the study or visa application processes.
Once you've gathered all of your documents, start completing application forms and getting your package ready. That way, you can send yours in as soon as the school begins accepting applications.
Looking for guidance as you plan your study abroad journey? Reach out to us today—ApplyBoard's experienced team is here to help!