Only 34% of STEM (science, technology, engineering, and mathematics) bachelor's degree holders are women, and they comprise just 23% of those employed in science and technology.
This is troubling, as we know that STEM fields, especially engineering and computer science, are some of the "highest-paying and fastest-growing occupations." It requires teamwork to break down the barriers to education for women in STEM and secure a brighter, more inclusive world for women in this field and beyond.
ApplyBoard is inviting you to be a part of the change.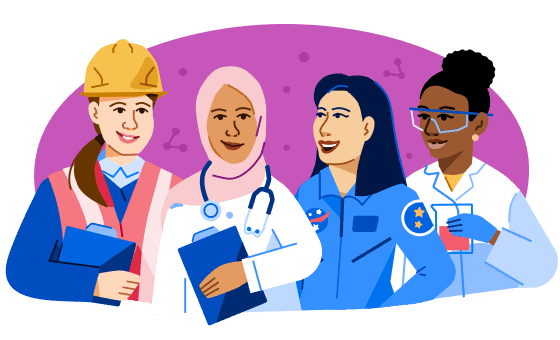 ApplyBoard's STEM for Change Scholarship
As you might have heard, ApplyBoard's STEM for Change Scholarship is awarding up to C$100,000 in merit-based scholarships to six women. To be eligible, applicants must be applying to study a STEM program at a Canadian college or university for the Fall 2021 intake via the ApplyBoard Platform.
While you can find the complete scholarship details on the STEM for Change Scholarship website, we want to take a minute to highlight a very important part of the application process. 
We're encouraging you to get creative and record a 2–4 minute video exploring:
Why you believe studying a STEM program in Canada will change your life. 

What it would mean to be a woman and international student studying STEM in Canada.

How you plan to use this opportunity to empower and advance other women.
ApplyBoard has been incredibly impressed by the creative and inspiring videos that have been submitted since applications opened last month.
We hope yours will be next!
Be a Part of the Change
As a woman pursuing an education in STEM, you're helping to kick down the doors for other women also considering a similar educational and career journey.
You're helping to put a crack in the glass ceiling. You're leading the way, and encouraging other women to pursue STEM at the undergraduate and graduate levels—ensuring they have the skills and education to make the leap into this influential and exciting space, one that is helping to change the world.
In short, you're choosing to challenge what scientists, technologists, engineers, and mathematicians look like, both now and in the future, paving the way for fierce, fearless generations of women to follow. 
After all, when women see other women who look like them dreaming similar dreams, they know that anything is possible, that not even the sky's the limit on what they can accomplish.
Knajwa Cameron's Advice for Women in STEM
We recently sat down with Knajwa Cameron, a Software Engineer at ApplyBoard, who shared her own journey into STEM. 
"I was the only Black woman, and usually the only Black person, in many of my classrooms," explained Knajwa. "The lack of representation is evident, especially for women in STEM fields."
She also took the time to offer some advice to other women pursuing an education in STEM in hopes that it may inspire others:
Be brave and don't be scared to take the first step in this space, even if there's a lack of representation and even when it's uncomfortable.

You being there will pave the way for others to follow you.

Don't be afraid to make your claim in that space and never feel like you have to be in the shadows. 

Find allies and people who can help you along your journey, and learn from them.
As Knajwa says, to see "unity and empowerment among colleagues and fellow women is so important."
We invite you to be a part of the change. Submit your application for the STEM for Change Scholarship by July 30, 2021 at 11:59 PM EST.
---