In 2020, The Guardian ranked the University of Hertfordshire 4th in the United Kingdom for economics; 7th for tourism, hospitality, and event management; and 10th for electronic and electrical engineering.
At Hertfordshire, they see students' potential, they hear their ambitions, and they support their future. Regardless of where students come from, the aim is the same: be the best you can be. From the moment students land on campus, Hertfordshire will set them on a path to achieving their goals. Join the other 4,000 international students from 100 countries to build global friendships, gain professional work experience, and develop work-based skills. 
Programs
The University of Hertfordshire is one of the top 250 universities in the world under 50 years old. It's the UK's leading business-facing university and an exemplar in the sector. It's innovative, enterprising, and challenges individuals and organizations to excel. Hertfordshire offers a variety of undergraduate and post-graduate courses covering everything from creative arts to sustainable planning, with flexible study options that work around students' needs. There are nine schools of study at the University of Hertfordshire:
Business 

Creative Arts

Education

Engineering and Computer Science

Health and Social Work

Humanities

Law 

Life and Medical Sciences

Physics, Astronomy, and Mathematics
Top Undergraduate Programs 
This course was developed along industry guidelines to give students a professionally grounded, challenging, and creative education focusing on architecture, principles of urbanism, landscape, and building construction. Students will work within a professional, studio-based architectural environment on a variety of industry projects, including houses, shops, museums, public buildings, squares, cities, and civic centres. 
This course will equip students with knowledge of the basics of management information, expert systems, technology trends, databases, software, and dedicated decision support. Students study system design principles coupled with database concepts and mobile technologies, complemented by the management skills needed to plan and organize the large-scale information resources that drive modern organizations.
In this course students will examine the physiology of the human body and how it's affected by disease and drugs. They'll study the structure, biochemistry, and mechanics of the cell, as well as evolutionary processes and genetics, both in mammals and microorganisms. As students progress, they'll choose from a wide range of modules including blood sciences, pharmacology, microbiology, immunology, and drug discovery.
Top Post-Graduate Programs
Students will advance their creative practice in Contemporary Textiles. They'll develop their knowledge and understanding of current critical debate while getting the opportunity to work alongside practitioners in a range of areas of practice, in a stimulating and challenging environment.
In this course students will prepare for their role as health care professionals working with people with skin conditions. There is a range of specialist modules covering key areas of dermatology practice, including the management of skin lesions, skin cancers, and chronic skin conditions to enable clinicians to develop knowledge and skills relating to common dermatological conditions.
This course considers current research and practice in cybersecurity. Students will build the fundamental and advanced aspects of cybersecurity in terms of theory, practice, policy, and security standards to enable critical cybersecurity decision making.
Campus Locations
The University of Hertfordshire is located in the town of Hatfield, just 25 minutes by train from London's King's Cross station. Its two campuses, College Lane and de Havilland, are situated less than a kilometre apart. A network of pathways, cycle routes, and handy shuttle buses connects the campuses.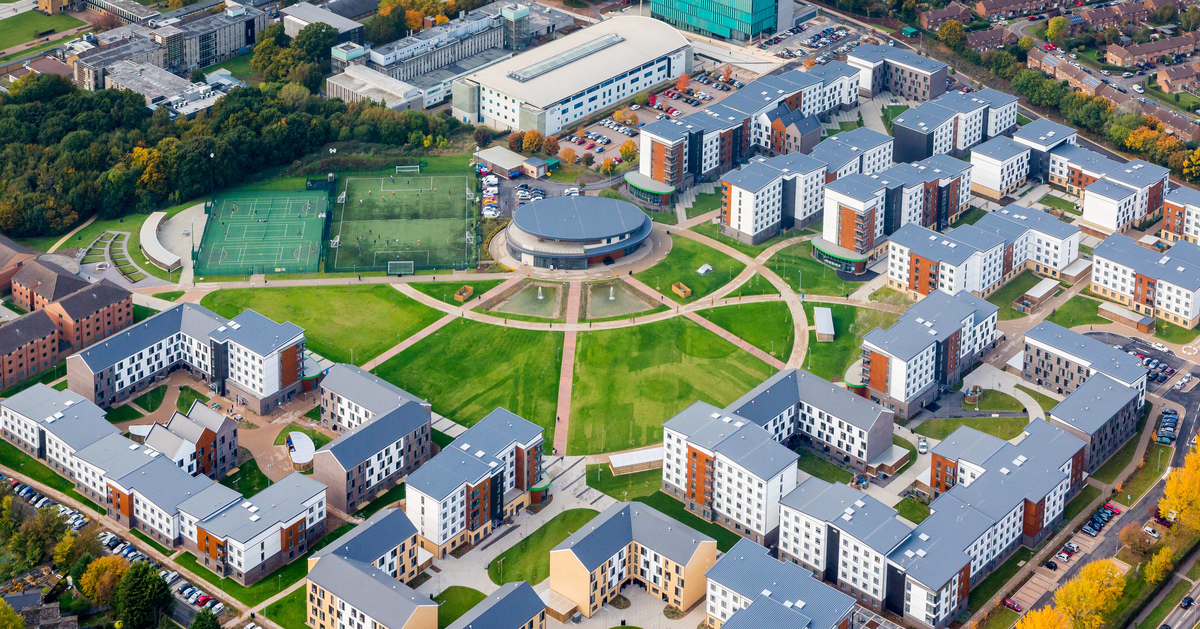 College Lane Campus
The College Lane Campus is the location of many student resources and faculties. Students will have access to the student centre, campus pharmacy, and the innovation centre. The faculties that call College Lane home are the School of Creative Arts; School of Engineering and Computer Science; School of Health and Social Work; School of Life and Medical Sciences; and School of Physics, Astronomy, and Mathematics.

de Havilland Campus

The de Havilland Campus gives students access to the Hertfordshire Business School, School of Education, School of Humanities, Hertfordshire Law School, Law Court Building, and the sports village.
Campus Tour
University of Hertfordshire 360 Walkthrough
Accommodations Walkthrough
Hertfordshire has also put together a great library of Facebook Life videos for students to get a sense of what happens at one of their Open Days.
Campus Life
International students will meet new people, build networks, and get involved with activities such as athletics and recreation. University is all about trying new things and meeting like-minded people. One of the best ways to do this is by joining a society or getting involved in a volunteering project during your studies. The Hertfordshire Students' Union has over 100 societies, including salsa dancing, LGBT, baking, and K-pop.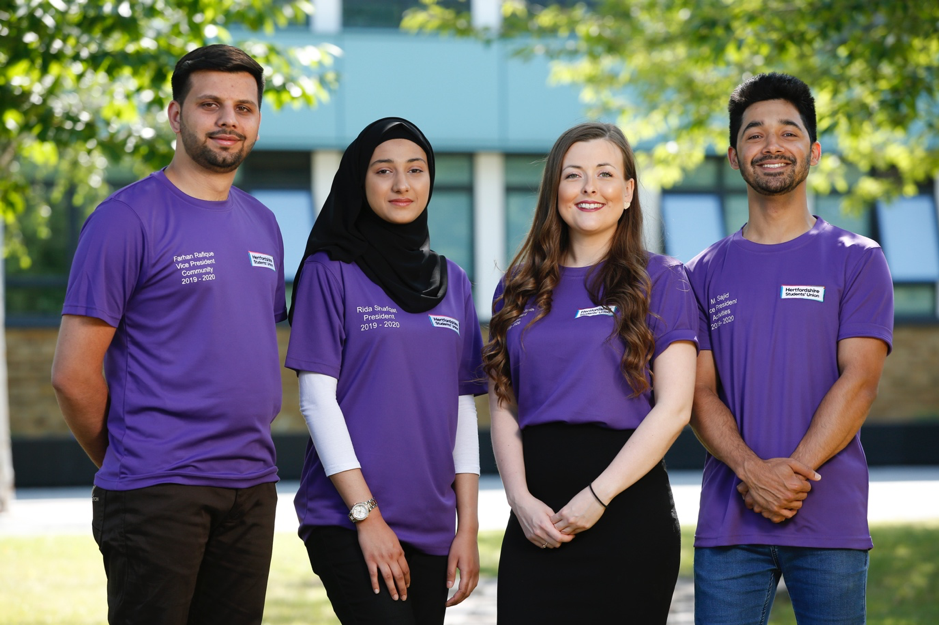 Off-Campus Life
The town of Hatfield is home to many restaurants, cafes, fast food, takeaways, gastro pubs, and coffee shops, catering to all tastes, including Chinese, Indian, Pakistani, Greek, Italian, Tex-Mex, and British. Popular choices for many students include the Turkish Kitchen and Wetherspoons.
Hatfield House is one of the finest examples of Jacobean architecture in the UK. Inside is the Great Hall, which was home to Elizabeth I during part of her childhood, and outside, you can explore the gardens, nature trails, extensive woodland, and deer park. 
Located next to de Havilland campus, Ellenbrook Fields is a large nature reserve open to the public. The area is popular with walkers, runners, and cyclists. Hatfield is a 25-minute train ride to central London, where students can explore museums, restaurants, fine art galleries, theatre, concerts, and more! 
Student Support
Studying in a foreign country can be challenging. Hertfordshire aims to help students settle in as much as possible with departments designed to help and support them at every stage of their studies. Full details of the support services available to students are given during the Overseas Students Orientation Program. Student support services include the following:
The

International Student Support Team

are experienced welfare advisers who can help and advise students on a variety of subjects, including immigration, work permits, and financial and personal matters.

Career Services

gives students information and impartial advice to help them choose their career and get the job they want.

The

Community Partnerships Office

works to strengthen positive links within the local community.

Disability Support and Equal Opportunities

provides support and help make any special arrangements that students need. 

International students can benefit from

English language support

with a range of classes that are mostly integrated into their degree programs.

Library and Computing Services

provide students with outstanding learning resources, including Learning Resource Centres with over 1,500 computer workstations.

The

Medical Centre

allows students to see a doctor or nurse quickly if required.

A multi-faith and multicultural

religious provision

provides a focus for spiritual life at the university, providing a space for prayer, reflection, and worship.

Student Support and Counselling

offers confidential counselling services to students free of charge.

The Advice and Support Centre

can provide students with information on a variety of subjects, including academic issues, accommodation, welfare, health, money, and legal matters.
Job Prospects, Career Support, and Post-Graduate Work Opportunities
96.5% of students are in employment or further study six months after graduating. Each school on campus works closely with experienced professionals to plan its teaching program. This ensures graduates are equipped with the skills employers are looking for. 
International students' relationships with the university don't end after graduation. As University of Hertfordshire alumni, students will benefit from ongoing professional support and networks to help grow their career. They will benefit from:
Three years of access to LinkedIn Learning to help kick-start their career

Up to three years of free support, consultations, and advice from their professional careers advisors in the Careers and Enterprise team

A 20% discount for graduates and alumni for further study

Continued access to campus facilities with their free alumni card

Professional networking events in the UK and around the world
View this post on Instagram
Scholarships
Hertfordshire has invested hundreds of thousands of pounds in scholarships for high-achieving and enterprising students from around the world. International students have a wide range of scholarships available to them. Available scholarships include:
Program Scholarships
Vice-Chancellor's Scholarship

Dean's Scholarship for Business Excellence

Dean's Scholarship for Legal Excellence

Dean's Scholarship for Humanities Excellence

Dean's Scholarship for Educational Excellence

Dean's Scholarship for Life & Medical Sciences Excellence

Dean's Scholarship for Health Excellence

Dean's Scholarship for STEM Excellence

Dean's Scholarship for Creative Excellence
Global Scholarships
Regional Scholarships

Chevening Scholarship

20% Alumni Discount

20% Study Abroad Discount

UH Trust Health Bursary

Sports Scholarships

Africa and the Middle East (5)

South Asia (4)

East Asia and Southeast Asia (4)

Europe and the Americas (10)
For more information on eligibility requirements for each of the scholarships above, please contact your ApplyBoard Representative. 
Tuition
Tuition fees vary by program, but international students can expect to pay around £13,000 per year for undergraduate programs and £13,500 per year for post-graduate programs. 
Cost of Living
When travelling to the UK to start your degree, remember to bring enough funds to cover the cost of living plus all your fees (including tuition and accommodation fees).
View this post on Instagram
University of Hertfordshire estimates that students will need between £190 and £240 per week for living expenses. Living expenses include food, laundry, phone, travel, rent, and utilities. Students may need money to cover additional one-off expenses on arrival or during their time in the UK, including:
Study equipment, including books) (£320–£740)

Desktop or laptop computer (£1,000)

Warm clothing (£450)

Trips, holidays, and social events (£500)
Sound like somewhere you'd like to study? Ask your recruiter about applying to the University of Hertfordshire!
---