On Tuesday, September 22, ApplyBoard Co-Founder and CMO Meti Basiri participated in International Education at a Cross-Roads in Canada. It was a candid online conversation hosted by the Waterloo, Ontario branch of the Canadian International Council (CIC). The CIC is a national, non-partisan international affairs forum whose programs, activities, and resources engage Canadians in exploring and defining the country's role in the world and areas of international engagement.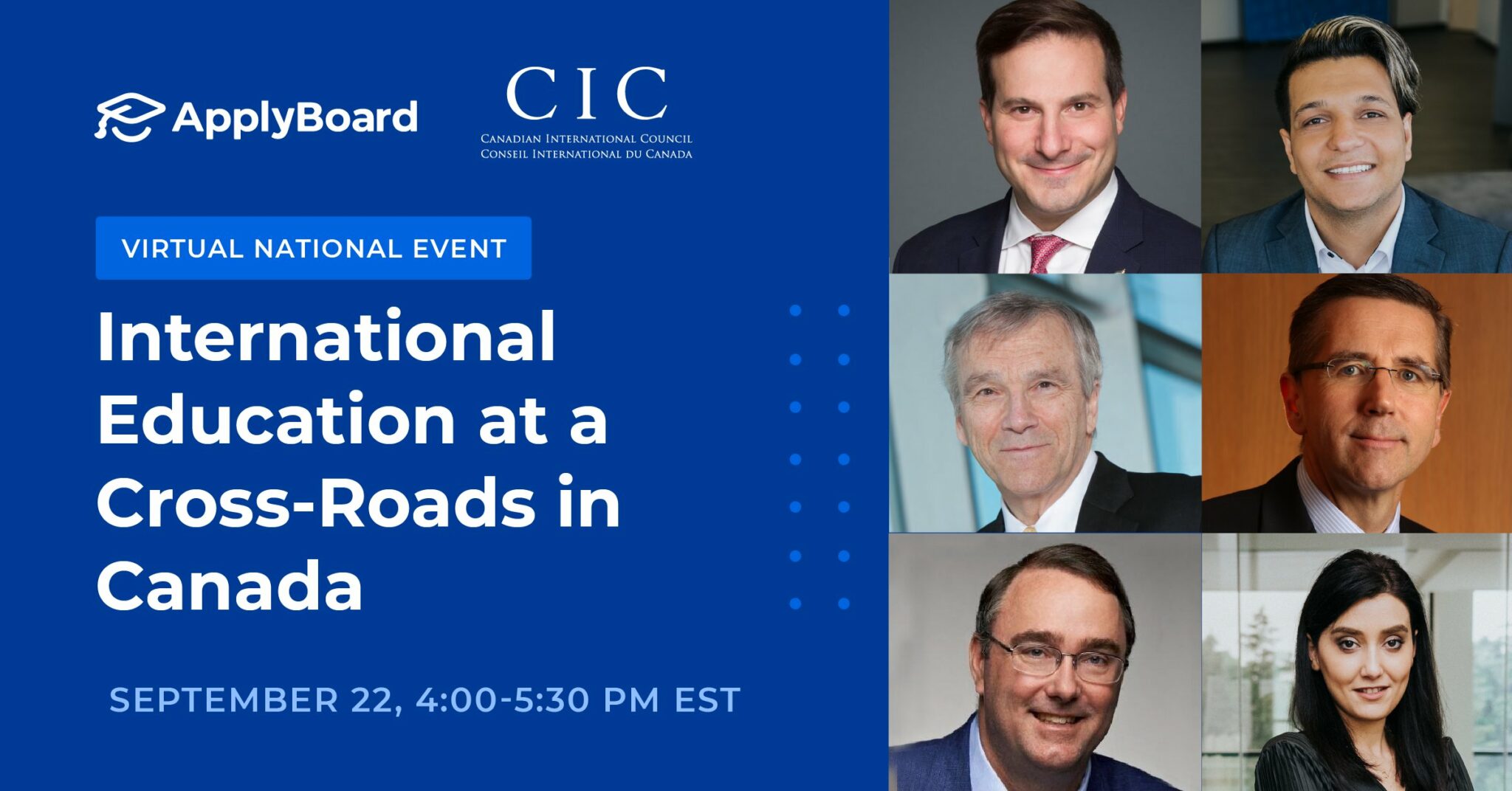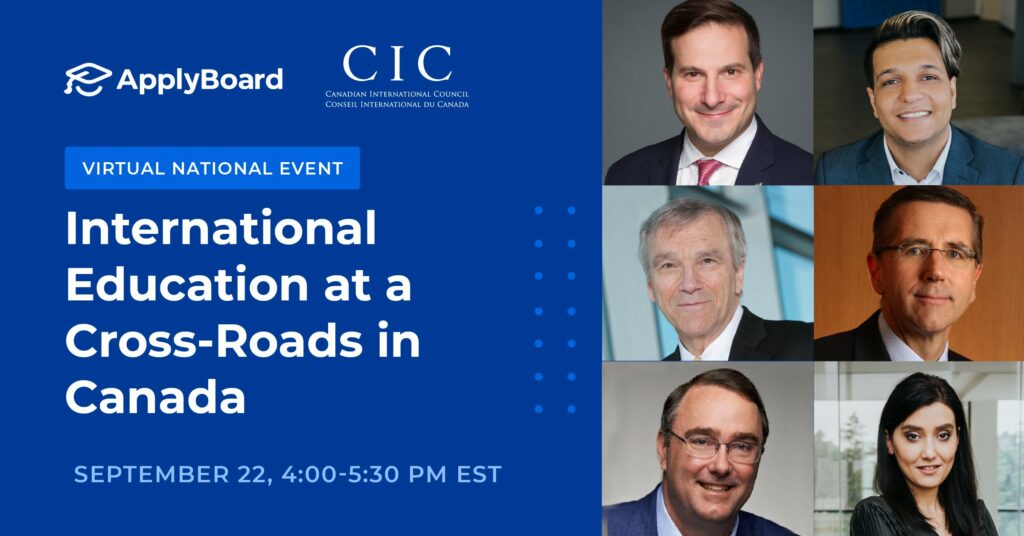 This sold-out event, moderated by John Milloy, Director, Centre for Public Ethics, Martin Luther University College, and former Ontario Minister of Training, Colleges and Universities, brought together international education experts and professionals from across the country to discuss the role and impact of international education in Canada. Panellists included:
The Honourable Marco Mendicino MP PC

, Canadian Minister of Immigration, Refugees and Citizenship Canada

Meti Basiri,

Co-Founder and CMO, ApplyBoard

Paul Davidson

, President and CEO of Universities Canada

Dr. John Tibbits

, President, Conestoga College

Nina Shirkhanloo, International Recruitment Manager, ApplyBoard
The more than hour-long conversation touched on:
The importance of international education in Canada and the challenges posed by COVID-19

How we can overcome these challenges

Opportunities in a post-pandemic world, and how rapid technological advancements can shape our experiences moving forward
What follows is a brief recap of the conversation.
International Education in Canada and the Challenges Posed by COVID-19
Canada is among the top choices for post-secondary education, with more than 640,000 international students choosing to study in Canada in 2019. The growth in Canadian intake has been strong over the last decade, making Canada the third most popular study abroad destination—just behind the United States and Australia.
While the COVID-19 pandemic has caused disruption and uncertainty for international students, the Canadian government has been quick to respond with temporary measures, including allowing time spent studying online to count towards a student's Post-Graduation Work Permit Program (PGWPP) eligibility.
Panellists kicked off the conversation by discussing how these policy updates have impacted student enrollment in Canada.
"On the same day as the Immigration, Refugees and Citizenship Canada (IRCC) announcement on the Post-Graduation Work Permit (PGWP), we saw the highest single-day volume of applications to Canadian post-secondary institutions ever submitted on our platform," Basiri announced.
The Canadian government has been proactively working with provinces and schools to ensure policies are up to date and to prepare campuses. The temporary measures put in place have had a significant impact.
"We cannot underestimate the significance of the remote online learning opportunities that we have been able to create in conjunction with the provinces and territories and with the cooperation of the schools," said The Honourable Marco Mendicino MP PC, Canadian Minister of Immigration, Refugees and Citizenship Canada. It has enabled international students to begin their studies this Fall, rather than defer them until a later date.
This has been driven by the two-stage study permit approval process, as well as relaxed biometrics and documentation requirements. So far, an astounding 56,000 applications have been approved under these interim measures.
Current Challenges Faced by Institutions and Students
While students initially made the transition to studying online back in March, the Fall semester will give us the first real indication of how students are adapting to a full semester of online study. And with the semester now in full swing, we're going to start receiving that feedback soon. 
There is concern that some international students may feel excluded, especially those enrolled in online classes with synchronous, real-time lecture delivery, which may be held at a time that is inconvenient for them based on their time zone. Paul Davidson, President and CEO of Universities Canada, pointed out that this impacts both international students and Canadian students studying online across different time zones. However, schools are striving to accommodate a multitude of different time zones by offering both synchronous and asynchronous delivery.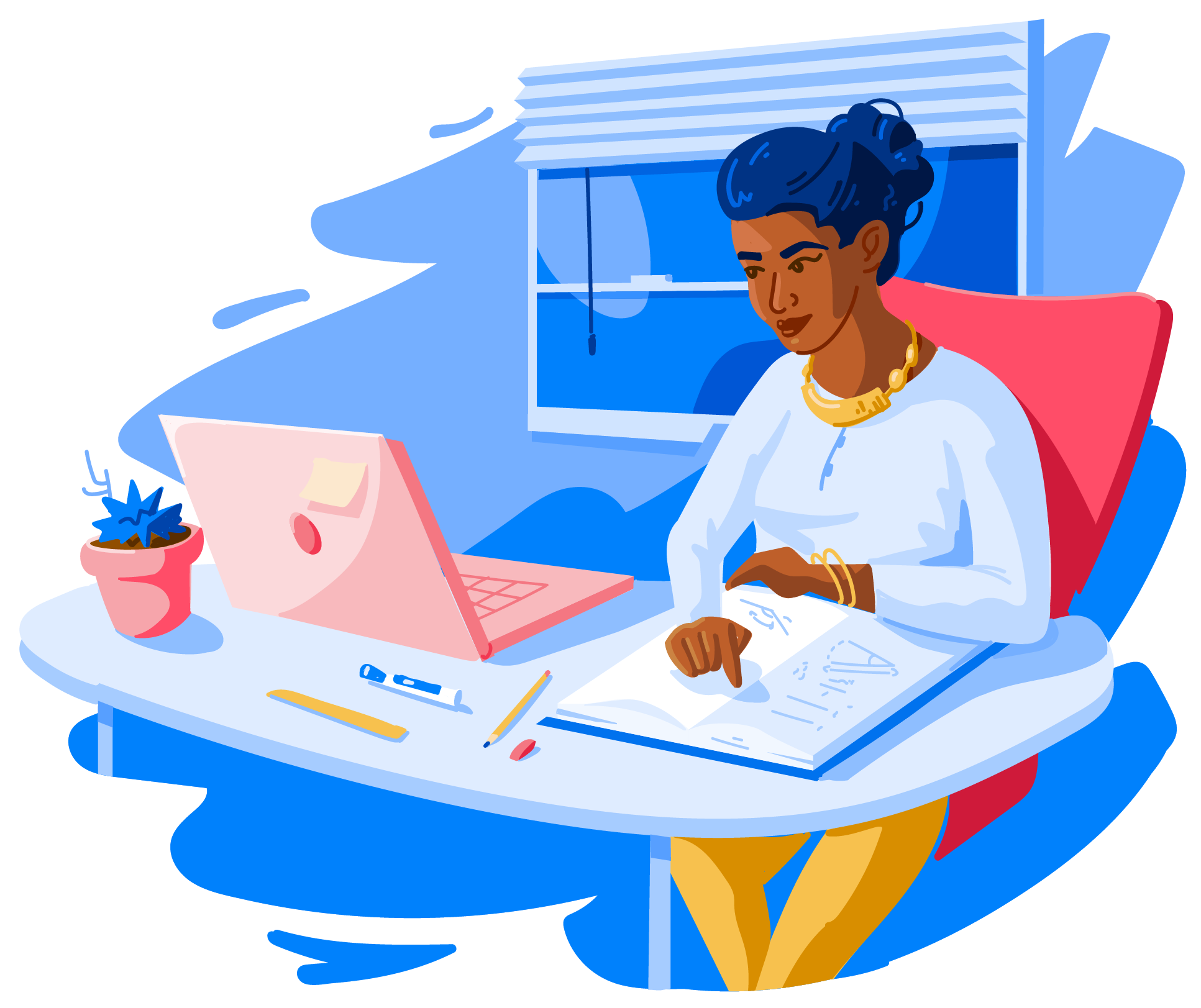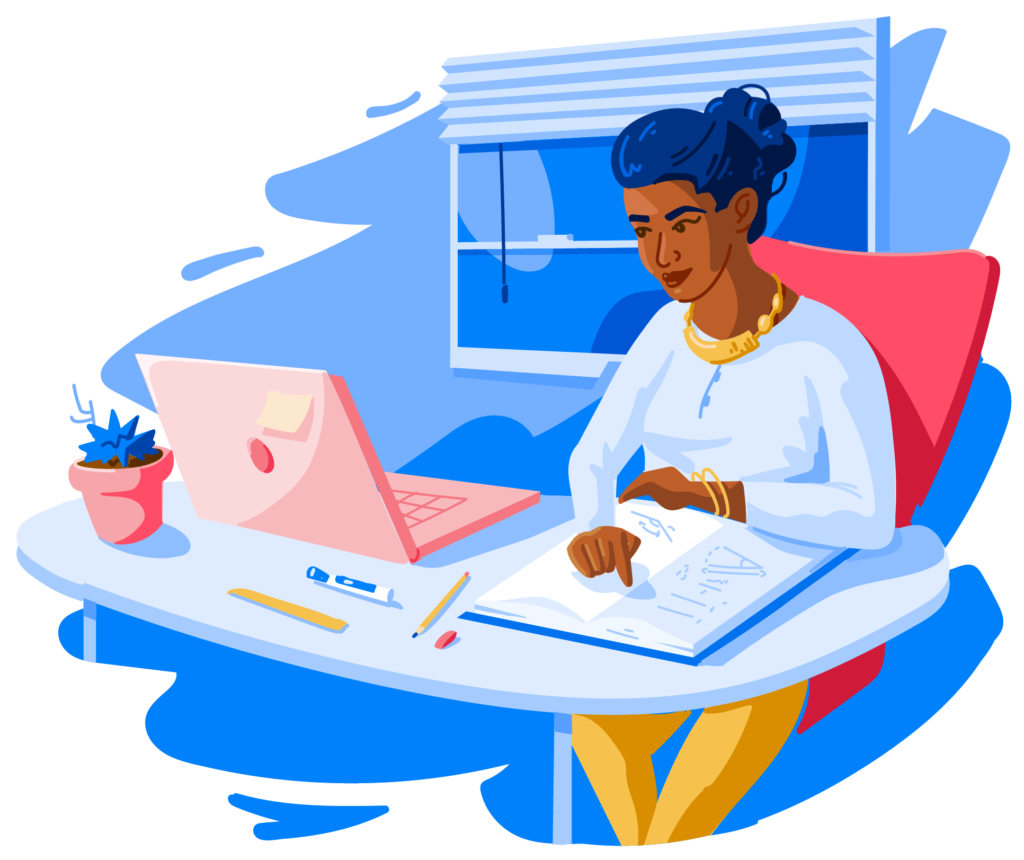 But this isn't the only challenge international students face. Often, international students have limited internet access, which can put them at an additional disadvantage. There is also the difficulty and expense of purchasing materials, such as textbooks, from abroad. Nina Shirkhanloo, an International Recruitment Manager at ApplyBoard, and a former international student herself, also acknowledged the challenge of being unable to "interact with other students" while studying online. This interaction is not only a key component of the traditional post-secondary experience, but also a way for students to learn and absorb course material. Schools are looking to online discussion boards to help fill this gap.
The conversation next turned to the government and some institutions not recognizing online English tests for admission requirements. If learning has transitioned online, why shouldn't the methods we use to measure English proficiency? These policies were created in a pre-pandemic world and should be updated to reflect evolving expectations.
The Road Ahead
"Canada is a magnet for the best and brightest from around the world," said Minister Mendicino. "We are trying to instill more confidence and more certainty so that international students continue to look at Canada as a premiere [study] destination." 
"As protocols get approved, we need to make sure there is a really clear line of sight across the federal departments, across provincial governments, about what the terms of arrival are so that we can send a loud and clear message to international students that you are welcome and this is how you'll be supported," said Davidson.
Before the pandemic, Canada had more interest from international students than could be accommodated. In a post-pandemic world, the possibilities are endless. Basiri likened the situation to hungry people staring at a plate of food.
Basiri encouraged all parties to work together to build on what we have learned from this unprecedented experience to make international education in Canada more accessible to students from around the world.
"Looking at the long term," said Basiri, "can students take their course [entirely online] at a fraction of the cost?" It's just one of many possibilities. He also believes that it's incumbent upon the government to establish a plan to improve diversification.
"We can and should cast our eyes into the long- and short-term future and see that the international student program will be a great driver," said Minister Mendicino. "We've seen that Canada has a huge competitive advantage in a number of areas, including technology and innovation."
The Minister also referred to technological platforms that schools "are looking to leverage so that international students can bridge the geographical divide that exists because of COVID-19." 
Dr. John Tibbits, President of Conestoga College, echoed the importance of technology on the future of education. "There are ways to make this kind of learning [even] more sophisticated." Indeed, he has been exploring ways "to train healthcare professions with virtual reality. It's a much higher level of stimulation."
As Basiri pointed out, the future of international education in Canada is "very bright for all of us."
Watch the recording:
---