Last week, I analyzed recently released data on US Intensive English Program (IEP) enrollment.1 I discussed how the US language sector was impacted relative to other top destination markets, what IEPs learned during a difficult 18 months, and how they're positioned for recovery.
In this edition of ApplyInsights, I'm going to unpack the IEP ecosystem in the United States. I'll look at how the IEP landscape in the US has changed over the past 20 years, where international language students are coming from, and why they're choosing to study in the US.
Key Insights at a Glance
54% of 2020 IEP students indicated they intend to enroll in further (non-IEP) study in the US.
1 in 4 US IEP students in 2020 attended a language program from an independent provider.
71% of IEP students in 2020 came from just five countries: China (25%), Saudi Arabia (18%), Japan (14%), Brazil (7%), and South Korea (7%).
While data helps to tell a great deal of this story, the insight from our recruitment partners in leading source markets is essential to painting a picture of where the IEP industry is headed. Let's get to it.
The Development of the US IEP International Student Market
Over the past 20 years, the structure of the US IEP sector has transformed. Since 2000, 38 different countries have ranked within the top 20 source markets for US IEPs.2
The balanced variety of source markets that fed IEPs in the early 2000s is totally contradicted by the concentration of students we see today. In 2020, a select few countries dominated the market.
The racing bar chart below captures the evolution of the US IEP sector from 2000 to 2020, displaying the top 10 source markets per year:
In 2000, 13 different countries accounted for at least 2% of total IEP enrollment. In 2020, just 6 countries fit that definition. An abundance of reasons factor into the narrowing of the top source countries, but broader global competition is likely the main culprit.
As US IEPs have grown over the years, so have language programs from other top destination countries, namely Canada, the UK, and Australia. These nations have not only enhanced the quality of language curriculum but also offer post-graduate work opportunities for students pursuing pathway programs—a massive draw for students looking to pursue further education following their language studies.
Canada's Post-Graduate Work Permit Program (PGWPP) and the UK's Graduate Immigration Route are popular programs which directly compete with the OPT program in the US.
The Geography of IEPs
Students from over 100 countries were enrolled in US IEPs in 2020. Despite the global popularity of learning English in the US, the distribution of IEP students is highly concentrated:


71% of IEP students in 2020 came from just five countries: China (25%), Saudi Arabia (18%), Japan (14%), Brazil (7%), and South Korea (7%).
Language programs are often referred to as "pathway programs," meaning that students enroll in them for the specific purpose of acquiring the English skills necessary to meet the admission requirements for their university or college program of choice.
With 54% of 2020 IEP students indicating they intend to enroll in further (non-IEP) study in the US, it's likely that a large portion of students from these top five source countries are using IEPs to springboard their post-secondary education journey.
What, specifically, influences the decisions of students from these five nations? I spoke to our recruitment partners to get the whole story.



China leapt up the top 10 rankings, going from representing only 2% of the US IEP population in 2000 to over 25% of US IEP students in 2020. Interest from Chinese students skyrocketed between 2008 and 2011, when Chinese market share nearly tripled, rising from 6% to 16%.



Chinese student interest has persisted ever since, as China has only increased its market share over the past four years. Today, one in every four US language students is Chinese.
The majority of Chinese students are coming to the US to learn English in order to gain acceptance into a US college program. After graduating from college, students want work experience. From speaking to our Chinese recruitment partners, this surge in interest is likely a product of the STEM boom that we're seeing in the US.
The OPT program in the United States offers STEM students an additional two years of work eligibility on American soil. Program application numbers suggest Chinese students are taking full advantage of that program, as three of the top five fields of study for Chinese students last year were in STEM (Engineering, Computing & IT, and Life Sciences).
US-China Partnerships Create Innovative Learning Environment
In a move that displayed a huge amount of foresight, several US institutions actively established strong relationships with schools in China at the beginning of the pandemic to overcome the student deficit of their largest source market. These US colleges have joined forces with Chinese schools to offer a "China campus" to students.
Chinese campuses are being repurposed to offer an American IEP experience, without Chinese students needing to board an international flight. Students receive language instruction in small, live, online classes while enjoying an internationally focused campus climate in their native country.
The University of Delaware is currently executing a program of this variety and has seen a major uptick in interest. As COVID-19 variants continue to delay the resumption of on-campus learning for international students in the US, I expect more US institutions to leverage the Chinese student interest in this exploratory form of education.



Saudi students' appetite to study language in the US has always been strong, but their movement has been dictated by the relationship between the Saudi and US governments.
In 2004, just 334 Saudi students enrolled in US IEPs, accounting for less than 1% of the total student population. The next year, Saudi Arabia ranked fourth among all source countries, with over 1,500 Saudis enrolled in US IEPs.
Since the 2004 US election, Saudi Arabia's relationship with the US has been strong, as evidenced by their influx of students into US IEPs. Saudi students have remained within the top three nationalities of origin since 2009, accounting for 18% of the total US IEP student population in 2020.
Our Saudi recruitment partners tell me that over the past 15 years, the US and Saudi Arabia have formed a stable, trusting relationship, which is reflected in the high visa approval rates seen by Saudi students applying to study in the US.



South Korean and Japanese students are aligned on the reasons they pursue language studies in the US—they serve as springboard programs.
Korean and Japanese students who need to bolster their English skills in order to gain acceptance into US colleges often study at US IEPs for the explicit purpose of building an application that will get them into their college of choice.
Students from these nations lean towards college-governed IEPs, as they are often interested in accessing their school's auxiliary services and facilities.



Brazilians have a long history of interest in US IEPs. Brazil has ranked within the top 10 source countries for IEPs in each of the past 20 years.
Brazilian RPs tell me that the celebrated American culture and lifestyle is what draws their students to the US. American movies, shows, music and other pop culture staples have been a focal point of Brazilian media for years and feed students' desire to experience that life for themselves.
However, as the value of the US dollar has increased in recent years, Brazilian students are slowly starting to realize that they can receive a similar level of enjoyment and instruction quality in other countries such as Canada and Australia. Don't be surprised if we see those markets grow at the expense of the US in the near future.
The Emergence of Independent IEPs in the US
Independent language programs that are not governed by colleges or universities are growing in popularity every year. The following chart shows the distribution of students studying at independent vs. non-independent IEPs in 2020: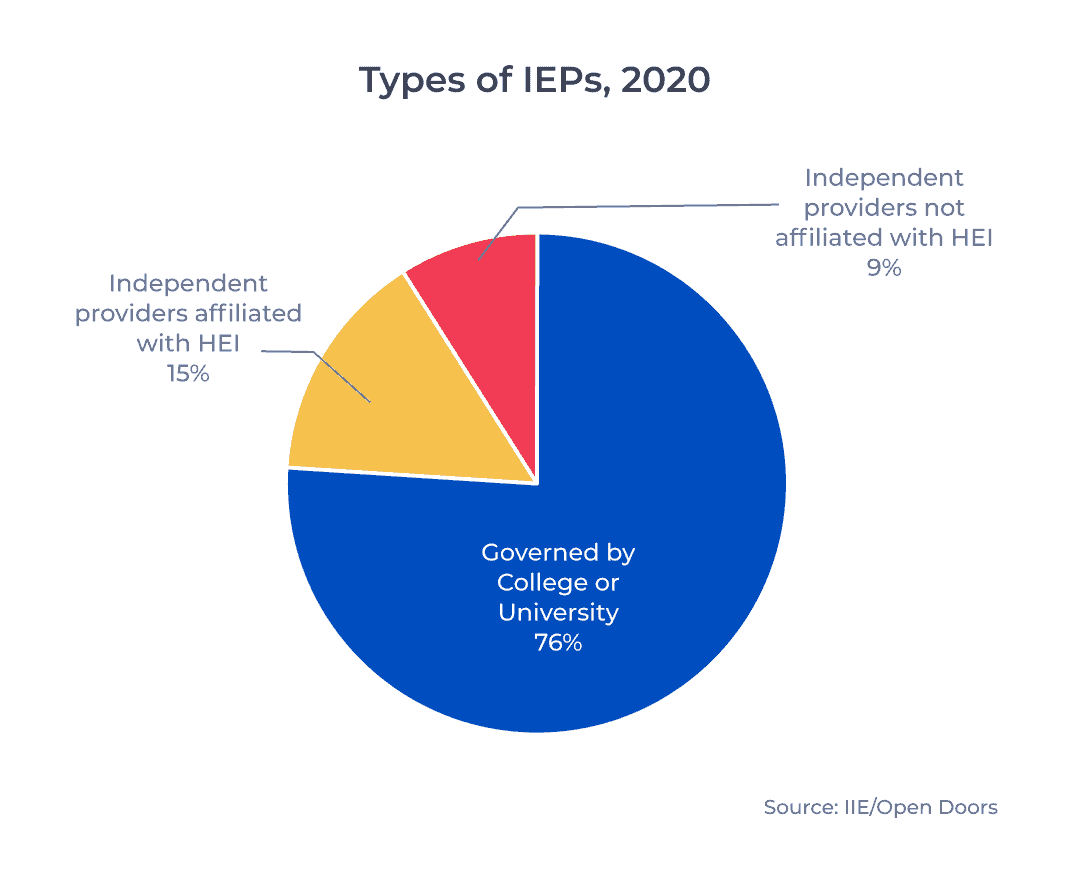 One in every four language students in the US studied at an independent institution in 2020. As interest in independent IEPs has slowly grown in recent years, one big factor that could be influencing students' decisions is time.
Independent language students in 2020 spent four fewer weeks on average completing their program than those attending IEPs governed by a college or university. Given the fact that many students enroll in IEPs for the exclusive purpose of meeting the English language requirements for attending future study, faster is likely preferable.
Time is one of the most valuable resources students have. I suspect we'll see providers like Kaplan and other independent IEPs steal market share away from the big colleges in the coming years. The efficiencies and unique program structure provided by independent language providers are likely to increase the popularity of independent IEPs moving forward.



I strongly advise US colleges and universities to pay close attention to the structure and length of independent IEPs. If leading US institutions are able to condense their program offerings, they would increase their chances of maintaining student loyalty.
Looking Forward
Learning English in the United States looks quite different than it did 20 years ago. The distribution of students, variety of source markets, and structure of programs is constantly evolving each year.
IEPs that hope to stay ahead of the curve and capitalize on these market trends should make an effort to:
Consider implementing program efficiencies to shorten their length without sacrificing academic integrity.
Continue building relationships with forward-thinking institutions in China and other parts of the world in an effort to offer US cultural experiences in another country.
Communicate any secondary benefits that come with studying English in the US, such as future education and post-graduate work opportunities through the OPT program.
Published: September 20, 2021
Subscribe to ApplyInsights
Sign up for the latest insights on international education.

---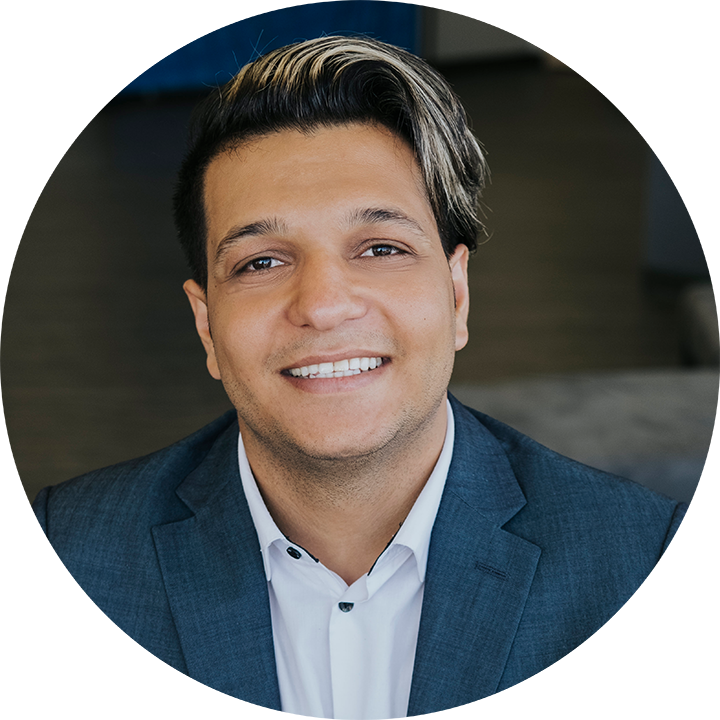 Meti Basiri
Co-Founder and Chief Marketing Officer (CMO)
Meti is driven by the belief that education is a right, not a privilege. He leads the International Recruitment, Partner Relations, and Marketing teams at ApplyBoard, working to make education accessible to people around the world. Meti has been instrumental in building partnerships with 1,500+ educational institutions across Canada, the United States, the United Kingdom, and Australia. Working with over 7,500 international recruitment partners, ApplyBoard has assisted more than 200,000 students in their study abroad journey. Follow Meti on LinkedIn for more access to ApplyInsights and key industry trends.
---
FOOTNOTES:
1. All data sourced from the Open Doors Intensive English Programs (IEP) Data Release, 2020, except where noted.
2. Institute of International Education. (2021). "Leading Places of Origin of IEP Students, 2000-2020".