ApplyInsights: Creating Opportunity Through Global Citizenship — A Conversation with Ann Buller
On the wall of Ann Buller's office at Centennial College, where she served as president for over 15 years, hung a sign reading, "Live out of your imagination, not your history."
Those words were a mindset for President Buller and her team. One that would underpin the influential internationalization programs she developed while at the helm of Centennial from 2004 to 2019.
Ann stepped down from her role as president in December of 2019. Today, Ann serves the education community through mentoring, motivational speaking, conference and workshop presentations. She also serves on several boards, including ApplyBoard's Canadian Advisory Board, where she lends her expertise to our leadership team.
I sat down with Ann last week to talk about her trailblazing development of internationalization programs in the Canadian education sector. We discussed what goes into constructing a truly impactful program, what it means to be a global citizen, and how Ann's work in this space has helped guide other institutions' efforts to make a difference.
What Is an Internationalization Program?
The rapid growth of the international education sector in Canada has diversified campuses across the country and shifted the way institutions build their curriculum. At its most basic, internationalization is the recruitment, inclusion, and celebration of international students in a post-secondary learning environment. But Ann stresses that internationalization is more than just helping international students share pieces of their culture on campus.
"To me, internationalization of a campus or organization is about looking at it from a multitude of perspectives," says Ann. "When someone says to me, 'We're an internationalized organization because we're bringing international students to campus,' I always ask them to take a step back and say, what else have you done on the campus?"
But rich, meaningful learning experiences are what Ann believes lie at the heart of a difference-making program.
"It's about so much more than serving a variety of cuisines and offering new intramural programs.True internationalization goes beyond a 'food and festival' approach to inclusion—reaching into curriculum, pedagogy, and academic and student services frameworks, as well as the boardroom." — Ann Buller
For Ann, a leader recognized as a pioneer in this space, internationalization is a values-based approach. It's built from the ground up.
Building Internationalization from Scratch
When Ann joined Centennial as president in 2004, the college was facing significant financial challenges. Ann knew that to build a sustainable future for Centennial, she and her team had to amplify the college's strengths and consider how to differentiate Centennial in a crowded marketplace.
At the time, Centennial was the most ethnically diverse college in Ontario. Ann felt that Centennial had a responsibility to its student body to champion that diversity. "We started by asking, how do we remove barriers to post-secondary education in our community, and can we better value the experience, the identity and the power that the youth on campus already bring?"
These conversations led to the idea of Centennial launching its Signature Learning Experience (SLE), which included a mandatory course on Global Citizenship; the development of a portfolio demonstrating industry-focused skills, global perspectives, and service learning; and the opportunity for students to earn a "Distinction in Leadership."
The course itself empowered students to tackle local and global inequities, exploring environmental, social, technological, and economic divides, and the impact of colonialization on Indigenous peoples. Rooted in social justice approaches, the SLE offered students unprecedented opportunities to develop leadership and career skills.
Bolstering the Value of Global Citizenship
Further expanding opportunities to have an applied learning experience, Ann introduced Global Citizenship and Service-Learning Experiences (GCSLEs), affording students the opportunity for compelling and meaningful leadership experiences.
To ensure student access was not constrained by finances, Centennial endowed 1% of international student tuition to finance the GCSLEs.
The experiences were structured as short-term (8- to 14-day) leadership and learning journeys, enabling students to use their skills to support partner NGOs across the globe and in concert with Indigenous communities in Canada.
Any member of the Centennial community could propose a GCSLE. Given Centennial's diverse community, this resulted in students supporting communities across the world.
GCSLEs included supporting orphanages in China and Peru, assisting in the building of a women's shelter in India, exploring food security in Kenya, assessing water sheds on Indigenous lands in Ontario, and offering health clinics and infection control in Honduras.
"Service Learning Experiences allowed students to have an international experience by really living that global citizenship identity that they'd been learning about in our Global Citizenship Course, completely free of charge," says Ann. "It's about learning how to do meaningful work and living a meaningful life. We wanted to provide our students with connections and experience to do just that."
Seeing Impact Through Student Experience
The very first GCSLE Centennial offered was in the Dominican Republic. After its conclusion, the school asked a few students to come and speak to Centennial's Board of Governors about their experience.
One student had come to Canada in an arranged marriage. Soon after she and her husband entered the country, she was abandoned.
The student eventually met a social worker who helped change the trajectory of her life in a hugely positive way. Deciding that she wanted to be that helper for others in crisis, the student enrolled in Centennial's Social Service Worker program. As soon as she learned about the GCSLE, she leapt at the chance to participate.
Ann recalls, "She stood in front of the Board of Governors and said to us, 'You know, I'm a Muslim woman from Pakistan who stood in the Dominican Republic surrounded by children who only spoke Spanish and I said to myself, this is what it feels like to be a Canadian.'"
"When you see someone who doesn't think they have any kind of power because their life has never led them to believe otherwise—when you see that light turn on and you see that person say, 'I am much more, I can do much more,' then you know you've done something special."
Igniting a Wave of Industry Change
A few years before Ann retired, a couple of concerned faculty members came to her office to bring to her attention an ad they had seen. A different Canadian college was using the term "Signature Learning Experience." Another professor was upset that a college was duplicating Centennial's global citizenship work.
Ann was thrilled to learn that other institutions were finding value in their work.
"Our approach to global citizenship, student empowerment and leadership development is our signature," she told them. "But we want to be the catalyst for others to explore pushing the boundaries of a traditional college education. That others are doing this work is great news."
Centennial continues to support the growth of inclusion by supporting faculty development at other colleges in curriculum development and teaching practices.
Ann explains, "Understanding diversity and inclusion is not only critical to the success of international students, but to all students, and to building resilient communities. Educators must accept the challenge of changing at a pace that responds to the needs of students."
Read our previous ApplyInsights to see how the Canadian college landscape is changing rapidly.
The Internationalization Boom in Canadian Universities
As Ann explains, "You can teach with all the right values and attitude in the world, but if you suddenly look at your class and it doesn't look anything like the one you've looked at for 20 years, you don't necessarily know why your examples aren't resonating with the students."
It wasn't only colleges that followed suit. Recent research shows that universities across Canada are now highly committed to internationalization.
In 2006, just 5% of Canadian universities considered internationalization as part of their strategic planning. Eight years later, 96% of universities included internationalization during their strategic planning, with four in five schools identifying it as a top-five priority.1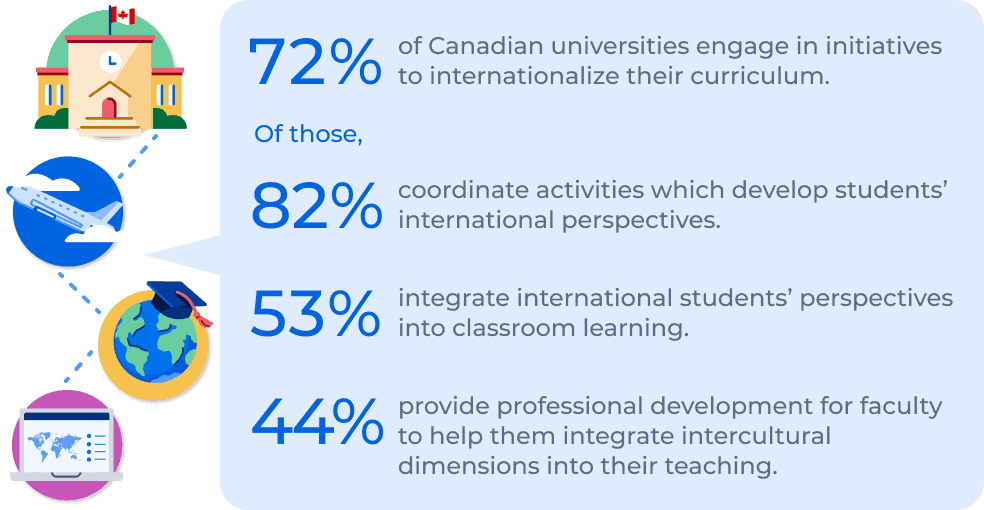 Leaving a Legacy of Opportunity
Ann wasn't looking to ignite change for just her own students. The guidance that she and the programs she pioneered have offered to other leaders in her industry is something that brings her joy.
Now, due in large part to Ann's work, Canada's colleges and universities are developing globally aware graduates with the skills to compete on the world stage.
"Our work brought the importance of global citizenship into the conversation," says Ann. "It made it possible. And I think that's the gift you give to people. You make things possible for them."
Published: October 19, 2021
Subscribe to ApplyInsights
Sign up for the latest insights on international education.

---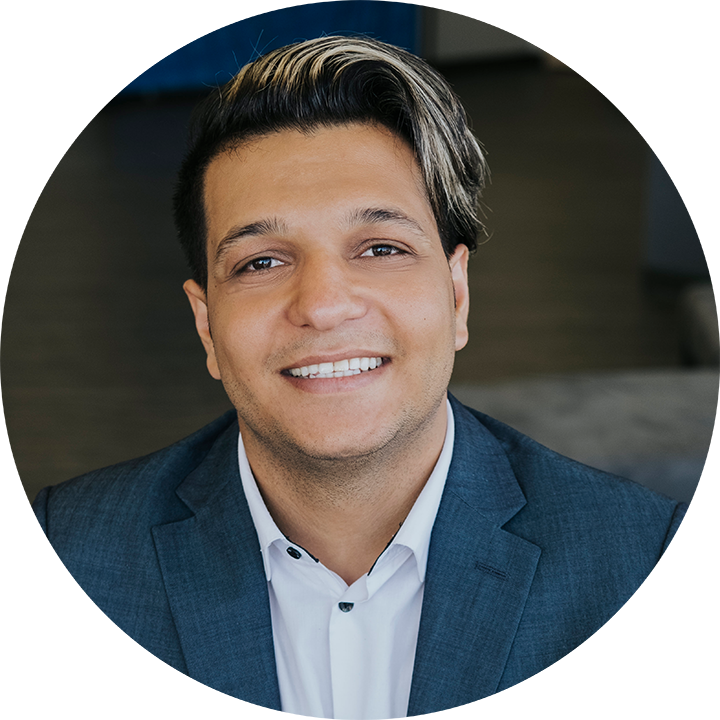 Meti Basiri
Co-Founder and Chief Marketing Officer (CMO)
Meti is driven by the belief that education is a right, not a privilege. He leads the International Recruitment, Partner Relations, and Marketing teams at ApplyBoard, working to make education accessible to people around the world. Meti has been instrumental in building partnerships with 1,500+ educational institutions across Canada, the United States, the United Kingdom, and Australia. Working with over 7,500 international recruitment partners, ApplyBoard has assisted more than 200,000 students in their study abroad journey. Follow Meti on LinkedIn for more access to ApplyInsights and key industry trends.
---
FOOTNOTES:
1. Source: Internationalization at Canadian Universities, Universities Canada, 2014.
---