ApplyInsights: Chinese Student Market Poised for Post-Pandemic Shifts
The flow of Chinese student populations has reshaped the international education landscape in the US, the UK, Canada, and Australia over the past 20 years. During that time, Mainland China became the largest international student source market in the world. And even though many Chinese students put their study abroad plans on hold during the pandemic, China remains a key growth opportunity for many institutions looking to increase their international student populations.
In today's ApplyInsights, I'll be diving deep into the Chinese international student market. I'll cover Chinese student trends in Canada, the US, the UK, and Australia over the past five years, and I'll dig into why Chinese students are interested in studying abroad. I'll also detail what key factors may influence future Chinese student mobility trends, and I'll give my thoughts on key strategies that institutions can use to recruit from East Asia's largest student market.
Key Insights at a Glance
Chinese students are uniquely interested in enrolling at high-ranking and prestigious English-language institutions when they look to study abroad.
The US is the top study abroad destination for Chinese students, though Chinese post-secondary student populations in the UK rose by 60% from 2014/15 to 2019/20.
Many Chinese post-secondary students apply for university STEM programs, but recent domestic policy changes could increase interest in college studies.
Let's start by taking a look at demographic and educational trends in China.
Chinese Student Market Overview
China has the second-largest population of young adults in the world,1 exceeding 100 million individuals in 2020. This massive student-age population is extremely motivated towards post-secondary education, but China's schooling system is hyper-competitive. Many students, and their families, dedicate significant resources to prepare for the National College Entrance Examination (or "gaokao"), in the hopes of securing a seat at a top-tier domestic university.

But student spaces at these prestigious institutions are limited. For students who don't make it into a top-tier school, studying abroad is often their second choice. International education can offer Chinese students the opportunity to secure a well-regarded qualification and valuable work experience which can help their careers when they return to China.
Learning English has become a critical step for any Chinese national looking to work internationally, as English is still widely regarded as the global language of business. Over the past 20 years, Chinese students have become better prepared to study and work abroad. More students learn English at a young age, with some children beginning basic English lessons before they start preschool. Online English tutoring is also hugely popular in China, though recent domestic policy changes have impacted China's extra-curricular tutoring industry.
Where Chinese Students Study Abroad
When it comes to choosing a study abroad destination, Chinese students favour countries with quick visa turnaround times and strong post-graduation employment opportunities. But Chinese students are also uniquely influenced by each destination market's reputation for offering high-quality education.
In particular, Chinese nationals looking to study overseas are drawn to institutions with strong school rankings and prestige. According to New Oriental's 2021 report on the Chinese student market, the number of students who cited the desire to study at a famous foreign school grew steadily between 2017 and 2021.2
To get a better sense of where Chinese students studied abroad over the past five years, let's dig a little deeper into the major English destination markets.

The United States has long been the top destination market for Chinese nationals, and China is the top source market for US institutions. Chinese student populations in the US surpassed 100,000 for the first time in 2009/10.3 By 2019/20, the number of Chinese students enrolled at US institutions exceeded 370,000. This sizeable Chinese student population accounted for nearly 35% of all international students in the US in 2019/20.
The chart below shows the number of Chinese post-secondary students enrolled or working in the US between the 2014/15 and 2019/20 academic years: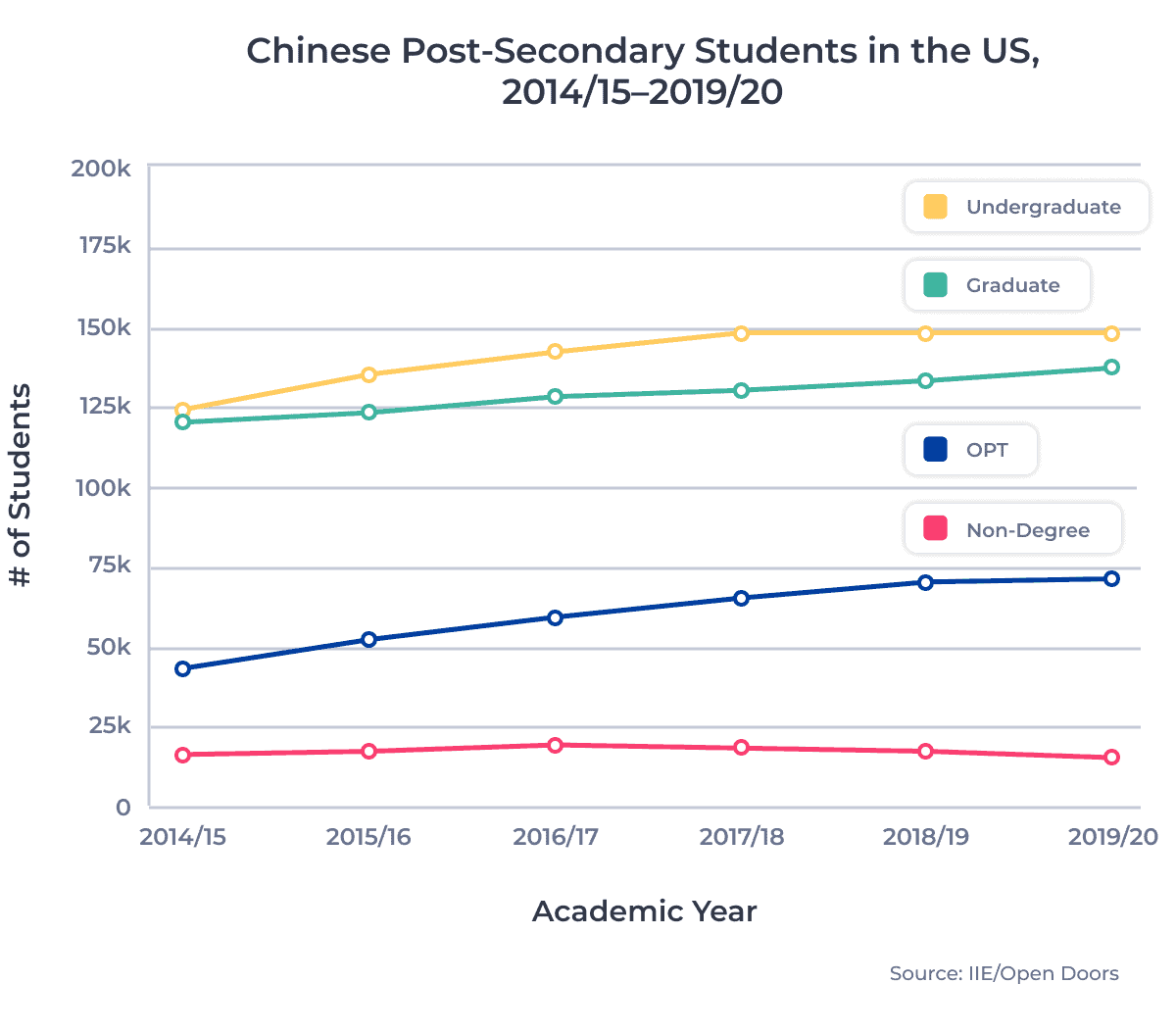 Chinese undergraduate and graduate student populations in the US rose steadily over the past six years, while the popularity of the OPT program boomed. From 2014/15 to 2019/20, the number of Chinese nationals enrolled in OPT programs increased by 66%. This was likely a result of Chinese students completing STEM studies looking for practical work experience while studying abroad or shortly after graduating.4
The strong popularity of the US among Chinese students is driven by two key factors. First, US institutions are well regarded in China and are known to offer high-quality education, which are driving factors for Chinese students. Second, the US is largely seen as a "land of opportunity" with plentiful job opportunities and higher pay compared to other countries.

The UK is the second most popular destination for Chinese students, and its popularity is rising. In 2014/15, around 90,000 Chinese nationals were enrolled at UK-based post-secondary institutions.5 But by 2019/20, this population exploded to over 140,000, an increase of 60% in just five years. As in the US, China is the largest source market for UK post-secondary institutions.
Incredibly, in every year since 2012/13, more new Chinese students enrolled in post-secondary studies in the UK than new students from all EU countries combined.
The following graph shows the number of Chinese post-secondary students enrolled at UK institutions between the 2014/15 and 2019/20 academic years: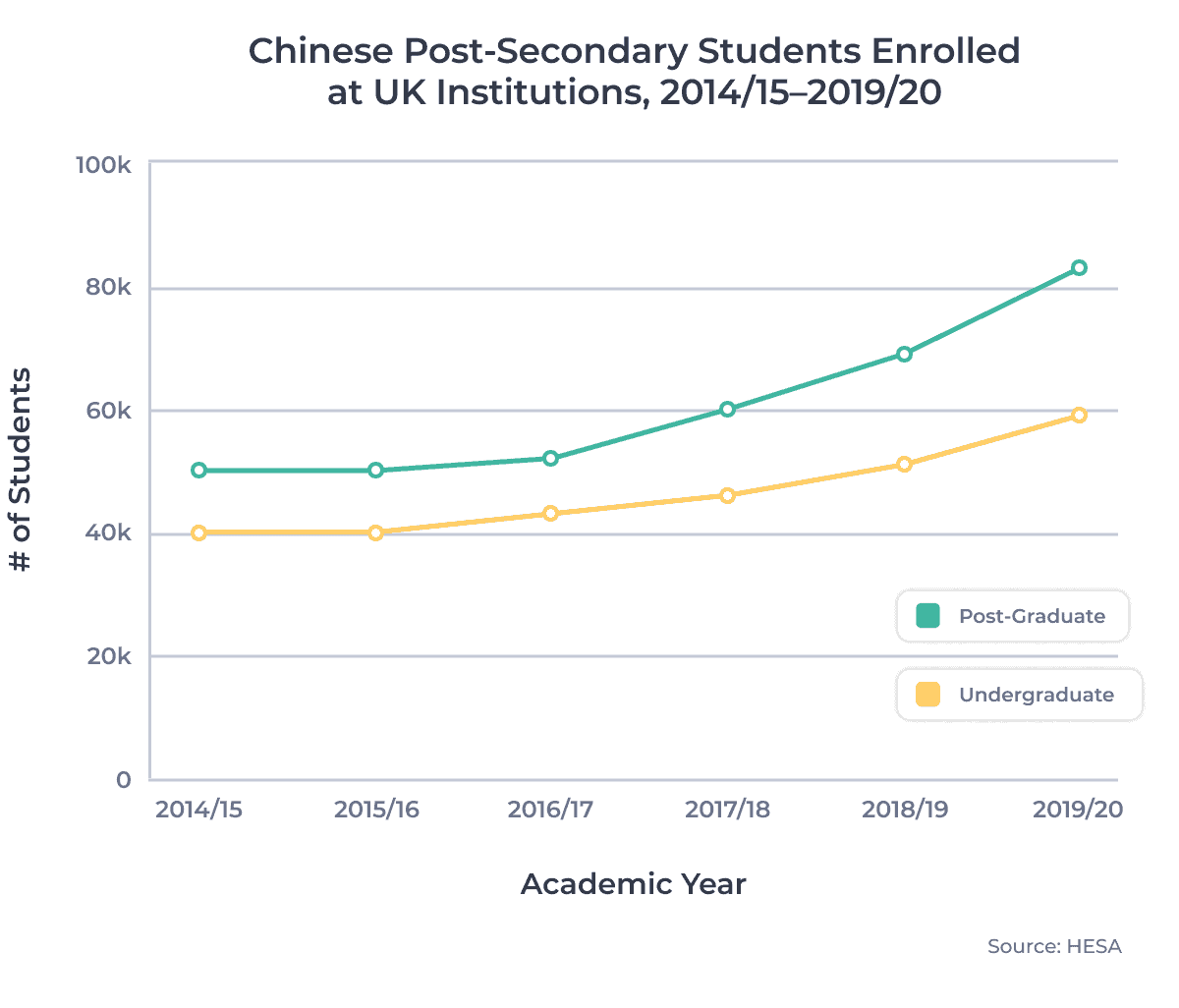 Unlike in the US, where Chinese undergraduate and graduate populations are fairly even, the UK is a more popular destination for Chinese post-graduate students. In 2019/20, nearly 60% of all Chinese nationals enrolled at UK institutions were post-graduate students.
Chinese student interest in studying in the UK is positively influenced by the prestige of the UK's storied universities and the quality of education these schools offer. But Chinese students are also drawn to the UK due to rapid student visa processing times, short graduate level programs (such as one-year master's programs), and established articulation agreements with Chinese universities. There are over 250 Transnational Education (TNE) courses offered in China which allow students to study locally while enrolled at a UK institution. Many of these courses offer an option for students to study in the UK at some point during their degree.
In 2019/20, there were nearly 50,000 Chinese students enrolled in TNE programs.

Pre-pandemic, Australia was a strong destination market for Chinese students. Chinese nationals account for the largest international student population in Australia, and many Australian institutions have well-established recruitment pipelines throughout China. But Australia's popularity among Chinese students fell significantly during the pandemic. Prolonged border closures and geopolitical tensions have encouraged Chinese students to look at other study abroad destinations, despite Australia's close geographic proximity.
The chart below shows the number of commencements6 for Chinese students enrolled at Australian institutions between 2015 and 2020: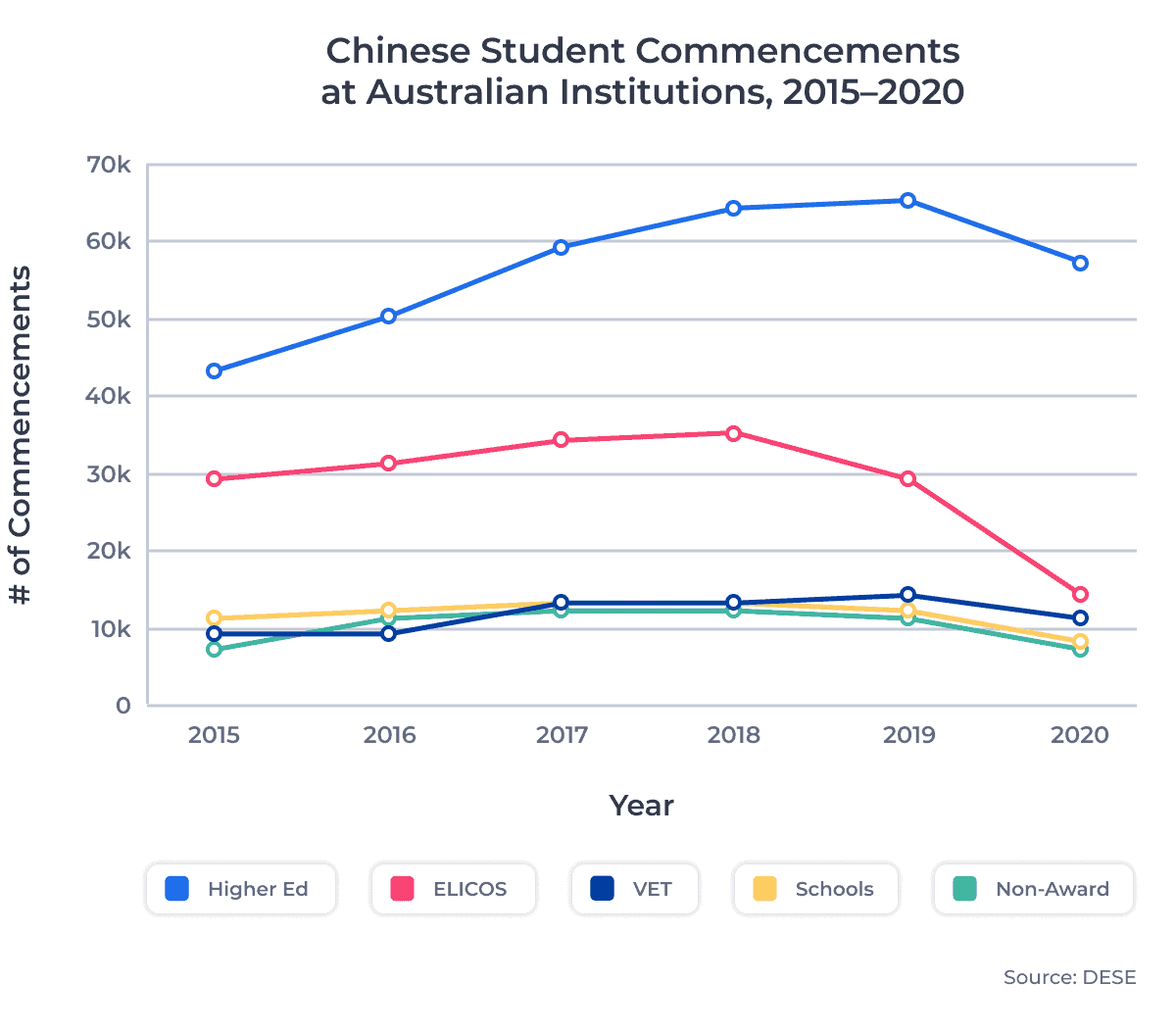 Chinese student populations in Australia grew substantially pre-pandemic, increasing by nearly 35% from 2015 to 2019. This growth was especially pronounced for Australian higher ed institutions, which saw over 50% more Chinese student commencements in 2019 than in 2015. But the pandemic halted this period of prolonged growth, and Chinese student commencements fell by more than 25% from 2019 to 2020. However, there is some good news for Australian institutions: Chinese students have shown a greater willingness to enroll in online studies during the pandemic. This could help prevent further declines post-pandemic.

Canadian institutions account for the smallest share of Chinese international students among the four major destination markets. However, China was the largest student source market for Canadian schools from 2001 until it was surpassed by the surging Indian market in 2017.7 Chinese student populations in Canada rose steadily pre-pandemic, though at a slower rate than in the UK, the US, or Australia.
The following graph shows the number of Chinese study permit holders in Canada from 2015 to 2020: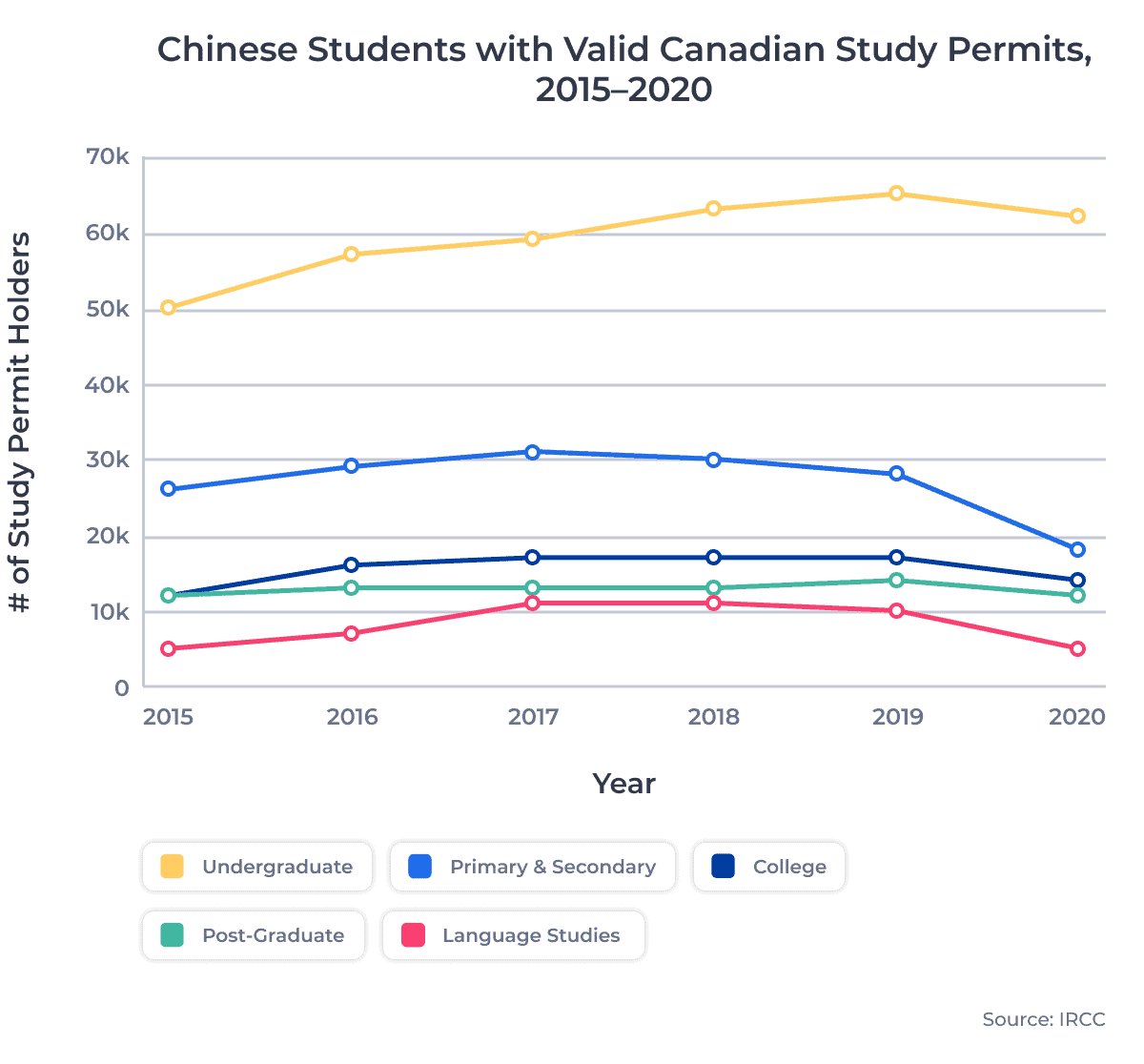 In the five years leading up to the pandemic, the number of Chinese study permit holders in Canada increased by around 15%. This growth was largely led by a 30% rise in the number of Chinese undergraduate students in Canada, though college student populations also grew by 40% over this period. Despite pandemic-related travel restrictions, the Chinese post-secondary student population in Canada remained fairly stable in 2020, declining by only 8%.
Find out more about study permit trends for Chinese students in Canada.
The Future of Chinese Student Recruitment
Although the recent growth of the Indian student market is astounding, it's likely that China will continue to be the top international student source market over the next decade. The cultural importance of post-secondary education in China, as well as the competitive domestic education system, will continue to push Chinese students abroad.
Even the pandemic has had little impact on the appetite for international education among Chinese students. According to the New Oriental's 2021 report, 91% of prospective Chinese international students surveyed plan to continue with their study abroad plans. However, Chinese students are increasingly concerned about the safety of their intended destinations. Nearly 50% of students surveyed reported being concerned about on-campus and in-country safety in 2021, compared to only 32% in 2019.
This report also revealed that there is a growing population of Chinese students completing multiple programs abroad. 45% of China's outbound student population in 2021 had already completed at least one international program. Many of these students completed short, single-semester or summer programs before enrolling in more substantial degrees. This shows that there is high potential for institutions to leverage short-term studies as pipelines for major academic programs.
College Programs Poised for Future Growth
There could be a major cultural shift for Chinese students on the horizon. China's so-called "Double Reduction" policy reduced the amount of homework assigned to students, reduced the availability of after-school tutoring, and introduced modified examination standards for primary school grades. The policy aims to provide Chinese children with a healthier, more diverse education and places a greater emphasis on opportunities and experiences rather than just academic education.
This change will drive students into two education pipelines: college and university. Chinese students who aim to enroll at domestic universities yet fall short on their qualifications will seek alternative university opportunities abroad. This will help increase Chinese student application volumes to less prestigious universities in all destination markets.
But for the new college-bound cohort, there will be a greater demand for hands-on, experiential post-secondary education. As a result, colleges in all major destination markets could see a marked increase in applications from Chinese students in the next five years. Colleges hoping to capture a larger share of this growing Chinese student market should focus on developing international collaboration programs with domestic colleges in China.
Colleges in Canada, the UK, the US, and Australia should also use this new policy to craft refreshed direct recruitment strategies for Chinese students. By outlining the types of education they offer and the strong employment opportunities that often follow program completion, many colleges could position themselves as top study abroad destinations for Chinese nationals in the years to come.
Key Takeaways
For English-language institutions around the world, China will remain a critical source market for international students for many years. While many institutions have already established recruitment plans for the Chinese market, those looking to stay ahead of the competition should:
Ensure they are using China-friendly digital campaigns and strategies to communicate pandemic policies and on-campus safety policies
Establish articulation agreements with domestic Chinese institutions to create a recruitment pipeline for new students
Leverage short-term courses and study offerings to create a pipeline for Chinese students to enroll in longer, degree-granting programs
Recruit and engage with Chinese alumni who can speak to prospective students about their experience studying abroad and the benefits it has provided them
Provide resources and marketing materials that detail any practical and hands-on experiences students will gain while completing their program that could give them an advantage in the workforce
Published: November 10, 2021
Subscribe to ApplyInsights
Sign up for the latest insights on international education.

---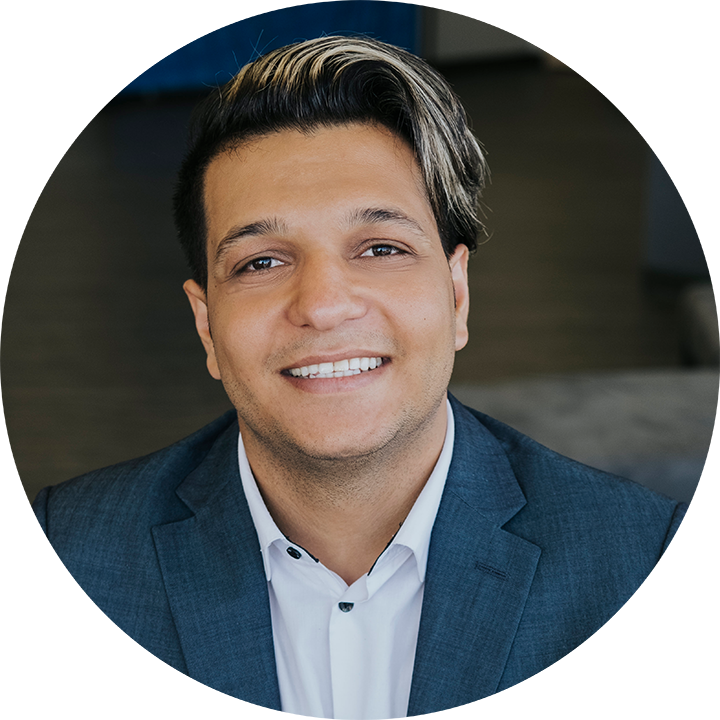 Meti Basiri
Co-Founder and Chief Marketing Officer (CMO)
Meti is driven by the belief that education is a right, not a privilege. He leads the International Recruitment, Partner Relations, and Marketing teams at ApplyBoard, working to make education accessible to people around the world. Meti has been instrumental in building partnerships with 1,500+ educational institutions across Canada, the United States, the United Kingdom, and Australia. Working with over 7,500 international recruitment partners, ApplyBoard has assisted more than 200,000 students in their study abroad journey. Follow Meti on LinkedIn for more access to ApplyInsights and key industry trends.
---
FOOTNOTES:
1. For the purposes of this article, young adult means a citizen aged 18-23. Population statistics and projections provided courtesy of the United Nations.
2. As detailed in Sinorbis' 2021 Chinese Student Trends Guide.
3. All US figures include undergraduate, graduate, and non-degree programs, as well as students enrolled in the Optional Practical Training (OPT) program. All enrollment numbers are calculated based on academic year. US data courtesy of the Institute of International Education (IIE).
4. Graduates from STEM programs in the US are eligible for additional OPT periods. This opportunity for additional work experience often attracts higher numbers of students to the OPT program from source markets with high STEM interest.
5. All UK data is based on total enrollments per academic year. UK data courtesy of the Higher Education Statistics Agency (HESA).
6. A commencement is a new student enrollment in a particular program at a particular institution. All Australian international student data provided courtesy of the Australian Department of Education, Skills, and Employment (DESE).
7. Canadian statistics used in this article are for study permit holders only. All such data courtesy of Immigration, Refugees and Citizenship Canada (IRCC).
---