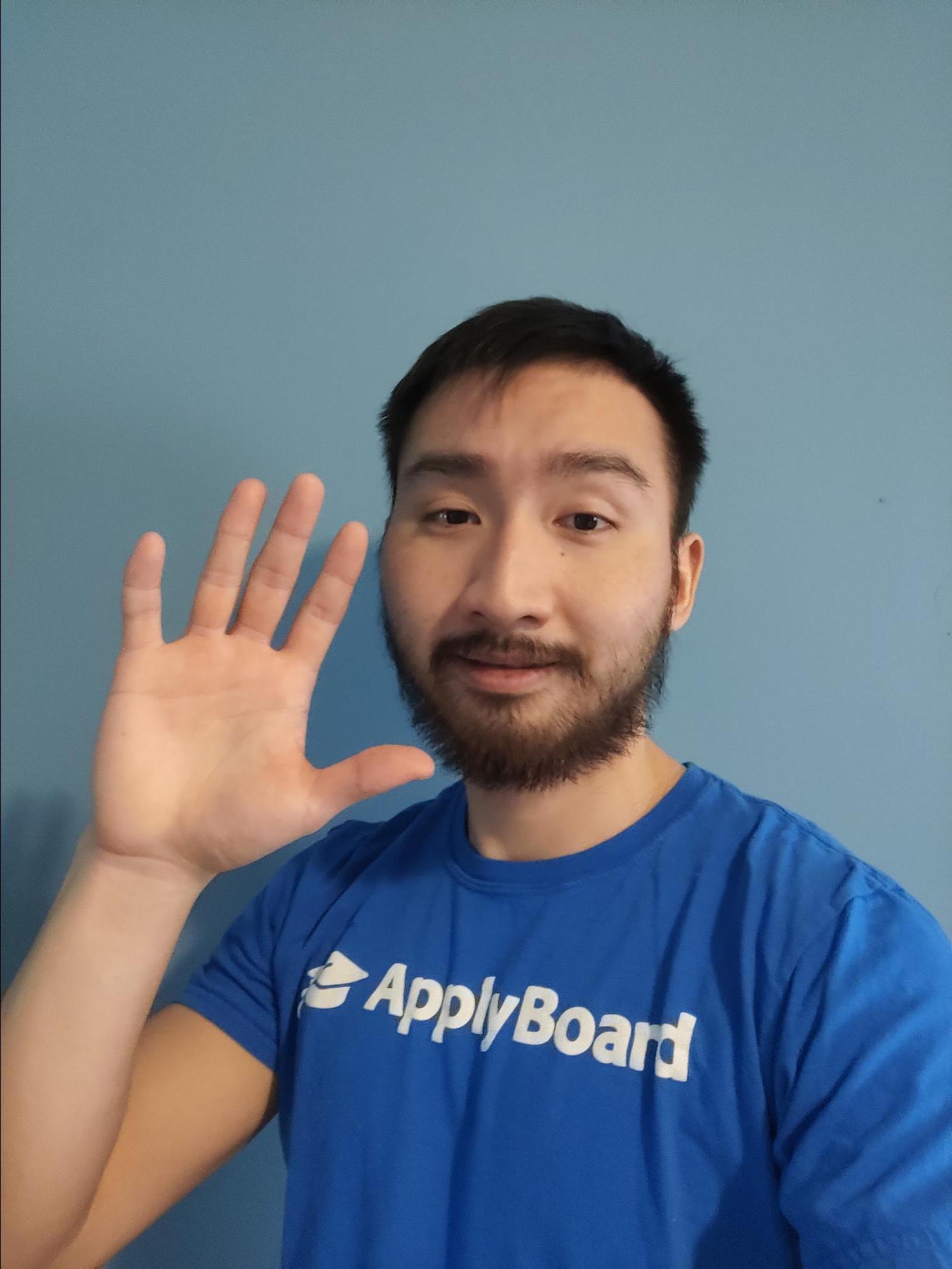 Miles Tjandrawidjaja is a Software Engineer and Team Lead at ApplyBoard. Follow along as he takes us through a typical day in his (remote) life at ApplyBoard.
---
ApplyBoard is an organization full of growth and opportunity, and that's the reason I'm here today. When I joined the team in September 2019, I was employee #303, and now we're on our way to reaching employee #500!
Since joining ApplyBoard six months ago, I've gone from being an individual contributor to a Team Lead, spending the majority of my time focused on the well-being of our Engineering Teams, and building a culture of meaning and purpose.
I am extremely grateful to contribute alongside bright and passionate minds. The environment at ApplyBoard has allowed me to work toward being the best version of myself – I wake up every day hoping I can provide the same feeling for others.
A Day in My Life
6:30 AM: Light begins to fill my bedroom, and the silence is now filled with birds chirping, but I doze back off.
7:00 AM: Alarms start blaring; it's time to start the day! First up, caffeine. I wish I had an espresso machine, but K-cups will do the trick. Depending on how I'm feeling, I'll grab a banana or some other fruit. I whip out my phone and glance at my calendar, getting a quick overview of the day to come. Then I read some articles before moving onto my favourite part of the morning…
7:45 AM: Shower time! I let the water warm, crank some tunes, and get myself clean for the day.
8:00 AM: Work begins. I go over any outstanding items from yesterday, take another look at my calendar, and mentally prepare for the day. At this point, I'll add any new tasks I'd like to accomplish.
9:30 AM: Time to sync up with the different areas of engineering. First up, the Development Team. After a quick update on the progress of our projects, we'll identify any roadblocks or obstacles that we need to address. When issues do arise, we collaborate as a team to find an immediate path forward.
Afterward, I connect with the Product Team, ensuring we have a clear plan for the sprints to come. Finally, the engineering leads touch base with one another, offering any thoughts, suggestions, or assistance needed to foster a strong engineering department.
10:30 AM: Around this time, I'm typically working on any action items I've committed to for the day. I'll also spend time breaking down tasks into smaller, executable chunks. I may do some code review, and evaluate any opportunities to de-risk the project our team is assigned to.
12:00 PM: Lunchtime! I usually have some food in the fridge that was prepped the weekend prior. All that's needed then is a heat source, usually a microwave (one of the most magical devices known to humankind). If I'm not catching up on work, I try to use this time to get some learning in, whether that's reading a book or networking.
1:00 PM: The second half of the day is less predictable. I may have an interview to conduct, or time allotted to chat one-on-one with a team member. Other times I'll collaborate with other parts of the Engineering Team to figure out how we can help each other complete projects.
3:00 PM: On Fridays, the entire Engineering Team comes together for demos. This is a great opportunity for the team to learn from each other, and witness the fruits of our labour. Other days, this time might be used for planning upcoming sprints with the Development Team.
5:00 PM: Time to wrap up! I make an effort to tie any loose ends, or otherwise jot down any outstanding items for the next day. From here, I tend to shift into a reflective mode, thinking about what went well and how I can improve. I may play some tunes, connect with others, or dive into a book. Were we not practicing social distancing, I'd be gearing up to play some volleyball!
Fast facts
Skills to be successful in my role:
A strong sense of responsibility for the success of the organization, and a curiosity to understand others.
The best career advice I've received:
I can't pinpoint any specific advice, but from my perspective, self-awareness is the most important quality to keep sharp. I believe this trait to be fundamental to self-improvement.
Something I've learned at ApplyBoard:
Improvise. Adapt. Overcome.
Team dynamic:
We work to emulate ApplyBoard's values every day – personally, I resonate most with the value of "Taking Ownership."
Lightning round
Favourite ApplyBoard perk:
I'm not big on perks, but if I had to choose it would be the resources ApplyBoard offers to support employee's growth and wellness. I'm all for any program which promotes well-being.
Go-to lunch from home:
Since the truth is boring, I will opt for a mysterious non-answer.
Next country I'd like to travel to:
Japan
A professional skill I'm working on:
Leadership
---
---