ApplyBoard Co-op Students Fundraise 100 Backpacks with School Supplies to Help Refugees
By Ericka Gradwell and Julia Baker
Ever wondered what it's like to run a charity campaign as a co-op student? Well, let us tell you what it looks like at ApplyBoard.
During our summer co-op term, we were tasked with working alongside ApplyBoard's charity committee to create our own fundraiser based around the topic of education. While brainstorming some project ideas, we came across World Refugee Day from a Reception House Newsletter. After looking deeper into Reception House and learning more about their Children's Starter Kits, we became driven to assist this marginalized community within Kitchener by donating school supplies for young refugees.
We immediately reached out to Reception House to see if they would be interested in working with us and received a thrilled response! However, before beginning, we first had to come up with a goal. How many backpacks did we hope to have filled for these children by our deadline? We brainstormed many different goals we believed to be specific, attainable and realistic, but settled on filling 100 backpacks, each consisting of five different items (for a total of 500 items). From there, we made multiple announcements about our mission to our fellow employees at ApplyBoard, many of whom were on board to help out and were looking forward to starting just like we were!
Over $250 Raised!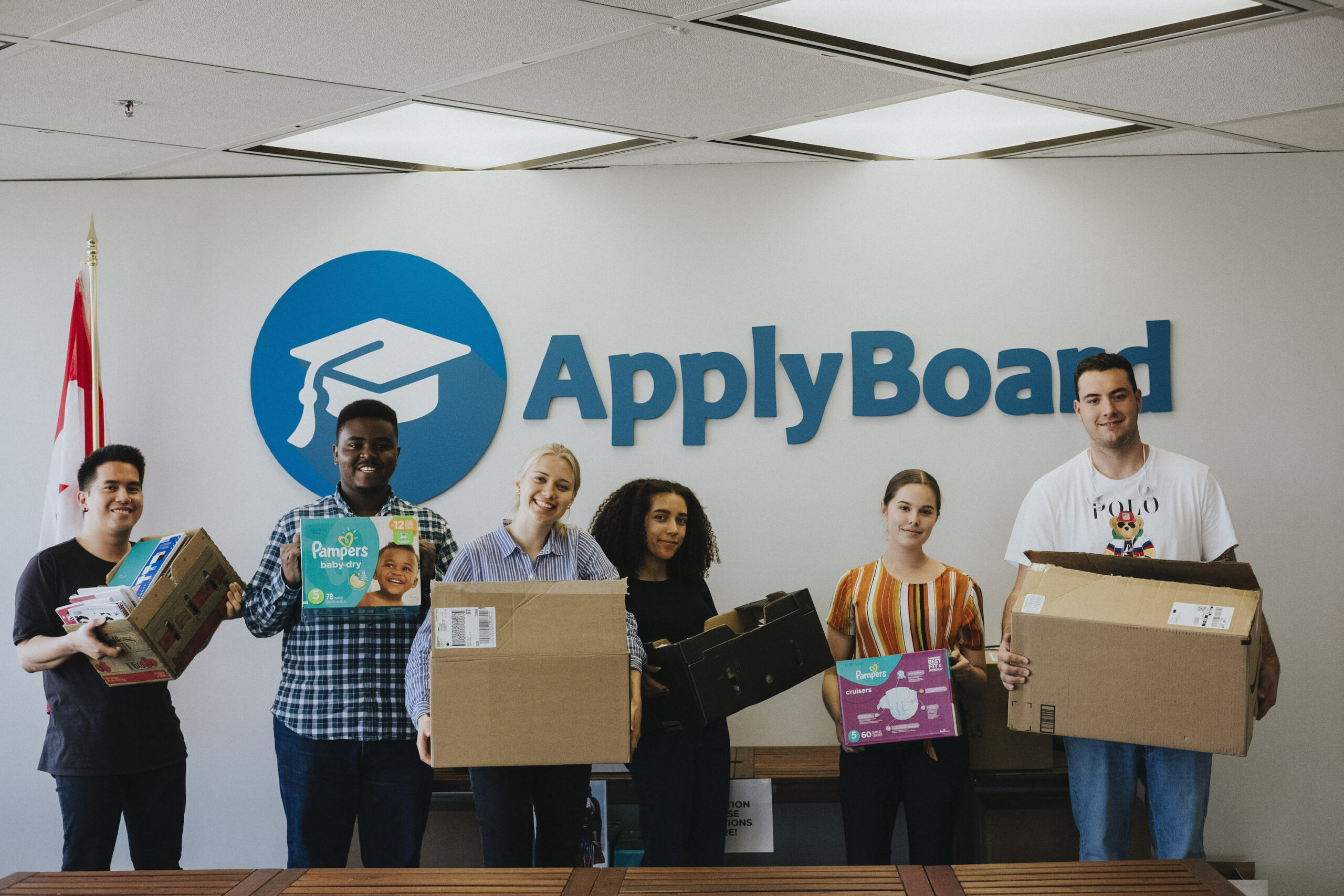 By the time we finished our donation drive, ApplyBoard had collected exactly 500 items, along with approximately $250 extra in monetary donations! Seeing the staff work together to exceed our goal was encouraging and we definitely appreciated all the support they gave us. However, one of the most impactful parts of this project was going to Reception House itself.
After packing up all the donations, we visited Reception House's office to meet some of their staff and watch a brief presentation, which educated us on the experience of refugees. We knew a 20-minute presentation could not fully convey what these new members of our community had experienced. However, by learning more about the process they had gone through, as well as listening to the story of one of the past guests at Reception House, we gained a greater appreciation for how difficult it is for a refugee to leave their home.
After the presentation at the office, we went over to the house to deliver the donations. As we were shown around the main floor – the playroom, the dining room, the common area and the industrial kitchen where some of the guests were cooking lunch (which smelled absolutely amazing, by the way) – we were greeted with some of the brightest smiles from the children. They had just run in from outside and seemed so excited to see what was going on. These children, our new neighbours, had been through things we couldn't begin to understand. We didn't know their stories, but we could see that they were excited to write new ones here. We just hope that now, with the donated school supplies, they're better equipped to write their stories here in Kitchener.
If you'd like to make a donation of your own to Reception House, visit their website here.
---