Lindsay Snider is a Marketing Programs Manager at ApplyBoard. Follow along as she takes us through a typical day in her life at ApplyBoard!
---
ApplyBoard is one of the best companies I've worked for! My role is rewarding, and my colleagues and management team are so supportive. I can honestly say I wake up excited to walk into work and face the challenges of the day.
I love the flexibility of marketing, and the creativity involved in my job. In my role here, I work with our Partner Relations Team by building marketing materials and managing projects that support their objectives.
A day in my life
5:00 am: Yes, I'm one of those crazy people who wakes up at 5 am. I start to get ready for the day and head to the gym at 5:30. My go-to is a 6:10 RPM spin class.
7:00 am: I get home and turn on the news or catch up on my favorite true crime or daily news podcasts while I eat breakfast (this is my calm before the storm). Then I get ready for work – I almost have my morning routine down to 30 minutes from when I start getting ready to when I head out the door.
8:30 am: After a short 10-minute walk to work, I usually start my day by checking my email and Basecamp to catch up on anything I missed overnight.
9:00 am: Those who know me know that I'm the master of to-do lists. I have a list for everything; if I don't write something down I'll probably forget it. Needless to say, if Evernote crashed I would probably be devastated. I run through my priorities for the day based on upcoming program deadlines and launches and adapt accordingly.
10:00 am: I try my best to book meetings for the week on alternating days. This way I can block off the remaining days to get uninterrupted work done.
Meetings might involve brainstorming programs, project status meetings, and one-on-ones. If I have a day with no meetings, I'll work through larger programs that I have planned out for the quarter for the Partner Relations Team. My role is a new addition to the Marketing Team, so there's a lot of groundwork to cover getting things up and running.
12:00 pm: Lunchtime! On Wednesdays our office gets catered lunch, my favorites so far have been Zoup! and pot pies. Whoever's free from the Marketing Team will eat together near our workspace. It's great to spend quality time with people I don't always get to work on projects with.
4:00 pm: At the end of the day I review my to-do list, email, and Basecamp in case anything urgent pops up that I need to tackle right away. I look at my priorities for the next day and reprioritize tomorrow's to-do list as necessary.
5:30 pm: I usually head home around 5:30 or 6. I spend most evenings cooking, which is a big passion of mine. Whether I'm cooking for friends, family, or myself, I know that I can always step into the kitchen and relax.
If I'm not at home, you'll find me at local events, catching up with old coworkers, playing pickup soccer, or taking cooking classes.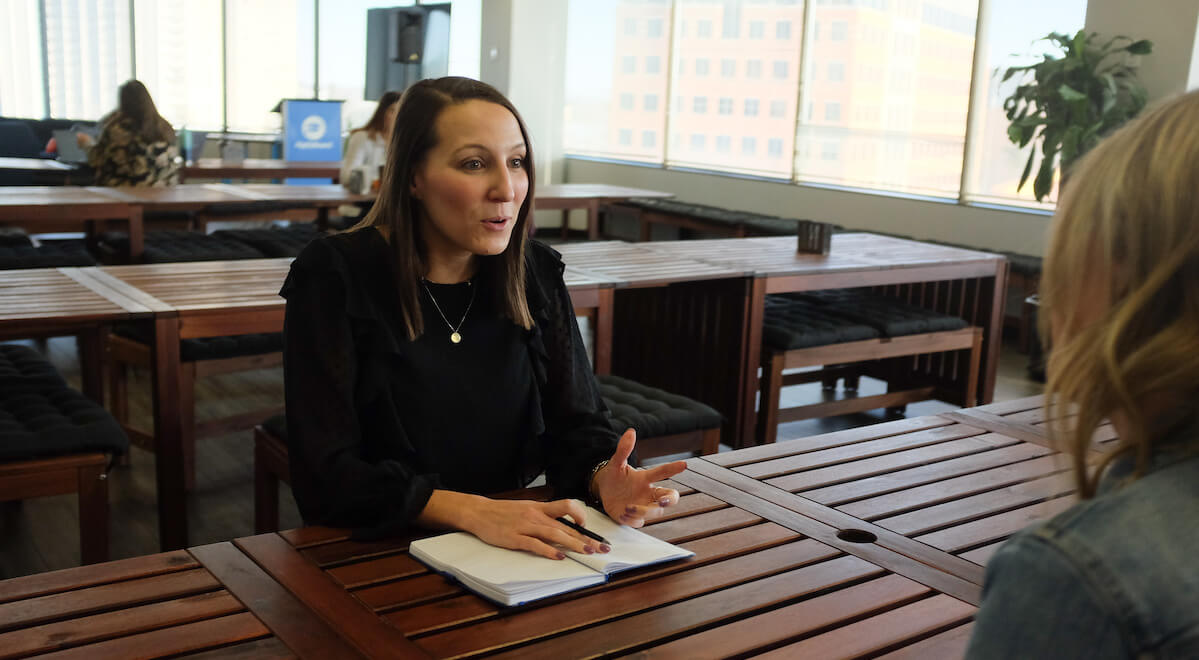 Fast facts
Skills to be successful in my role:
Flexibility – Things can change on a dime here, so you need to be flexible with due dates or prioritization.
Organization and project management – I'm always juggling several projects with different teams at the same time.
Communication – Communication is key to teamwork and creating compelling marketing materials.
Adaptivity – The industry is always changing, so you need to stay on top of new marketing trends and tactics.
Collaboration – Sometimes the best ideas come from a small idea that can be built on.
The best career advice I've received:
In my opinion, networking is a largely underused strategy. Building connections with your community can open up opportunities you never would have thought possible. I think this is an important step in personal career growth.
Right after graduation I started attending local networking events alone to push myself outside my comfort zone and meet new people in the community.
It may not be for everyone, but networking can be extremely rewarding if you're willing to try.
Something I've learned about ApplyBoard:
ApplyBoard is very supportive. As a company growing as fast as it is, it's very receptive to new ideas from employees, and the direction they want to take their role in. I honestly find this refreshing, and it makes me excited to come into work every day.
Marketing Team dynamic:
Supportive – You get a voice and the opportunity to share your ideas with a group who truly think there's no such thing as a bad idea. Sometimes the most successful campaigns come from an idea that feels impossible.
Innovative – Our team isn't afraid to think outside the box. We're open to new tactics and ways of thinking, which is so awesome (and rewarding, if your crazy campaign works!)
Collaborative – When a big task is at hand, everyone comes together to help in any way they can. We're truly the sum of all our parts.
Lightning round
Favorite ApplyBoard perk:
I'm not sure if it counts, but having a 10-minute walk to work is a gamechanger.
If that doesn't count, I have to say Wednesday lunches. We not only get an amazing lunch coordinated by Brittany and Katie on the Operations Team, but our team gets time to disconnect. We catch up and put a pause on work; it's a great way to break up the week.
Go-to lunch from home:
Salad bowls – Greek, Mexican, leftovers, pretty much anything you can throw into a bowl.
I'm also the queen of snacks. You'll rarely find me without a snack in hand. Some are healthier than others, but it's all about balance, right?
Next country I'd like to travel to:
Croatia or Greece
A professional skill I'm working on:
Public speaking and CRM training
—
Interested in joining ApplyBoard's Marketing Team? We're hiring!
---