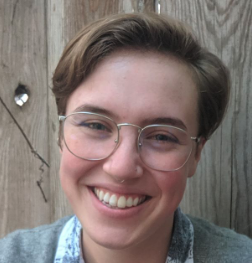 Welcome to 7 Questions! In this series, we'll be connecting with different members of the ApplyBoard team in quick, 7-question interviews to hear more about their roles and backgrounds.
Today we're checking in with Hannah Grey, a Business Intelligence Developer at ApplyBoard. She works with our Data Science Team to understand and support the company's operations through data products. Let's dive in!
1. What was your background before joining ApplyBoard?
I studied Management Engineering at the University of Waterloo and graduated in 2017, completing my last three co-op terms as a software developer. After that, I went to graduate school for Data Science, which is where I got exposed to data engineering for the first time. I loved it! I recently worked as a full stack developer at a local startup and joined ApplyBoard in November last year.
2. What attracted you to ApplyBoard?
I've always been passionate about education – some of my best work experiences have involved teaching and working with students. I also did my grad school work in the field of educational data mining.
At ApplyBoard, there's a wealth of data engineering that needs to be done, and some unique challenges that come along with it! The company is growing fast, and I wanted to be in a fast-paced environment. There are so many opportunities here to help develop innovative data solutions for our teams.
3. What were some of your first impressions when you joined the team?
The first thing that struck me was how warm, and friendly everyone was. People from all over the company made a point to talk to me, and I immediately felt welcomed.
It's also busy, and everyone is so excited about the work! It's been amazing to work alongside people who care about the company's mission. The ApplyBoard team is incredibly hardworking and dedicated.
4. Can you tell us more about your role and the type of work you do?
By title, I'm a Business Intelligence Developer on the Data Science Team. We work with other teams to power our organizational objectives. For example, I recently worked with our Product Team to develop a data collection process so they can gain a better understanding of how users interact with the ApplyBoard platform.
Overall, I architect our data pipelining and maintain the analytics environment for the Data Team. I also report on the data we have, making sure that we're collecting the right data and that the information we do collect is of high quality.
5. What do you hope to accomplish at ApplyBoard?
It would be great to have data drive more of what we do. This means automating the reporting that we currently do manually and helping get ApplyBoard to a point where we can be an entirely data-driven business.
6. What has been the most rewarding part of your role?
I love digging into and solving tough problems! In my role, I'm often playing detective to come up with solutions that make us better as a team. I get to shine a light into parts of our business that we haven't been able to analyze before.
7. Can you tell me about a favourite recent memory at the office?
The ApplyBoard holiday party! The company put on an incredible event at Bingemans for the entire Kitchener office. Most of our team was hired at the same time, and it was the first time we got to spend time together as a group and get to know each other.
—
---