The Connection Between Canadian LOA Turnaround Time and Successful Student Enrolment
Waiting for a Letter of Acceptance (LOA) is one of the most important and stressful components of the application process for international students. While waiting for an LOA, students can't make a final school decision, apply for an education loan, or apply for a study permit. In other words, it's a key time-bound process, especially in developing source countries.
Providing only complete applications, ApplyBoard facilitates and works closely with schools to ensure that qualified students get an LOA in a timely manner.
Do Faster LOAs Impact Tuition Deposits?
It sounded intuitive to us (and likely to you) that issuing an LOA to students would increase the chance of students paying their tuition deposit or confirming their seats with the schools. With ApplyBoard having processed thousands of applications to date, we now have the data to test this hypothesis.
Analyzing two years of ApplyBoard application data, we found that schools issuing LOAs within seven days of receiving a complete application had an 18% higher chance for these students to pay their tuition deposits or confirm their seats with the schools, compared to those students who receive their LOAs 30 days or longer after an application submission.
This is an important statistical confirmation demonstrating that students are more willing to commit to a school if offered a speedy LOA. Beyond the correlation between faster LOA and chance of paying tuition deposit, we also found this has a direct impact on enrolment.
Correlation Between LOA and Enrolment
We found students, on average, are 19% more likely to enrol with a school that issues an LOA in less than seven days vs. +30 days. This ratio can increase all the way up to +31% based on the level of study. While individual cases will vary, the data shows the earlier an LOA is received, the more likely students are to enrol.
What's more, if a quicker turnaround on LOAs leads to higher offer conversions and student enrolment, schools can improve their ability to convert on students from priority countries and work toward important diversity goals. ApplyBoard assists this work with a combination of technological advancements, proper screening, and complete-application submissions.
Positive Student Impact
Although faster LOA turnarounds benefit schools, they have the most positive impact at the student level, logistically and psychologically. So the takeaway? Any time we improve the efficiency of student applications, we improve the experience for students. Working with Admissions Officers and senior school leadership to develop a scalable process that puts an LOA in students' hands faster gives them more time to secure a visa and prepare for the journey of a lifetime. Schools also benefit from better conversions on enrolment targeting key students. We look forward to working closely with our partner schools to continue improving the application process and making the experience better for our students.  Watch this space for exciting new ApplyBoard initiatives benefiting both students and schools.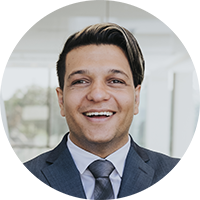 Meti Basiri
CMO & Co-Founder
Meti leads the company's Sales and Marketing Teams, while fostering growth and scalability across the organization. Meti is passionate about the international student market and is constantly seeking ways to improve ApplyBoard's service to deliver the best student application experience.
ApplyBoard is the connection between international students and your school. Our mission is to enrich and diversify your campus with highly qualified students from around the globe.
---