Invite Your Students to Complete Their Applications Through ApplyBoard
---
At ApplyBoard, we want to make your job easier. That's why we are continuously updating the ApplyBoard Platform and adding new features to serve you better!
Invite Student is one of those features, designed to help you do more with your time and better support your students.
What Is It?
The Invite Student feature on the ApplyBoard dashboard gives Recruitment Partners the ability to invite their students to register on our platform and complete their own applications.
Students that submit their applications using your link are noted as your students and will appear on your dashboard.
For privacy reasons, students will be asked for consent when they register, authorizing ApplyBoard to share their profiles with you and add them to your dashboard.
How It Works
Step 1: Click on the Invite Student button from your ApplyBoard dashboard

Step 2: Copy the Referral Link that appears after you complete step 1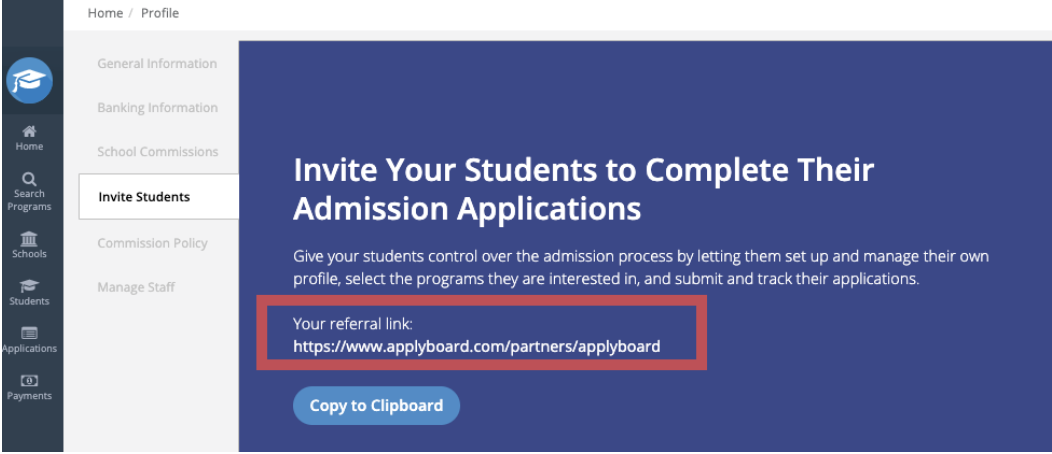 Step 3: Share the link with your student(s)
The link can be shared via email, WhatsApp, social media, and/or any other modes of communication you use.
Why Use It?
Build Trust With Your Students
Once a student registers, they can set up and manage their own profile, select the programs they are interested in, apply, and track their own applications. Students remain involved throughout the admission process, feel in control, and are ultimately more satisfied with the service they receive from you.
Promote Your Services to Prospective Students
Once you click on Invite Student, you will receive a personalized link, which you can share with prospective students on social media, flyers, emails, etc. to invite them to work with you. When students register, they will be able to browse through the 30,000+ programs from 1,200+ Colleges and Universities that are available through ApplyBoard, allowing them to realize the breadth of choices that are available to them when they work with you.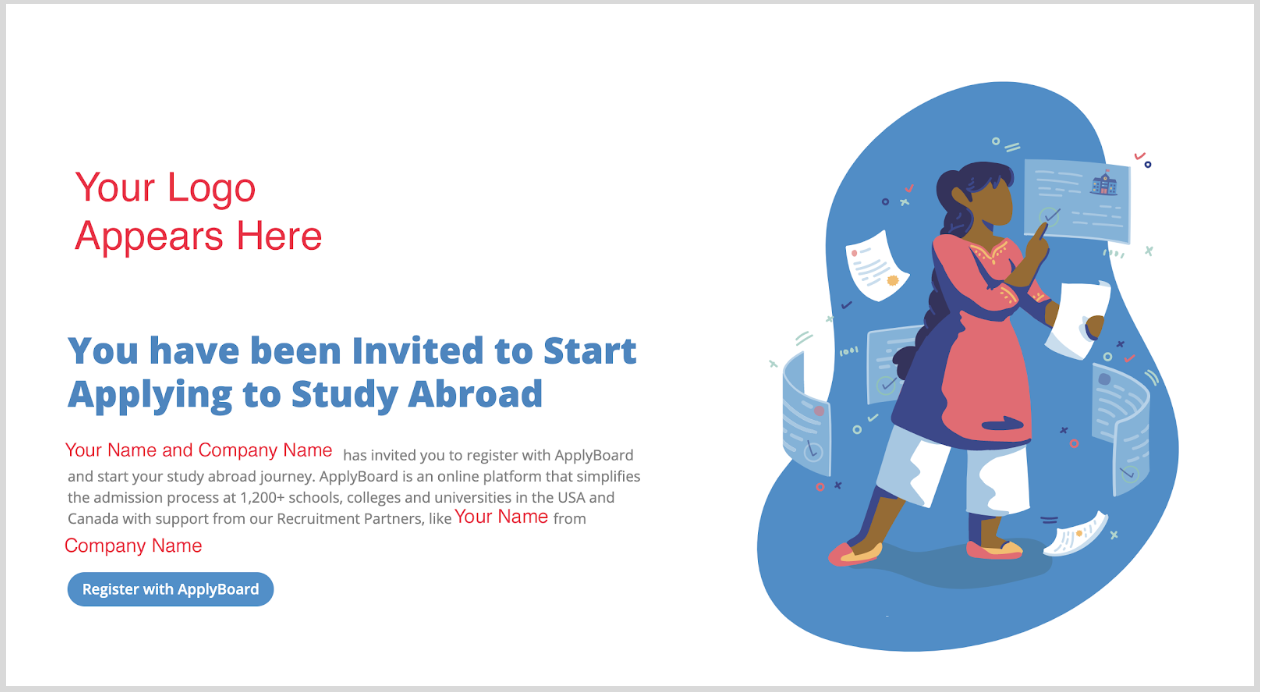 Note: The registration page is personalized for your business. Your name and link will appear on the registration page the student sees.
---
For more information or assistance, please speak with your ApplyBoard Representative.
---