Product Release: Student Records Tab and Private Note
---

The ApplyBoard Team is excited to announce a new way to access your documents and share information. Today, the ApplyBoard has released our new Student Records Tab and Private Note feature.
Student Records Tab
The Student Records Tab is a new tab where external users can access all documentation and information provided by ApplyBoard relating to a student's application. Match the numbers below to the image for a detailed explanation of each section of this new tab:
Student Records Tab

Click here to access the new Student Records Tab from the tabs on the top of your student application page. The page includes documents like the student's letter of acceptance.

Timeline

Here you will see a timeline with a date stamp of when new documents or information has been posted on the student's application detail page.

Document

Click on the document to view in a new tab or download the document by clicking on the download icon.

Application Status

The timeline displays information about the application stage including when it has been submitted or when an acceptance has been received. 

Decision Letter

With the introduction of student records, all new applications (except for Yorkville University applications) will no longer have their offer letters posted to the original decision letter section, you will now find them on the new Student Records Tab and they will be labeled as a pre-offer letter or final offer letter.
Yorkville University applications will continue using the existing workflow until ApplyProof is released.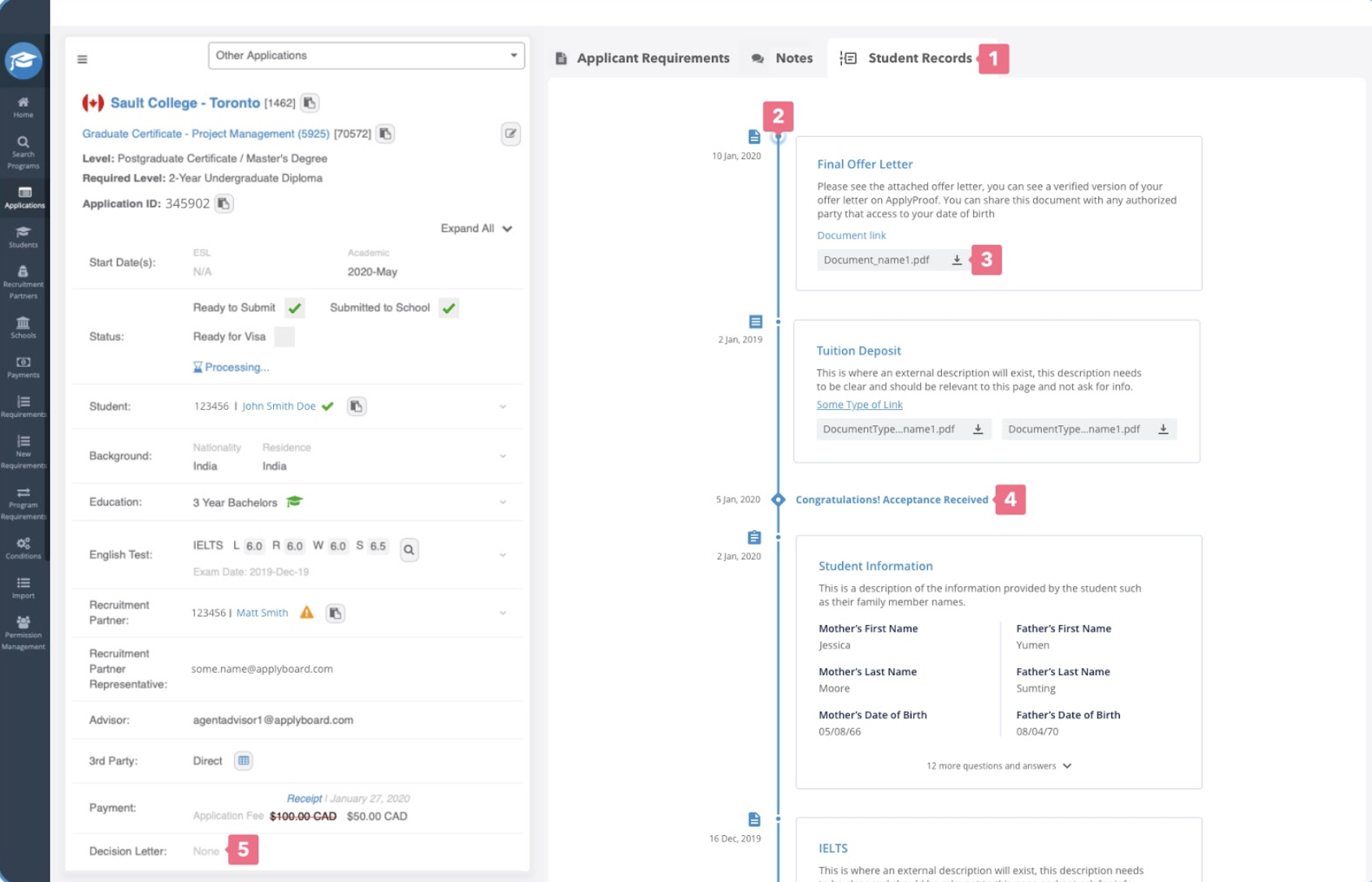 Emails
In an effort to share documents with ApplyBoard users securely, we've implemented a new type of email communication as part of our first phase to securely share personal information and documents. 
Existing Flow
Offer letters are attached to notes along with the acceptance conditions.
New Flow 
In addition to the notes that are emailed to you with acceptance conditions, ApplyBoard now sends a secondary email with the offer letter attached and a link to access it on the student records directly. We plan to discontinue email attachments in the near future and rely on links to the student records. If a student is selected to be CC'd on a communications or given a referral link, they will automatically receive this email as well.
Note: We will not send out any non-offer letter related documentation via a secondary email. For Yorkville University applications, there will not be any secondary email for offer letters.
Accessing Offer Letters
Currently, offer letters can be downloaded and viewed here:
Decision Letter –

Located on the bottom left of the application page

Application Summary Page –

You can see multiple applications with offer letters attached to each

Notes –

Attached to notes/email
Note: Yorkville University applications will not have their offer letters in student records. They will be available in the future, for now, use the existing sections to receive the offer letter.
With this new release, you can view and download offer letters from: 
Student Records Tab

Secondary Email
Sample Screenshots: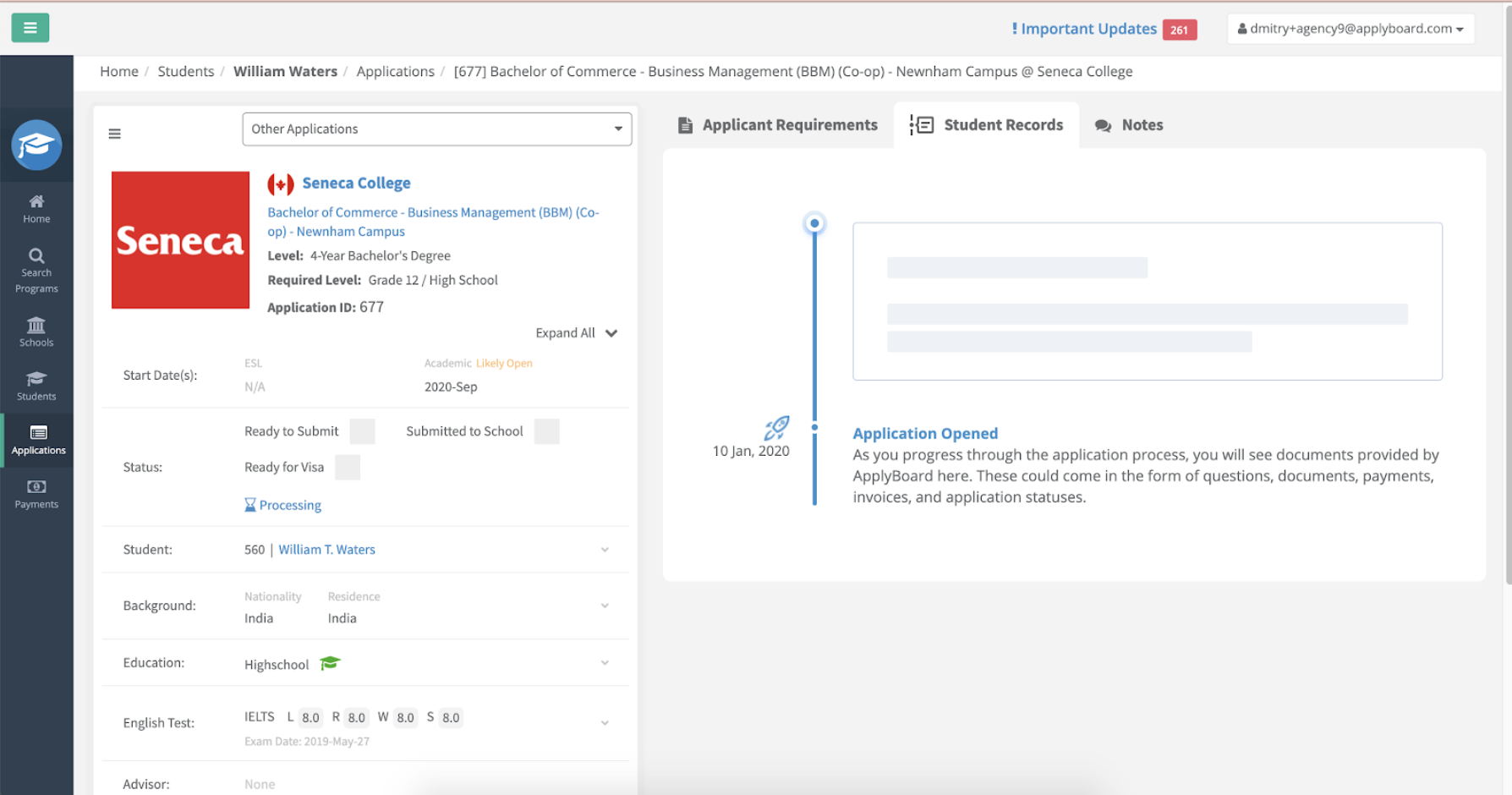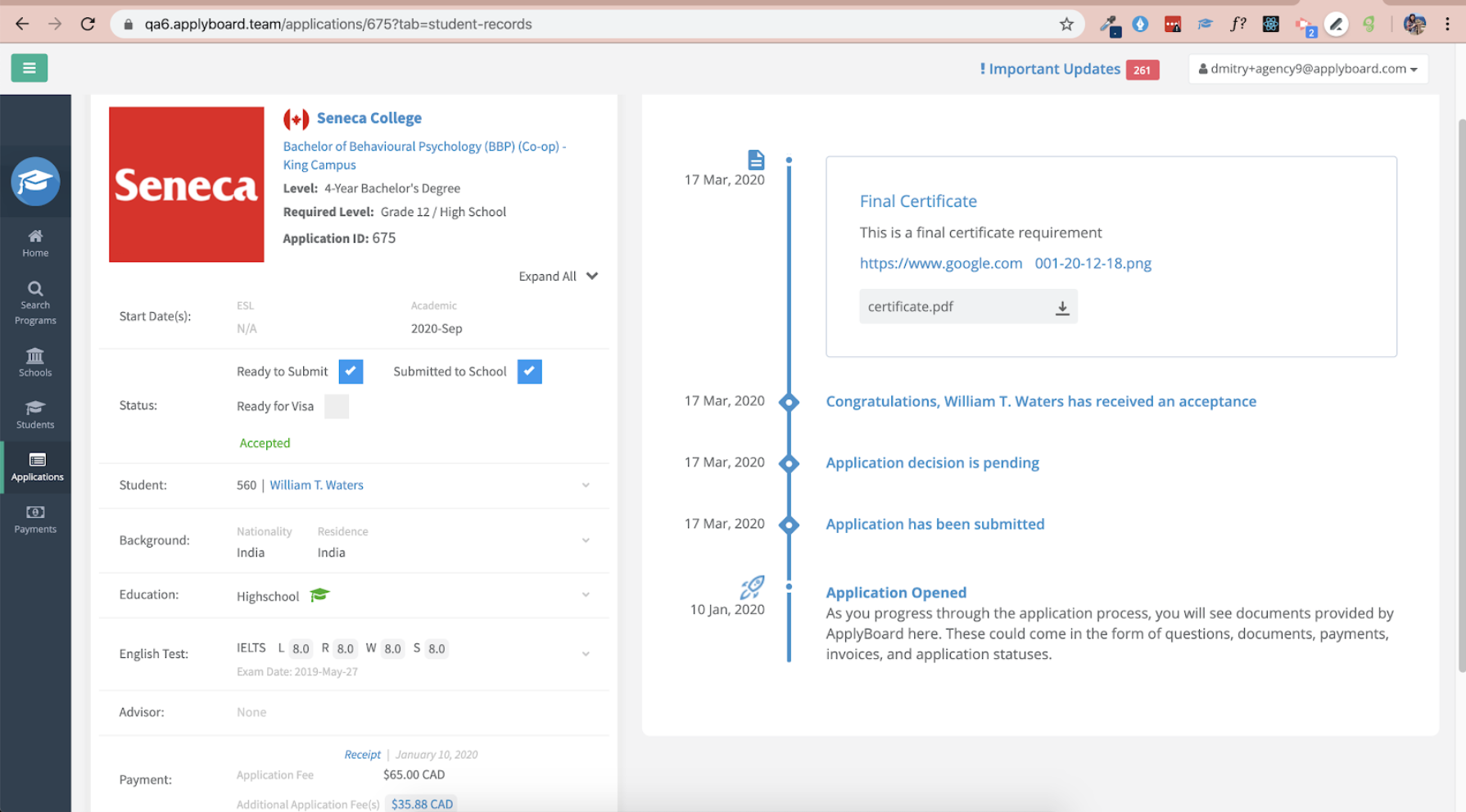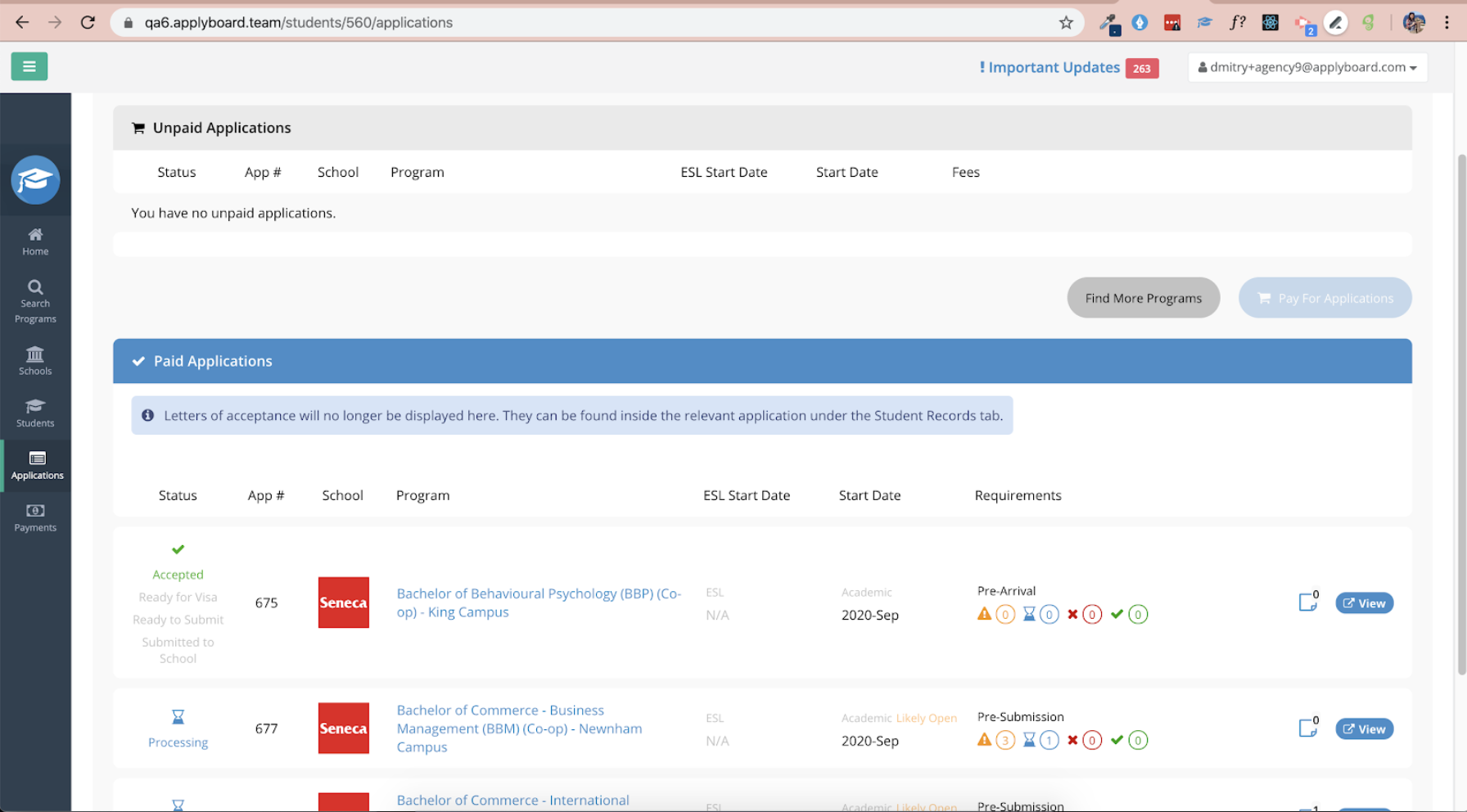 Private Note Feature
Due to the nature of some conversations recorded in notes between owner Recruitment Partners and ApplyBoard, we are now providing a private note feature for owner Recruitment Partners. This feature aims to allow owner Recruitment Partners to communicate with ApplyBoard staff about certain restricted or sensitive topics lie commission.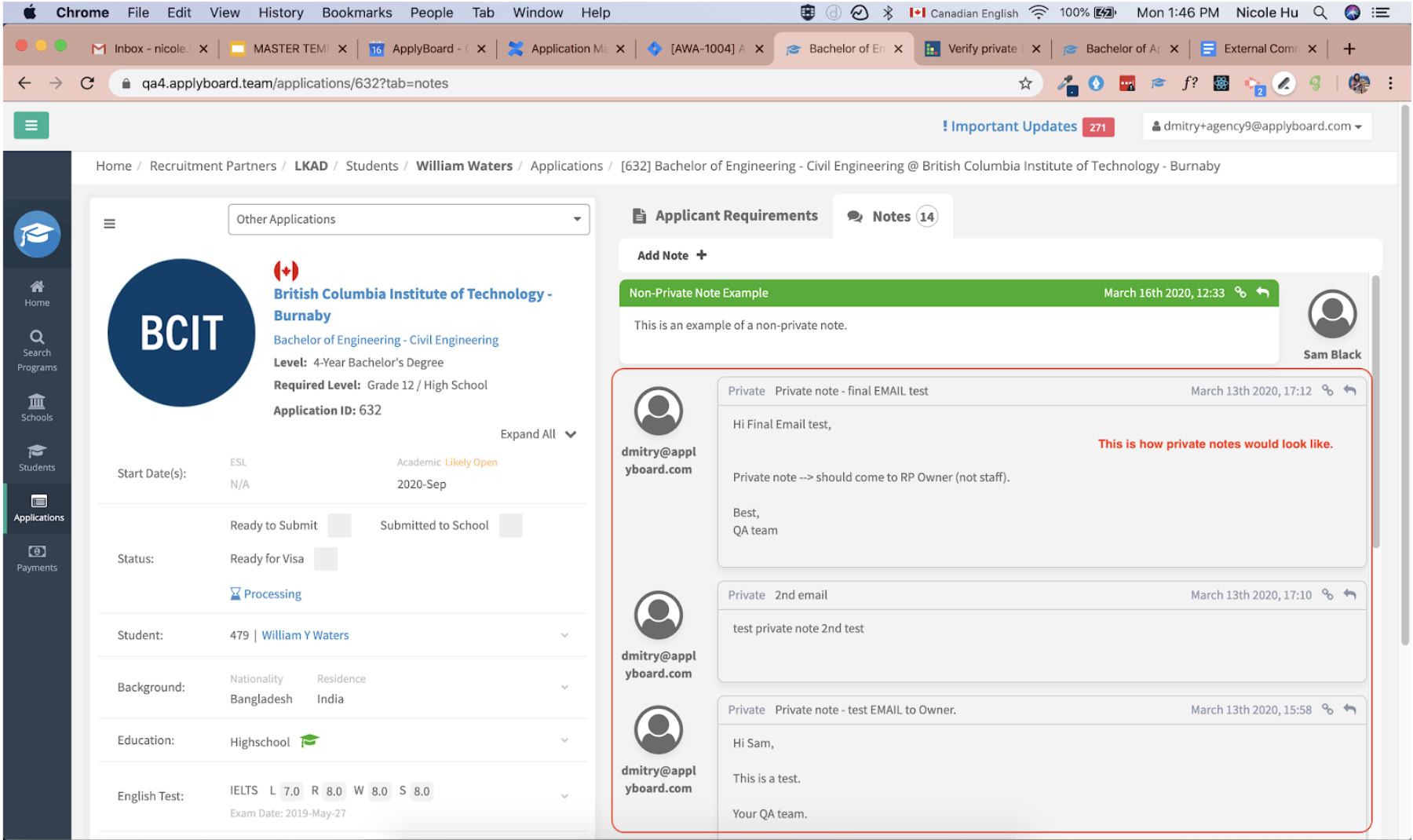 Private notes are only visible to owner Recruitment Partners and the ApplyBoard Team. Students and staff Recruitment Partners will not be able to see any private notes or get email notifications for any of them. 
Owner RPs can set it ON or OFF for individual notes.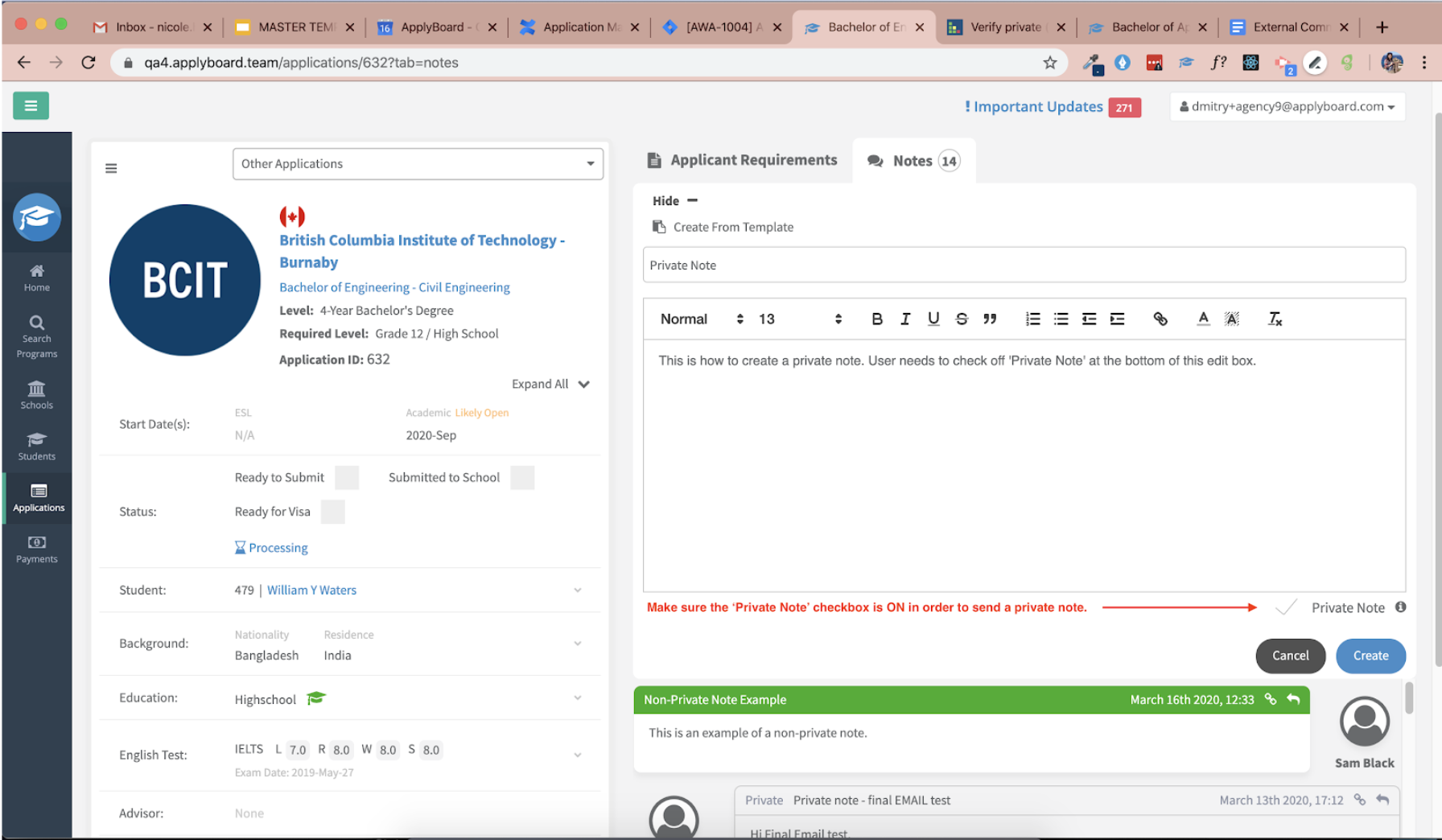 ---
Please contact your ApplyBoard Representative if you have any questions or concerns.
---