It is important to know when programs are opening and closing, which is why ApplyBoard is increasing visibility into current and future intake statuses.
What This Will Look Like
On January 27, ApplyBoard is rolling out improvements to the Platform which will enable you to see the status of program intakes. As you explore school program pages on the ApplyBoard Platform, you will soon see an update on the right-hand panel, which summarizes program information.
An Intake Status button will appear with the following categories:
Open Now: Applications for intake are currently open.
Likely Open: The date that schools start accepting applications for this intake is still unknown. However, there is a good chance that applications may be open at this time.
Will Open: The school will start accepting applications on a known future date.
Closed: Intake is currently closed.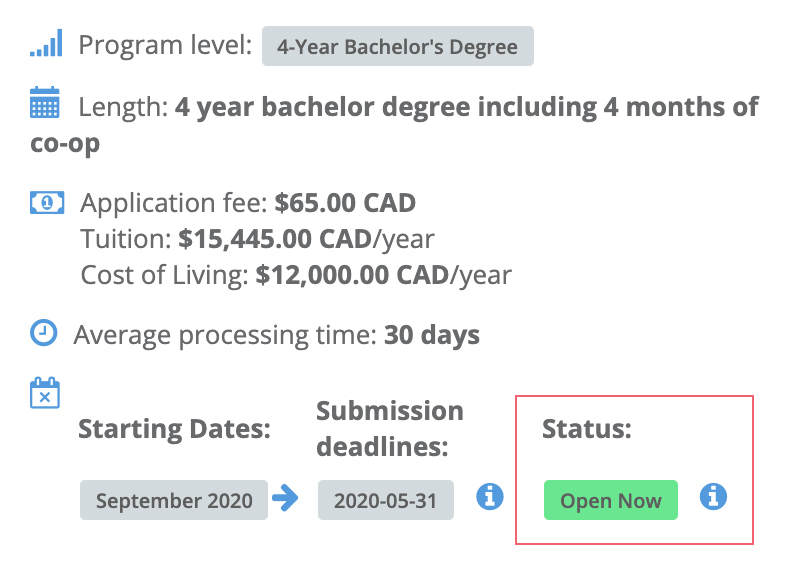 To see additional information, click the (i) button. A popup window will appear, providing any available details, including the date intake will open and which countries this information is applicable to.

This information will also be accessible on the Application Summary page in the Unpaid and Paid Applications sections. If you hover your mouse over the intake status for ESL and Academic Intakes, you will see supplementary information that is tailored to the applicant's unique profile information.
An example of a message is displayed below:

Intake status will also be updated on the Student Application Details pages.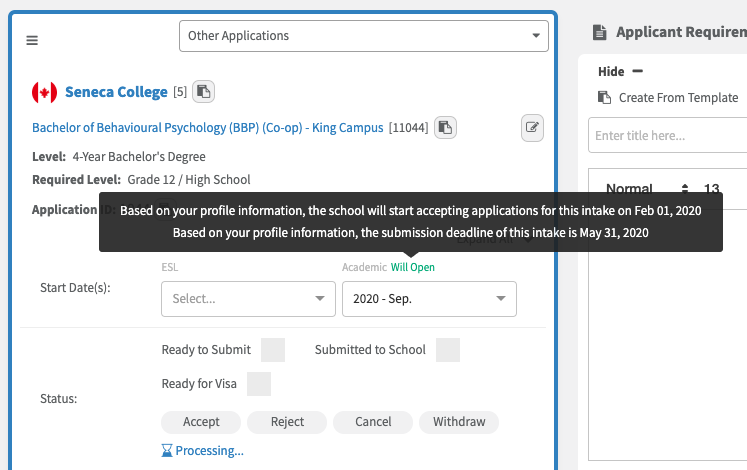 These changes will increase transparency for program intake status and allow you to decide whether to proceed with an application or choose an alternative program based on the intake status.
This will shorten the processing time for applications where intake is open and help you meet program application deadlines. Our goal is to improve the experience of applicants and increase the success rate of applications.
---
Questions About the Update?
The ApplyBoard Team is happy to help you navigate the new intake status improvements. If you have any questions, please reach out to your ApplyBoard Representative for support.
---