As we mentioned in a recent blog post, with 96% of students with internet access using at least one social media platform, social media is one of the best tools you have to engage students directly.
This week we're taking a deep dive into Instagram—specifically the different options you have to post videos to this platform and a great free tool to create graphics!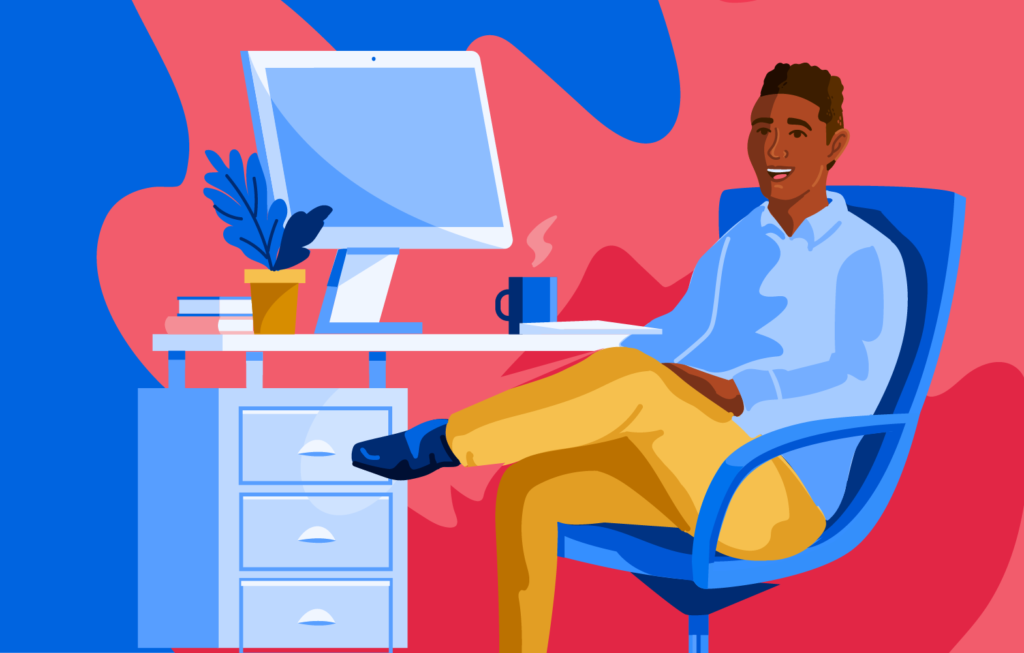 Why Video?
Before we dive in, let's take a moment to discuss why video is such an effective medium. 
Here are a few stats worth considering:
81% of all businesses use video to generate leads

Mobile video consumption is increasing 100% year-on-year and is on track to become 82% of all expected online traffic by 2022

Video offers a higher retention rate of a key message (up to 95%) than text (10%) 

Three-quarters of all people prefer to learn about new products and services via video, and 92% tend to share it after watching

62% show more interest in a product or service after watching a video ad on Instagram or Facebook

Social posts containing a video are shared a whopping 1,200% more than posts with just text or images
Video creation is no longer a cost-prohibitive marketing tool. With a phone, a little confidence, and these helpful tips, you'll be ready to reach students with engaging Instagram videos in no time!
Tip: If you plan to film yourself talking directly to the camera, consider investing in a stand or tripod. It will stabilize the image and give your videos a more professional appearance.
Where to Spend Your Time and Resources
Keeping in mind the shelf life of your video content will help you determine where to spend your time and resources. Evergreen video content, which will remain relevant for the long term, such as a student testimonial, should have higher production values. A quick, time-sensitive update, like a weekly Instagram Story leading up to Fall intake, can be less labour-intensive.
Why Instagram?
Unlike Facebook and Twitter, which have evolved to become more visual, Instagram is a natively visual platform and one of the most popular social media platforms used by students. 
Read: "How to Leverage Social Media for Student Recruitment"
Best Practices for Posting Videos to Instagram
Video Length

Aim for no longer than 15 seconds. While videos posted to your feed can be up to a minute in length, most of your followers will click away after 15 seconds.
Call to Action
Make sure you put your call to action (CTA) at the beginning of the video.
Add Location
Including your location in your post allows local Instagram users to find and engage with your content easily.
Instagram Feed
While you can certainly post videos directly to your main Instagram feed, you want to ensure that they will be relevant to followers scrolling through your profile at a later date. Also, you don't want to spam your followers, so aim to post to your feed no more than twice a day—regardless of whether it's a video or not.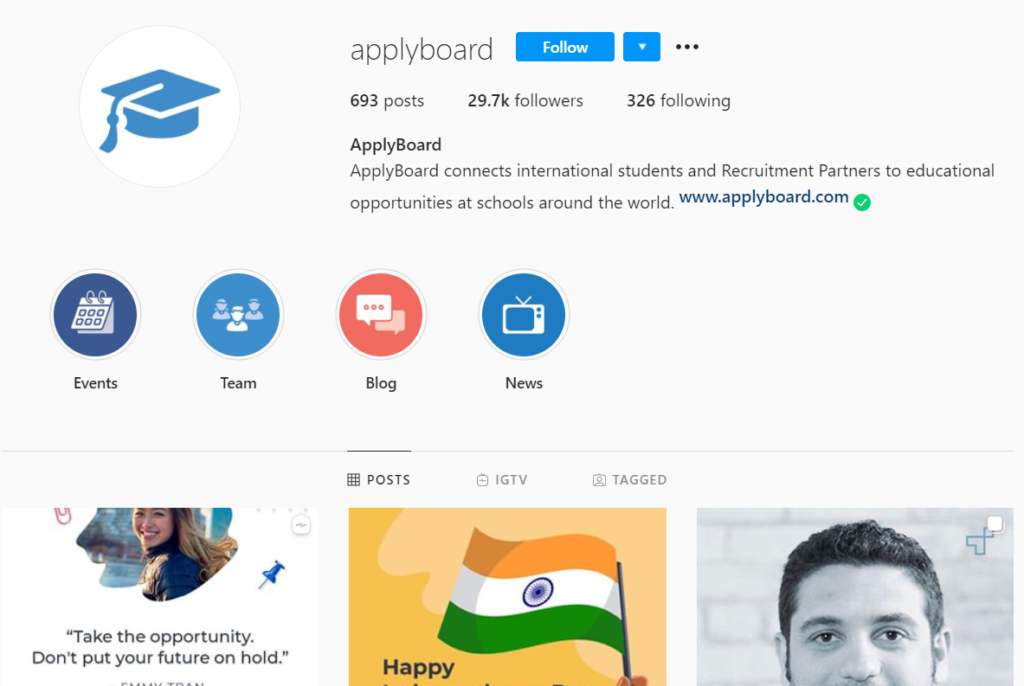 Instagram Stories
Instagram Stories have become hugely popular and are now used by more than 500 million Instagram users every day! This feature allows you to post more transient, time-sensitive content that disappears after 24 hours and doesn't clog your followers' feeds. You can also use Instagram Stories to tease longer videos on your YouTube channel.
See how users are interacting with your Stories with built-in analytics on:
Interactions

Link clicks

Profile visits

Impressions

Follows

Navigation (whether the user clicked forward or backward on your story)
Tip: When posting to Instagram Stories, consider adding short, pithy copy and a background filter for visual interest.
Instagram Stories Features
Swipe Up
Use the "swipe up" feature to enable viewers of your story to visit a link of your choice, such as your website or a relevant article. It's also an opportunity to direct your followers to a longer-form IGTV video (more on IGTV below). This feature is available for:
Business accounts with more than 10,000 followers

Verified accounts
If you can't access this feature, you can drive your followers to the link in your bio. You can only include one link in your bio, so make it count! 
If you're finding it difficult to choose just one link, try Linktree. Linktree connects all of your content with just one link—such as multiple websites, social media platforms, and relevant articles. Think of it as an umbrella for all the content you want students to visit.
Highlights
If an Instagram Story is going to be relevant for longer than 24 hours, you can add it to your Highlights. The video will then be accessible to Instagram users who click one of the little circles directly under your profile's bio link.
IGTV
IGTV is an app for long-form video. It's built for how you use your phone, so videos are full screen and vertical. While there's a stand-alone IGTV app, you can watch IGTV videos from within the Instagram app.
Although you can record live videos, IGTV is an opportunity for you to post more polished, long-form content. While it's more challenging to gain traction on IGTV, you can archive your videos, making them indefinitely accessible.
Instagram Live
If you want to engage with your followers in real-time, try the Instagram Live feature. However, if you have a smaller, less established following, you should announce to your followers in advance that you plan to go live to ensure an audience. 
Instagram Reels
Last month, Instagram unveiled Instagram Reels. Designed as Instagram's answer to student favourite TikTok, Reels allows you to "Record and edit 15-second multi-clip videos with audio, effects, and new creative tools. You can share reels with your followers on feed, and, if you have a public account, make them available to the wider Instagram community through a new space in Explore."
Canva
While the possibilities are endless, here's how Canva can give your Instagram videos a bit of extra polish:
Canva offers thousands of templates for you to choose from, including templates tailor-made for Instagram Stories and Instagram Posts, so you don't have to worry about getting the dimensions right. 

From there, you can choose from an array of additional templates, or create a blank post where you can start from scratch.

Next, you can drag and drop images from your computer, device, or Canva's free gallery, and add text, music, videos, and backgrounds.
Note: While Canva offers a great free version that includes just about everything you'll need to create striking graphics, there is also a paid "Professional" version with additional features.
Let's connect! Follow ApplyBoard on Instagram, Twitter, and Facebook.
Want to learn more? Watch ApplyBoard's on-demand webinar, Social Media for Student Recruitment: Video and Analytics.
---