ApplyBoard is excited to launch our latest project, Assist, our new knowledge base for recruitment partners and students, and we wanted you to be the first to know! Assist is now available to all ApplyBoard recruitment partners and will be a key tool for ensuring your ongoing success, by helping you to better support your students and drive more applications to the ApplyBoard Platform. Assist provides you with access to information and resources related to our top partner schools, the latest industry news, and crucial ApplyBoard updates—all in one convenient location!
What Are the Key Sections of Assist?
Within Assist, you will have access to a wide range of information, divided into easy-to-navigate sections. These sections include:

You'll be able to find answers to your questions quickly and efficiently by navigating through the relevant section.
Below you'll discover the type of information and resources that you'll find in each section, but first, here's a helpful video about all that Assist has to offer.
Promotions and Scholarships
Find the latest information about ApplyBoard Promotions and Scholarships, like our current Better Together Program for the South Asia market, to help you focus your recruitment efforts. You'll also find scholarship information for our most popular partner schools—including ApplyBoard Exclusive Scholarships. These key tools will be constantly updated to include the latest promotions and scholarships.
Recruiter News
Formerly the Recruiter News Centre (RNC) on the ApplyBoard website, Assist's new and improved Recruiter News will be replacing the RNC, and will offer the most up-to-date information about ApplyBoard and industry news. You'll remain updated on all relevant breaking news by browsing through this important section!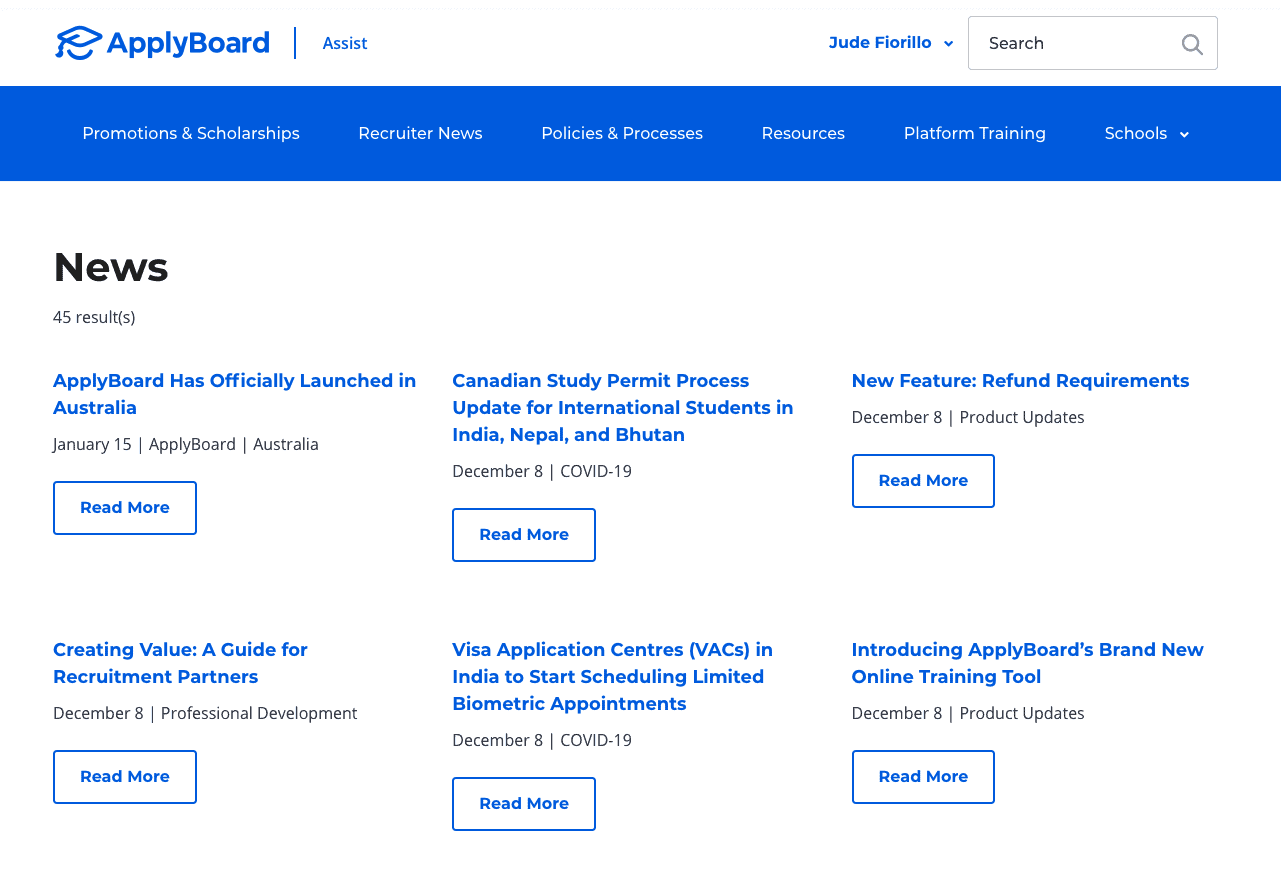 Policies and Processes
Policies and Processes will provide a constantly updated list of policies, processes, and procedures that are relevant and important to recruitment partners. You'll find information about ApplyBoard fees and policies, and commission updates—all in one easy-to-access location!
Resources
The Resources section provides helpful materials and information about studying abroad, including study guides for Canada, the United States, the United Kingdom, and Australia. Study guides contain information about each country's education system, admission process, study cost, and more—allowing you to offer your students the most accurate and individualized information for each study abroad region.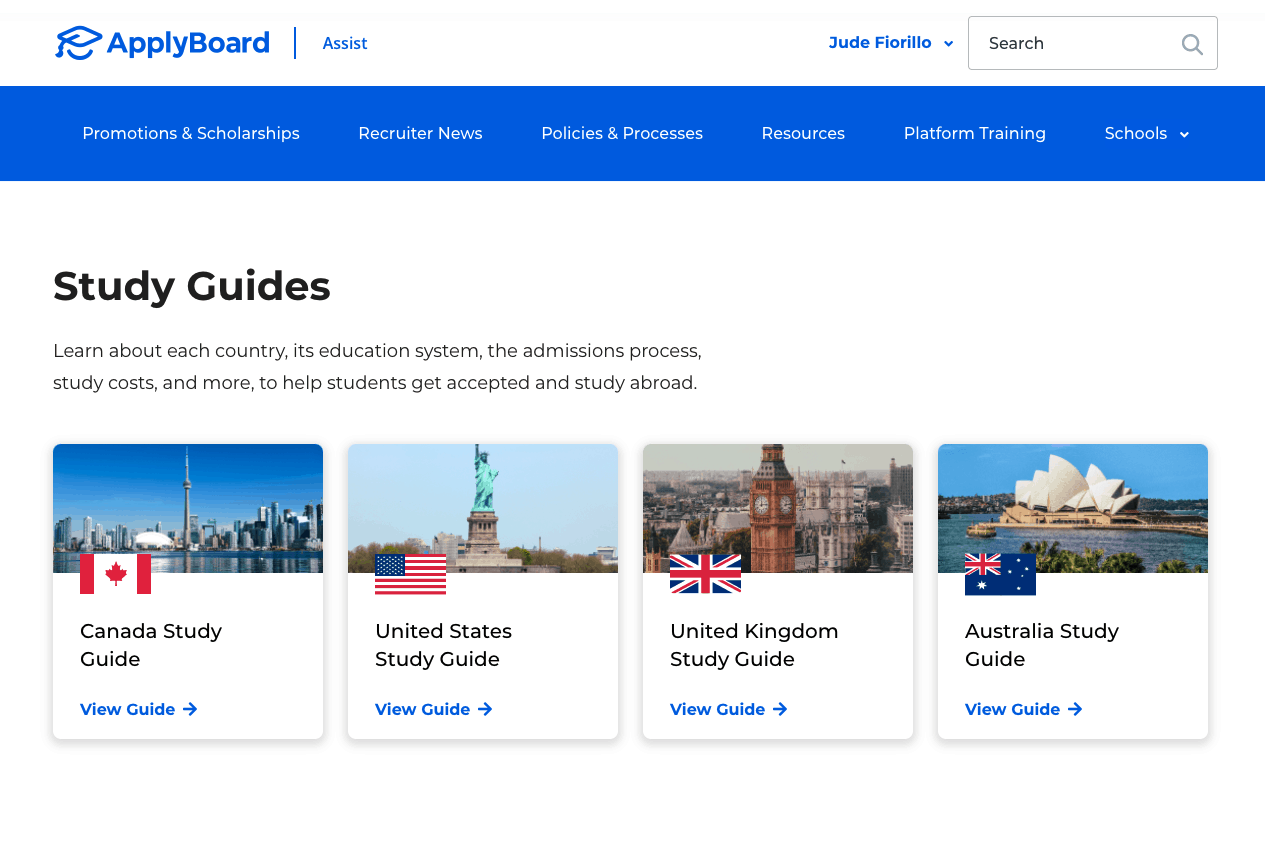 Platform Training
Do you need help navigating the ApplyBoard Platform? Platform Training will help you learn how to log in to the recruiter dashboard, find out how to register a new student on the ApplyBoard Platform, how to pay for student application fees, and much more!
Partner School Information
Discover our top 40 partner schools by country—Canada, the United States, the United Kingdom, and Australia. In this section, you'll find answers to frequently asked questions (FAQs) about these top partner schools, and more. This growing library will eventually include over 100 partner schools and will provide recruiters with key information about the schools their students are applying to.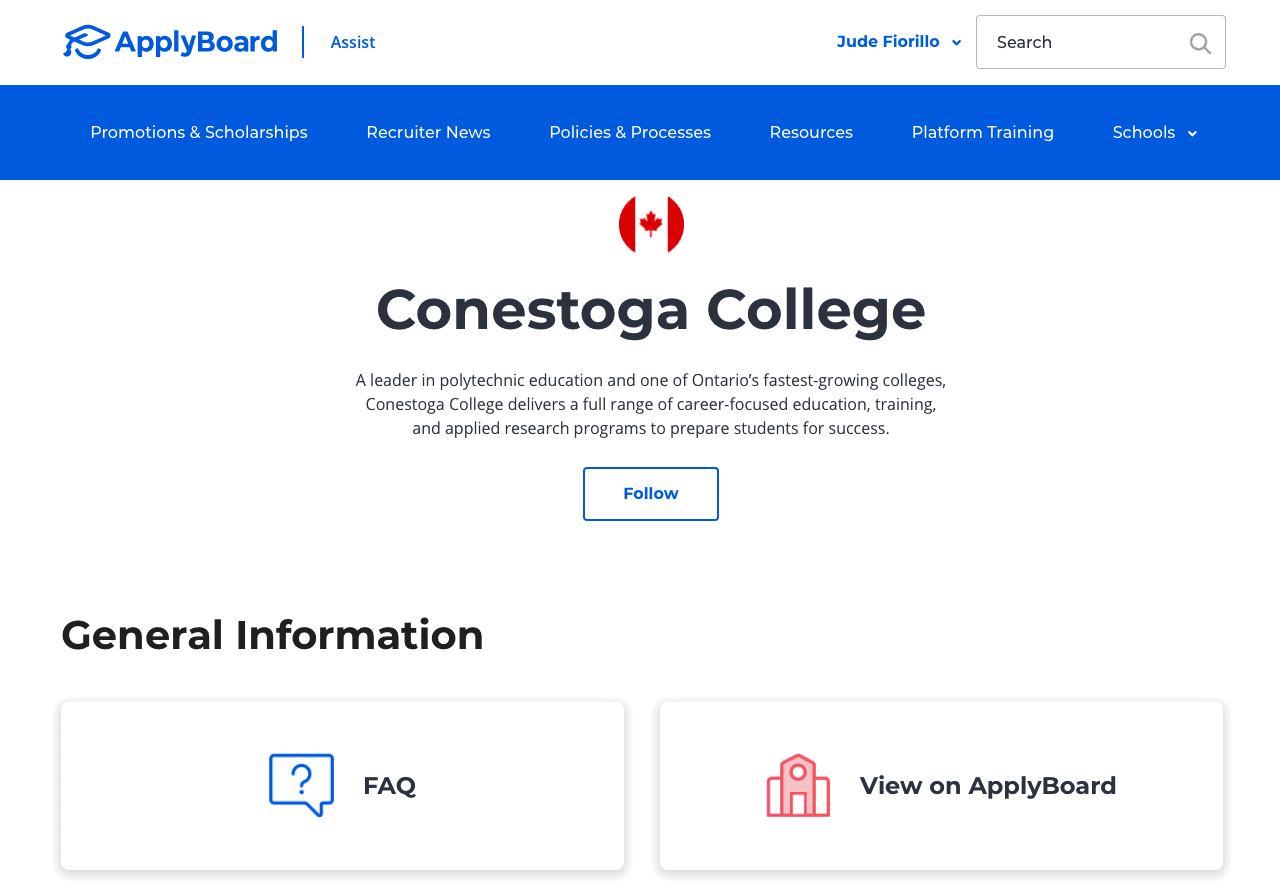 How Do I Access Assist?
We've made sure it's easy for you to access Assist:

Simply visit: https://assist.applyboard.com

Click log-in on the home page, and use your ApplyBoard recruitment partner login and password to access the Assist portal.

Find the link to Assist at the top of the Helpful Links sidebar, on the Recruiter Dashboard. 
If you have issues accessing Assist, please contact your ApplyBoard Representative for assistance.
We're Growing
We are adding new articles to Assist every day! We will soon introduce more useful resources for recruitment partners and students, so check back frequently to see what's new.
What's That Follow Button?
As you explore Assist, you might notice follow buttons on some sections. If you click on the Follow button, you'll receive email alerts whenever a new article is published under that section. You can stop following the section at any time by selecting the unfollow button.
Our vision for Assist is that it provides recruitment partners with the knowledge and resources that they need to be successful and provide their students with the most accurate and up-to-date information. Assist is the latest in our ongoing commitment to better serving our recruitment partners and students, and removing barriers to international education. We are excited to help you soar with the new Assist. 
---