We are thrilled to announce two new scholarships from Algoma University. These new scholarships will aid efforts to make education more accessible to students around the world.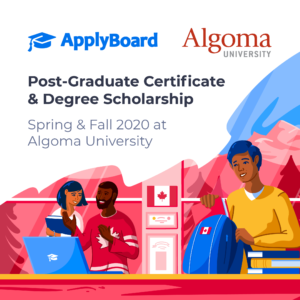 Algoma has created these new scholarships for international students applying for a post-graduate certificate and degree program for the 2020 Spring or Fall terms. Currently, all of Algoma's programs are available online. The Government of Canada has made some positive changes allowing students to start classes virtually without impacting their PGWP. It's important to note that Algoma has pushed the start date of their spring term from May to June 1 to help accommodate as many international students as they can.
Post-Graduate Certificate Program Scholarship
$3,000 CAD scholarship
Students must be enrolled to start in the Spring or Fall 2020 terms to qualify
Not available for Winter 2021
Post-Graduate Programs only
If students commit to two certificate programs, they will receive this scholarship for each certificate program (a CAD 3,000 scholarship for both programs)
The scholarship will be reflected in the offer letter and the deposit
For students currently in Canada, the deposit is only $1,000, and the remainder is due by June 1, 2020
Degree Program Scholarship
$2,000 CAD scholarship (one-time scholarship)
Students must be enrolled to start in the Spring or Fall 2020 terms to qualify
For Students currently in Canada, the deposit is $1,000; the remainder is due by June 1, 2020
All degree programs are available online
Don't miss out; applications are now open! Learn more by downloading Algoma University – Scholarship Flyer.
About Algoma University
Algoma University's original campus is located in the heart of the Great Lakes in Sault Ste. Marie, Ontario, and they recently opened a new campus in Brampton, Ontario. Established in 1965 as Algoma University College, an affiliate of Laurentian University, we have been educating the people of Ontario and the world for over 50 years. 
We offer over 30 different academic programs, with expertise in Life Sciences, Environmental Science, Business and Computer Science & Technology. All of Algoma's programs provide a variety of experiential learning opportunities, including undergraduate research, co-operative education, internships and hands-on learning. 
Why Algoma University
Algoma University's brand new, state of the art facilities within the School of Business & Economics. At Algoma U at Brampton, students have the opportunity to differentiate their degree from others, giving them the edge needed to succeed in the highly competitive professional job market. The Algoma U BBA allows you to customize your degree to suit your interests while giving you the necessary skills and knowledge demanded by the profession of your choice.
Click HERE to get an inside look at what it's like to study at Algoma.
Please contact your ApplyBoard Representative if you have any questions or concerns.
---